As we kick off the fifth installment of this series, here are links to the previous team payroll projections:
Philadelphia Phillies
Los Angeles Dodgers
Los Angeles Angels
Atlanta Braves
If you have questions about financial information made available to the public and the assumptions used in this series, please refer to the Phillies piece linked above.
Today, we're moving north to visit with the once and future biggest spenders in the game: the New York Yankees.
Team Leadership
The ownership portion of this section likely needs very little explanation, but a bit of history is actually instructive. Going back to the end of World War II, The Yankees were owned by Lee MacPhail, Dan Topping, and Del Webb from 1945-64. The team failed to reach the World Series in 1945 and 1946, then, improbably, played in the Fall Classic in all but three of the remaining years of their ownership run. CBS then purchased a controlling stake in the team in 1964 and the Yankees failed to make the playoffs during all 10 campaigns of corporate ownership.
Then, the Boss arrived. George Steinbrenner led a group of investors in purchasing the Yankees in 1973 for an unfathomable $10 million. While the team has had minority owners since then, the Steinbrenner family has held the reins with George relinquishing control to his son Hal and his three siblings in 2008, two years prior to George's passing.
The baseball operations department is headed by senior vice president and chairman Brian Cashman. Cashman took control of the baseball operations department in early 1998 and promptly saw the team make the World Series five times in his first six years at the helm, winning three championships in the process. Perhaps somewhat surprisingly, Cashman's job security has rarely been at issue despite the fact that the Bronx Bombers have won just one World Series title since 2000 (2009).
Historical Payrolls
Before hitting the numbers, please recall that we use data from Cot's Baseball Contracts, we'll use average annual value ("AAV") on historical deals but actual cash for 2019 and beyond, and deferrals will be reflected where appropriate. And, of course, the value of examining historical payrolls is twofold: they show us either what type of payroll a team's market can support or how significantly a given ownership group is willing to spend. In the most useful cases, they show us both. We'll focus on a 15-year span for the Yankees, covering 2005-18 for historical data as a means to understanding year 15: 2019. We'll also use Opening Day payrolls as those better approximate expected spending by ownership.
Fasten your seatbelts, the payroll figures are about to get gaudy.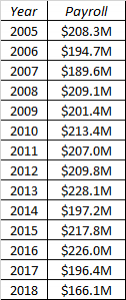 The Yankees surprisingly began the 2000s with a payroll of just $107.6 million and that figure held true in 2001 at $112.3 million. Then the spending boon started in 2002 as the team increased payroll by $13.6 million, $26.8 million, $31.4 million, and $24.1 million in four consecutive offseasons causing payroll to soar to the 2005 starting point above of $208.3 million. Incredibly, payroll has been largely stagnant since 2005 with only modest dips and climbs over the next 12 years before a notable drop in 2018 that reset the Yankees luxury taxpayer status (more on that below).
The Yankees have been a model franchise when it comes to finding ways to use their financial might to improve their club on talent beyond the Major League roster. The best recent example of this spending acumen came in the international amateur market in 2014 when the Yankees zoomed past their bonus threshold to sign one third of the top-30 prospects that year. It is overwhelmingly likely that this bonanza spurred Major League Baseball to revisit and revise the international spending limitations in the next iteration of the Collective Bargaining Agreement. To read more about this spending spree, check out this piece on Baseball Prospectus from Dustin Palmateer. Needless to say, if there is a way to use the club's financial might to create a competitive advantage, the Yankees have done and will do it, even if significant taxes are at issue.
Speaking of taxes: since Major League Baseball instituted its first version of a luxury tax in 1997 through 2017, teams paid approximately $548,155,916 in taxes. The Yankees paid $329,519,651 of that amount, accounting for 60.1 percent of total luxury tax payments. Truly astonishing. Keep in mind that these tax payments do not include the taxes paid for overspending in the international marketplace. Simply put, the Yankees will spend and spend big, not that this is news to anyone.
Future Liabilities
The Yankees entered the offseason with a truly bizarre contract table: they had no guaranteed contracts with one year remaining, instead holding multi-year guarantees only. The recent re-signings of CC Sabathia and Brett Gardner added a pair of contract year players to the payroll table. Here are the guaranteed future dollars with club options highlighted in peach and player options — in this case, opt-out clauses — are highlighted in light blue.


We'll start with Stanton. It was an imperfect debut season for the former National League Most Valuable Player, but on the whole, Stanton delivered what was expected: a whole bunch of home runs. His contract comes with two deeply intriguing facets. First, the Yankees enjoy a significant luxury tax benefit as a result of the inexpensive early year guarantees on his deal when with the Marlins and financial help Miami will send to New York in the mid-2020s. The Yankees should seek out players for whom they can pay exorbitant amounts while enjoying relatively depressed luxury tax figures. Stanton's $22.7 million annual luxury tax hit is on par with the likes of Justin Upton, not befitting an in-prime superstar. Second, the 2026-28 commitments are comparatively very small given the influx of money from the Marlins. Assuming that the Yankees exercise their option on him in 2028, they'll be responsible for just $49 million over those three years. In the meantime, obviously, they'll pay an MVP level rate.
The other commitments are for the team's three most recent marquee free agent acquisitions: Tanaka, Ellsbury, and Chapman. The returns for those three have been all over the place. Despite some control issues this past season, Chapman has largely excelled since returning starting with the 2017 season. At the other end of the spectrum, Ellsbury enjoyed a good first year with the Yankees in 2014, but he provided below-average production in 2015-17 before missing all of 2018 with a hip injury. Tanaka has occupied the space between stars and scrubs. He looked like an ace in 2014 and again in 2016. In the middle, he struggled with an elbow injury and since 2016, he has been a slightly above-average starter but not the ace that the Yankees hoped he would become. His value isn't poor by any stretch, but he's being paid at almost exactly his market rate.
As for the arbitration projections, the Yankees figure to spend a good amount on controllable talent with less than six years of service time. The Yankees don't appear to have any obvious non-tender candidates. Here are their arbitration projections (salary projections by MLBTR and Matt Swartz):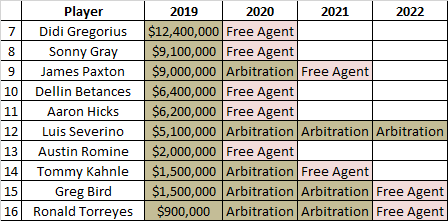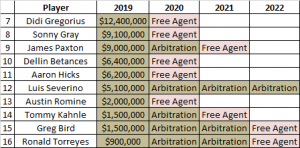 It's likely Gray finds himself wearing a new uniform when 2019 kicks off, but the front office will nevertheless take pleasure in seeing both Paxton and Severino occupying only arbitration salary slots instead of monster eight-figure annual salaries.
There is one name that comes with oodles of intrigue: injured shortstop Didi Gregorius. Gregorius underwent Tommy John surgery on October 17, an operation that will keep him on the shelf for months. With a $12.4 million arbitration payday on the way, could the Yankees consider non-tendering him, especially if he won't be available until late in the 2019 season?
I don't see it. His middle infield partner, Gleyber Torres, underwent Tommy John surgery on June 19, 2017, but he was ready for Spring Training in 2018, participating fully and playing the entire 2018 regular season starting on Opening Day. Torres needed only about eight months to return to full participation, though it's possible that he would have been ready even earlier. If Gregorius is ready to return in mid-June, he's certainly worth his arbitration estimate. It's also possible that the Yankees come to a multi-year agreement with him in lieu of playing out his final year in advance of free agency.
What Does Team Leadership Have to Say?
When asked about how the team will fill out its rotation holes early in November, Cashman unsurprisingly explained that the Yankees will take whatever path necessary to build a winning rotation. "I think we'll just gravitate to anything that will make sense," Cashman said. "It could be a combination; something could make sense via trade in the same category as free agency. I'm interested in adding more than one pitcher. I need to, I think, add multiple. If I can do so, we'll see." While commenting on his preference to remain south of the luxury tax line, Cashman admitted what we all already know: "…because of the market we're in and the ownership we have I know that we're capable of and it's a decision they ultimately will make when they're forced to make it…" Quite simply, Cashman has openly admitted that big spending is a viable option, even if he publicly states a desire to avoid doing so.
Are the Yankees a Player for Bryce Harper or Manny Machado?
Yes.
We could spend a long time explaining why this is viable for the Yankees, but for a team with revenue estimated at $619 million as of 2017, it probably doesn't require much in-depth examination to see how this works financially.
The more interesting question with the Yankees involves the fit of these two young stars. Incredibly, the Yankees' top seven players by WAR in 2018 were four outfielders (Aaron Judge, Aaron Hicks, Stanton, and Gardner), two shortstops (Gregorius and Torres), and a third baseman (Miguel Andujar). Judge, Hicks, Gregorius, and Stanton all produced at star-level rates.
That said, it's not terribly difficult to see the fit for Machado. Andujar's rookie year defensive metrics were putrid. He could justifiably be moved to first base and/or designated hitter, or traded, opening up third base for Machado. Shortstop will be open to begin the season with Gregorius recovering from surgery and Torres also comes with Tommy John in his background, so Machado would be a safer bet to hold the spot defensively into the future, especially with Gregorius an impending free agent. Machado could easily cover shortstop or third base with minimal roster revisions.
But Harper? The Yankees would need to kick Harper to center field, enforcing a massive defensive downgrade for their outfield, move one of Judge, Stanton, or Harper to designated hitter, or trade one of their current corner outfield stars to clear a spot for Harper. Or they could do something even more surprising like moving one of Judge, Stanton, or Harper to first base, a risky defensive move.
I'm sure that Cashman would find a way for this to work. But the Harper fit is clearly tougher.
What Will the 2019 Payroll Be?
The standard disclaimer: ownership and management knows the actual budget whereas we're focusing on historical data and other relevant factors to project future spending in the immediate and more distant years to come.
The Yankees' payroll is going to go up. The only question is whether they sneak over the $200 million threshold or if they blow past it.
Assuming that Gray is gone but that Gregorius stays at his arbitration salary, the Yankees are staring at a cash payroll of $152.2 million with a luxury tax payroll of $164.9 million. There's absolutely no chance that they'll end the offseason with payroll figures that low.
They're going to be major players for the elite free agents with cash, prestige, and a young core of premium talent to offer any players looking for a new fortune and a ring or two to go along with it…and that's before we factor in that the Red Sox have won four World Series titles over the last 15 years while the Yankees have just one flag. Given their need for pitching, expect to hear plenty of Patrick Corbin, Dallas Keuchel, and J.A. Happ rumors, even after the acquisition of Paxton. And expect to hear Harper and Machado linked to the Bombers until the day they sign, be it in New York or elsewhere.
I could see them marrying Cashman's desire to stay below the luxury tax line with a couple of impact additions, setting payroll above the $206 million tax line but below the maximum penalty threshold of $246 million. As a refresher, the Yankees will incur a 20 percent tax on amounts spent over $206 million and a 12 percent surtax on amounts over $226 million. Once spending reaches $246 million, the tax rate is 42.5 percent and the club would see its top draft selection lowered ten spots. Those penalties are tough to swallow.
I expect that the club will begin the 2019 season either in the first tax tier or narrowly into the second tax tier in order to maintain some flexibility for in-season acquisitions and to stay safely below that $246 million threshold. This will bring spending back in line with where it has been for much of the past decade and a half.
Projected 2019 Payroll: $220 million cash (approximately $232.7 million for luxury tax purposes)
Projected 2019 Payroll Space: $67.8 million