In the opening piece in this series, we looked at the Philadelphia Phillies, a team almost certain to be a major player in this winter's free agent market. In addition to being a fun look at a key market participant, that piece also sets forth some key assumptions to be used in this series regarding financial information available to the public.
With Philadelphia in our rear view mirror, we turn our attention to the biggest spender in recent years: the Los Angeles Dodgers.
Team Leadership
Despite being a marquee franchise, the Dodgers found themselves embroiled in a quagmire during much of the last decade, with Frank McCourt's tumultuous ownership ending with a bankruptcy sale to Guggenheim Partners in 2012. Guggenheim — consisting of Mark Walter, Magic Johnson, Stan Kasten, Peter Guber, Bobby Patton, and Todd Boehly — added Billie Jean King and Ilana Kloss as minority owners in 2018, comprising the current group. As is well known, they have spent aggressively throughout their ownership, fueled in large part by an $8.3 billion, 25-year television rights deal with Time Warner.
After directing a run of success in Tampa Bay, Andrew Friedman joined the Dodgers as President of Baseball Operations on a lucrative five-year, $35 million deal after the 2014 season. Despite that massive contract, this is actually a time of some uncertainty with the front office. Friedman named Farhan Zaidi his general manager shortly after taking over in 2014, but Zaidi left to run the rival Giants earlier this month. It is also worth noting that the Dodgers have yet to guarantee an outside free agent even $50 million during Friedman's tenure.
Historical Payrolls
Before hitting the numbers, please recall that we use data from Cot's Baseball Contracts, we'll use average annual value ("AAV") on historical deals but actual cash for 2019 and beyond, and deferrals will be reflected where appropriate. And, of course, the value of examining historical payrolls is twofold: they show us either what type of payroll a team's market can support or how significantly a given ownership group is willing to spend. In the most useful cases, they show us both.
As with the Phillies, we'll focus on a 15-year span for the Dodgers, covering 2005-18 for historical data as a means to understanding year 15: 2019. We'll also use Opening Day payrolls as those better approximate expected spending by ownership. With the Dodgers, this captures nearly the entirety of the McCourt years and all of Guggenheim's free spending ways. Here is what the Dodgers have spent in the prior 14 seasons:

The Dodgers payroll story tracks the story of their ownership changes remarkably well. In the mid-2000s, McCourt increased spending to build a winner before corralling expenditures as his divorce from ex-wife Jamie and the effects of purchasing the team with so much debt caught up with him. Then the Guggenheim folks showed up and blew the top off of what most of us thought was the ceiling for spending outside of the Bronx. Importantly, the figures above do not include luxury tax payments, meaning that Dodgers spending was actually notably higher over that span thanks to the taxes that accompanied their lavish spending.
Unlike Philadelphia, the Dodgers were substantial players in the Latin American amateur market before Major League Baseball imposed significant spending restrictions, handing out substantial deals to the likes of Yadier Alvarez, Yusniel Diaz, Omar Estevez, and Erisbel Arruebarrena. In the end, as gaudy as the Major League spending figures were, amateur spending added a significant amount to overall expenditures reflected above, at least during the Guggenheim period of ownership.
Future Liabilities
For a team known for its massive spending habits, the Dodgers have surprisingly little in the way of long-term guarantees, especially when compared to other big spenders in major markets competing for the World Series each year.
Here is a look at their future guarantees with the powder blue highlight indicative of a player option — in the case of Kenley Jansen, this is an opt-out prior to the 2020 season.  As mentioned above, note that the numbers shown on here are cash payments by year, not the salary plus the prorated amount of any bonus. The AAV column captures the player's luxury tax number.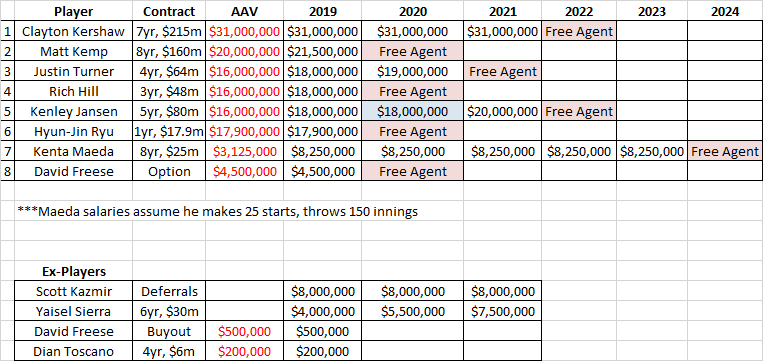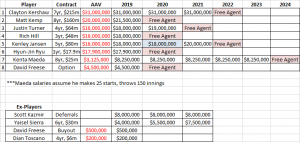 The Dodgers' new deal with Clayton Kershaw gives them an ace on a reasonably short-term deal. While the annual financial commitment is high, the Dodgers must have been pleased to keep the term so modest.
Beyond Hill, their salary sheet is loaded with short-term commitments until we hit Maeda. Maeda's contract is heavily incentive driven. Maeda receives $3 million annually, then receives the following incentives:
$0.15 million for making Opening Day roster
$1 million for each of 15 and 20 starts, then $1.5 million for each of 25, 30, and 32 starts
$0.25 million for each of 90, 100, 110, 120, 130, 140, 150, 160, 170, 180, and 190 innings pitched, then $0.75 million for 200 innings pitched
It is an extraordinarily team-friendly pact, one that has played out handsomely for Los Angeles. From a budgetary standpoint, however, it does present plenty of uncertainty.
At the bottom of the chart, we see two lines with hefty numbers but no tax component. First, we see the remaining half of the $48 million owed to Scott Kazmir from his three-year deal covering the 2016-18 seasons. Instead of receiving $16 million per year or something close to it, Kazmir received $8 million annually for six years. As such, he will receive his $8 million annual payouts in 2019-21, but those cash receipts won't count against the Dodgers' luxury tax figure. Cuban pitcher Yaisel Sierra obtained a substantial guarantee from the Dodgers, but he is yet to pass Double-A and didn't record an inning in affiliated ball in 2018. Because L.A. removed him from their 40-man roster (under a rule that has now been amended), his significant cash guarantees do not count against the luxury tax figure for the Dodgers either.
Moving to arbitration, the Dodgers feature a pair of massive paydays for pending free agents in Yasiel Puig and Alex Wood. On the other hand, they appear to have "lucked" into artificially deflated arbitration pay rates for shortstop Corey Seager due to a poorly timed injury in his platform year. Here are the arbitration statuses (salary projections by MLBTR and Matt Swartz):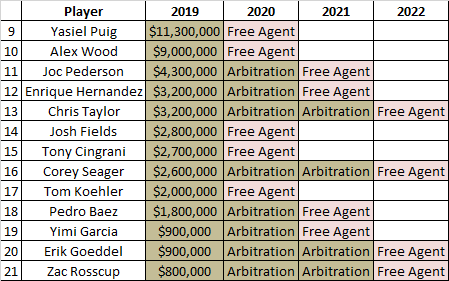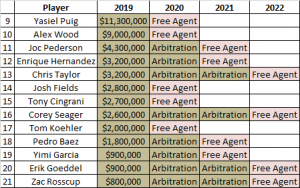 The Dodgers have a number of key contributions controlled via arbitration, but as is the case with most teams, there are some players here who stand a good chance of being non-tendered. From this viewpoint, it looks like Koehler, Garcia, and Rosscup will likely get the boot. Regardless of what happens with that trio, only a couple of million dollars in savings are there to be found.
What Does Team Leadership Have to Say?
This is where things get interesting. Really interesting. Last week, the Bill Shaikin of the Los Angeles Times got hold of a document prepared by the Dodgers before the 2017 postseason for potential investors indicating that the club intended to stay below the luxury tax threshold each year from 2019-22. This would be a striking shift from the free-spending club. The document pegged future payrolls roughly $5 million south of the luxury tax threshold in each season once player benefits are factored in, as they are for luxury tax purposes, projecting payroll at $185 million in 2019 and 2020, $191 million in 2021, and $196 million in 2022.
Will such a spending restriction come to fruition? Your guess is as good as mine. It's worth stressing that the document was prepared before the 2017 postseason and that Shaikin cited a team official as saying that he would be "shocked" if the payroll stayed below $200 million in 2019. The team's plans might have changed in the last 13 months, especially after back-to-back World Series losses. But one significant data point out there regarding Dodgers spending in 2019 suggests that the 2018 payroll will be far more predictive of spending in 2019 and beyond than were the payrolls from 2013-17.
Are the Dodgers a Player for Bryce Harper or Manny Machado?
Simply put, this depends on how you feel about the two preceding paragraphs. If the Dodgers haven't altered their plans since that document was prepared, it's difficult to see them making a serious push for either player. If the Dodgers were merely posturing with the leaked document or setting forth an aspirational threshold that they don't actually expect to hit, Harper or Machado is surely in play as the franchise continues to be flush with cash as they chase a World Series title that has proved elusive. (Those same leaked projections also predicted significant revenue increases.)
What Will the 2019 Payroll Be?
The standard disclaimer: ownership and management knows the actual budget whereas we're focusing on historical data and other relevant factors to project future spending in the immediate and more distant years to come.
Whereas the Phillies will clearly spend and spend big, the Dodgers enter this offseason as a wild card. They have enough talent on the Major League roster and in the upper levels on the farm to expect another excellent season in 2019 without marquee additions this winter. They lack an obvious hole — provided, at least, that the Dodgers believe in Matt Kemp's 2018 resurgence. Of course, even if they don't buy into Kemp repeating his surprising success, Alex Verdugo is likely ready to jump to the big club to take his job.
If the Dodgers are serious about capping their spending south of the tax line, they won't make a big move. Even removing Koehler, Garcia, and Rosscup, the Dodgers are projected to spend $196.5 million including the hits for Kazmir, Sierra, and Toscano. Removing that trio, they are still at $184.3 million. There just isn't enough payroll space to make a splash. If, on the other hand, the Dodgers get serious about Harper, they could create enough financial wiggle room to sign him by upping payroll by a few million dollars, shipping out Puig, and trading one of their lefty starters: Wood, Rich Hill, or Hyun-Jin Ryu. Friedman would likely be able to find a market for his moderate-sized contracts should he elect to go that route, though Ryu would have to approve any deal before June 15th of 2019 since he accepted a qualifying offer and is therefore treated like a signing free agent.
While it seems crazy to think that they'll actually hold tight to their purse strings, the presence of impact talent on the farm and a strong Major League roster lends credence to the idea that L.A. could roll into 2019 with their core largely intact from 2018, allowing Machado to leave in free agency after a mercenary visit while passing on the chance to bring Harper back to the Southwest. Crazier things have happened.
We'll find out if I'm a chump for believing this in the coming weeks.
Projected 2019 Payroll: $195 million
Projected 2019 Payroll Space: -$1.5 million