In the opening piece in this series, we looked at the Philadelphia Phillies, a team almost certain to be a major player in this winter's free agent market. Next we traveled to southern California to see if the deep pockets of the Los Angeles Dodgers would make them a major player this winter. Once again, in addition to being a fun look at a key market participant, the Phillies piece also sets forth some key assumptions to be used in this series regarding financial information available to the public.
Today, we head 30 miles southeast to Anaheim to check in on an Angels team still seeking to win its first playoff game during Mike Trout's historic career.
Team Leadership
Unlike the rival Dodgers, Angels ownership has been a pillar of stability since advertising magnate Arte Moreno purchased the club in April 2003. Moreno is perhaps best known for embarking on an aggressive marketing strategy after taking control, rebranding a club that had been known as the California or Anaheim Angels since 1965 as the Los Angeles Angels of Anaheim. After carrying that name for a decade and surviving lawsuits from the City of Anaheim regarding the rebranding, the club finally reverted to its original name in 2016: the Los Angeles Angels.
It's difficult to argue with the results. While Moreno purchased the team for $180 million in 2003, Forbes projected that team value had increased tenfold in the 15 years that followed, reaching $1.8 billion as of April 2018.
The baseball side of the operation is headed by a model of persistence, general manager Billy Eppler. While working as assistant general manager under Brian Cashman with the Yankees, Eppler interviewed for the Angels general manager job in 2011, losing out to Jerry Dipoto. However, when Dipoto resigned during the 2015 season due to a rift with manager Mike Scioscia, Eppler leaped at the opportunity to return home to Southern California and secured the Angels job.
Historical Payrolls
Before hitting the numbers, please recall that we use data from Cot's Baseball Contracts, we'll use average annual value ("AAV") on historical deals but actual cash for 2019 and beyond, and deferrals will be reflected where appropriate. And, of course, the value of examining historical payrolls is twofold: they show us either what type of payroll a team's market can support or how significantly a given ownership group is willing to spend. In the most useful cases, they show us both. We'll focus on a 15-year span for the Angels, covering 2005-18 for historical data as a means to understanding year 15: 2019. We'll also use Opening Day payrolls as those better approximate expected spending by ownership.
Using this time frame works well for the Angels as it captures nearly all of Moreno's run of ownership. After years of spending like a mid-market club, Moreno boosted the Angels to top-10 spending during his first full season in 2004 and they have remained there ever since. Here is what the Angels have spent in the prior 14 seasons: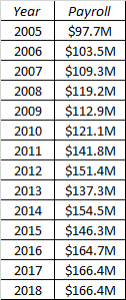 Angels spending spiked dramatically under Moreno's first decade of ownership, more than doubling the spending levels employed by the Walt Disney Company during their brief period of ownership prior to Moreno. However, after reaching $151.4 million in 2012, the spending rate has largely plateaued with remarkable consistency over the last three seasons.
The Angels have largely eschewed massive commitments in the amateur sphere. This is likely due in large part to the club being burned on their $8 million deal with Cuban infielder Roberto Baldoquin. Signed in January 2015, the 24-year-old Baldoquin has a putrid wRC+ of 72 for his minor league career. He is yet to reach Triple-A, let alone the Major Leagues. Yet because of the size of the signing bonus that the team gave Baldoquin, the Angels found themselves in the international amateur penalty box for the next two signing cycles, severely limiting their ability to swim with the big fish internationally. Accordingly, their Major League spending is an excellent indicator of total spending.
Future Liabilities
Unlike some other big-market clubs that have handed out significant dollars while retaining salary sheet flexibility, the Angels are largely wedded to their big contracts with five eight-figure AAV contracts extending through at least 2020.
Here is a look at their future guarantees with the peach highlight indicative of a club option for Kole Calhoun.  As mentioned above, note that the numbers shown on here are cash payments by year, not the salary plus the prorated amount of any bonus. The AAV column captures the player's luxury tax number.


There are some seriously significant numbers here. While it should start with the all-world Trout, we instead begin with the final three years on what quickly became an albatross deal for Albert Pujols. The Angels now owe Pujols "just" $87 million for his final three seasons, pushing them closer to a time in which his contract won't all-but-guarantee him significant playing time. Perhaps the need to use Shohei Ohtani as a designated hitter in his return from elbow surgery will push Pujols toward more time on the bench, where he should be at this stage in his career. Unfortunately, the payments to Pujols won't stop just because he stops playing: Pujols will receive a 10-year, $10 million personal services contract following the completion of his career. I presume that he will retire following his 2021 guarantee.
The other two numbers that jump off the page are the commitments to outfielders Trout and Justin Upton. Both players provided the Angels with good production in 2018 — OK, Trout was a hair better than "good" — so it comes as no surprise that they top the payroll spreadsheet. Both talents figure to occupy core lineup locations throughout their deals.
A pair of infielders follow as Andrelton Simmons and his elite glove come with two more years of below-market control while Zack Cozart will look to rebound after a rough debut season in Anaheim. Neither guarantee is terribly significant, and if the Angels need to move money at some point, I expect that Cozart would be a good starting point.
Finally, we reach Calhoun. The right fielder followed three consecutive above-average seasons from 2014-16 with a solid year in 2017 before slipping all the way to replacement level in 2018. If the Angels find themselves wanting to move salary to make another acquisition, Calhoun would seem to be a logical candidate to find a new home. Ken Rosenthal hears the same.
Moving to arbitration, the Angels feature only modest and even genuinely low projected salaries. Factor in that Matt Shoemaker may be non-tendered, and the Angels figure to allot a comparatively small amount of their total payroll to arbitration-eligible talent. Here are the arbitration statuses (salary projections by MLBTR and Matt Swartz):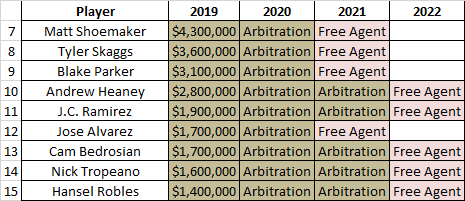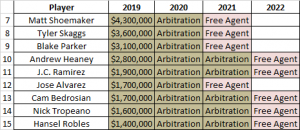 In addition to Shoemaker, JC Ramirez is a possible non-tender candidate. It's also possible the pitchers agree to contracts south of what arbitration would be expected to provide.
What Does Team Leadership Have to Say?
Simply put, neither Moreno nor Eppler has had much to say recently about spending, so we find ourselves looking to prior offseasons for guidance. Last winter, Moreno commented that the Angels lost money in 2016 and 2017, yet it didn't stop him from authorizing a similar payroll in 2018. He hasn't imposed any austerity measures during his ownership tenure, so that jives well with what he said last year.
Are the Angels a Player for Bryce Harper or Manny Machado?
As fun as it would be to see Harper and Trout share the outfield or to see Machado and Simmons vacuum up every ball hit to the left side of the infield, it's tough to see a fit for either young star here. A look through the Angels roster shows some strong position player talent and a handful of good, youngish starting pitchers. Unfortunately, the best starting pitching in question — Andrew Heaney, Tyler Skaggs, and Shohei Ohtani — all come with significant current and/or recent injuries. Los Angeles does have young righty Jaime Barria around, but he looks more like a good back-end option than an impact starter for a contender. Expect to see the Angels focus their spending efforts on an arm or two.
What Will the 2019 Payroll Be?
The standard disclaimer: ownership and management knows the actual budget whereas we're focusing on historical data and other relevant factors to project future spending in the immediate and more distant years to come.
The Angels' payroll has been remarkably consistent over the years. Despite Moreno's spending increases during his ownership tenure, they have all been of the gradual variety with the sole considerable jump that was unaccompanied by a corresponding dip in the prior year occurring in 2011 when spending spiked $20.7 million in one year as a result of the Vernon Wells acquisition.
With all of that said…
Moreno is the one current owner in Major League Baseball who appears likely to go the way of Mike Ilitch, incurring significant losses to keep his team in contention each year as he ages. Moreno purchased the club shortly after their sole World Series title in 2002, so he is yet to hoist a trophy as owner. To be clear: this is baseless speculation. As far as I can tell, no writers or front office folks have leaked information indicating that Moreno plans to break the bank this winter. But would I be stunned if Moreno authorized a $200 million payroll so he could pair Harper and Trout together for the next two years before allowing both to leave via free agency for Trout and an opt-out clause for Harper? Absolutely not. And in that scenario, the Angels would jettison Calhoun, minimizing the payroll impact of Harper's addition.
It's still more likely that the Angels focus on pitching acquisitions this winter — Dallas Keuchel and Patrick Corbin make sense as targets — but if payroll hits $200 million, they would have room for both Harper/Machado and the needed pitching. For now, let's assume they non-tender Shoemaker and Ramirez but hold onto Calhoun as a bounceback candidate.
Projected 2019 Payroll: $175 million
Projected 2019 Payroll Space: $36.6 million