As we kick off the fourth installment of this series, here are links to the previous team payroll projections:
Philadelphia Phillies
Los Angeles Dodgers
Los Angeles Angels
If you have questions about financial information made available to the public and the assumptions used in this series, please refer to the Phillies piece linked above.
Today, we're heading back to the National League East to examine the payroll situation of a burgeoning juggernaut: the Atlanta Braves.
Team Leadership
While most baseball franchises are now owned by families or groups of them, the Braves have been owned by corporate entities since 1996. Time Warner purchased the club, along with TBS, from Ted Turner and Turner Broadcasting in 1996, then sold the club in 2007 to Liberty Media Corp., the current owner, as part of a convoluted transaction involving billions of dollars worth of assets. The human face of ownership is that of chairman Terry McGuirk, a lifer at Time Warner.
The baseball operations department is headed by executive vice president and chairman Alex Anthopoulos. After serving as general manager of the Blue Jays from 2010-15, Anthopoulos turned down a five-year extension from the club to remain in his current role, instead spending two years as a vice president with the Dodgers. The arrival of new president Mark Shapiro reportedly played a significant role in his decision to leave Toronto. In the end, Anthopoulos found his way to a superior situation, taking over the Braves front office just over one year ago and inheriting a loaded farm system outside of the rigors of the wildly competitive American League East.
Historical Payrolls
Before hitting the numbers, please recall that we use data from Cot's Baseball Contracts, we'll use average annual value ("AAV") on historical deals but actual cash for 2019 and beyond, and deferrals will be reflected where appropriate. And, of course, the value of examining historical payrolls is twofold: they show us either what type of payroll a team's market can support or how significantly a given ownership group is willing to spend. In the most useful cases, they show us both. We'll focus on a 15-year span for the Braves, covering 2005-18 for historical data as a means to understanding year 15: 2019. We'll also use Opening Day payrolls as those better approximate expected spending by ownership.
Using this time frame for the Braves captures the end of Turner's ownership period, a spending downfall from the peak of $106.2 million in 2003. Braves spending was remarkably consistent from 2005-16 before a notable jump in 2017. Here is what the Braves have spent in the prior 14 seasons: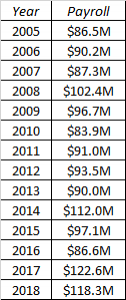 After spending like a top-10 club for much of Turner's ownership, the Braves have spent like a mid-market team throughout Liberty's ownership, never ranking higher than 13th or lower than 22nd in end-of-season payroll.
Atlanta's spending hasn't been limited to Major League talent by any stretch. In fact, their penchant for swimming in the international amateur market got them into deep trouble and helped propel Anthopoulos to the general manager's job. The Braves infamously split the signing bonuses paid to top amateurs between the the elite prospects and lesser "foreign professionals" for whom bonuses were exempt from international signing restrictions. This enabled the team to funnel additional money to top amateurs without being forced to incur stringent tax liabilities. Unfortunately for the club, when their deceit was uncovered by Major League Baseball, it resulted in the exodus of many top amateurs, including elite target Kevin Maitan, and much of the club's leadership, including president John Hart and general manager John Coppolella. The Braves will be significantly restricted from signing expensive international amateurs in the next two summers, so they'll paradoxically have more cash available for spending on Major League talent should they choose to allocate the unspent funds in that way.
Future Liabilities
The Braves have truly remarkably little on the books in terms of long-term commitments. Organizational stalwart Freddie Freeman has three years remaining on his deal and defensive wizard Ender Inciarte has three years plus an inexpensive club option for a fourth. That's it for guaranteed money beyond 2019…at least, that's it for current players. Here is a look at their future guarantees with the peach highlight indicative of 2020 club options for Julio Teheran and Tyler Flowers.  Note that the numbers shown on here are cash payments by year, not the salary plus the prorated amount of any bonus. The AAV column captures the player's luxury tax number.


The top portion of this chart is relatively straightforward: the Braves have long-term commitments for Freeman and Inciarte and one-year commitments for Teheran, O'Day, and Flowers, unless they want more for Teheran or Flowers via the options.
The bottom portion? The bottom portion carries the intrigue. We'll start with O'Day, the simpler case study. When the Braves acquired starter Kevin Gausman at the trade deadline, they also agreed to absorb the remaining contract for injured reliever Darren O'Day as a means of limiting the talent package they sent to Baltimore (this should make Braves fans happy and Orioles fans sad). O'Day's contract called for $1 million each year from 2016-19 to be deferred, payable in equal installments from 2020-23. Perhaps as a sign of how desperate the Orioles were to move payroll, the Braves agreed to absorb the deferred obligations owed to O'Day, even those incurred from money deferred in earlier seasons. As a result, the Braves owe O'Day $1 million for each year of O'Day's contract, including the time he spent in Baltimore in 2016, 2017, and 2018.
Sutter is an entirely different matter. The Braves signed Sutter to a six-year, $9.1 million deal prior to the 1985 season when Sutter was coming off of a top-10 finish in Most Valuable Player voting having just completed a return to star status after a couple of rocky seasons. With Atlanta, Sutter produced a whopping 0 WAR while sputtering out after three seasons. However, that's not the source of intrigue. That comes from the extremely unique structure of Sutter's contract which called for minimal annual payments and massive deferrals, paying Sutter $1.12 million per year for 30 years after he retired. Mercifully for the Braves, Sutter will collect his final annual payment in 2021. Unmercifully for the Braves, Sutter collects the entire $9.1 million principal that year as well. His $10.22 million payment in 2021 may very well rival Mike Foltynewicz for the second largest payout on the team. If the Braves already have Sutter's balloon payment tucked away and ready for payment in 2021, this is merely a goofy historical anecdote. If, however, the Braves need to come up with the balloon payment, it may have a meaningful impact on the 2021 roster and the team's willingness to commit future dollars this offseason.
With Sutter out of the way, let's move to the arbitration projections. Outfielder Adam Duvall and reliever Sam Freeman both appear to be non-tender candidates, but for now, both are included below (salary projections by MLBTR and Matt Swartz):


Gausman, Foltynewicz, and Vizcaino all figure to occupy significant chunks of payroll, but all three pitchers are important to the 2019 Braves, so they provide nice value to the contending team.
What Does Team Leadership Have to Say?
Anthopoulos was surprisingly forthcoming when discussing Atlanta's spending plans, telling reporters, "We will have a good amount of money to work with." This likely doesn't surprise anyone. The Braves have been a picture of consistency with their spending over the past decade, so it would be stunning to see payroll plummet or explode this offseason.
However, the color that Anthopoulos added to his basic comment provides significantly greater insight: "We're not going to just walk in the store and buy because we have money in our pockets. If we don't find the right deal with something we like, there's still other opportunities to shop. There could be opportunities next season. If you start signing guys to big, long deals, if you feel good about the deal, you do it now. I wouldn't force a deal right now that would limit you in years from now. I don't think with our club, with what we have, that the value is going to be there in the free-agent market. It doesn't mean it won't. We'll certainly explore it. But if I could sit here in the middle of October, I'd say it's more likely we go the trade route. It's not ideal to give up young assets, but it's also not ideal to do a deal you don't believe in — that may look good for a year or two, and then in years three, four and five, it does not."
Are the Braves a Player for Bryce Harper or Manny Machado?
It's entirely possible that some of the above was merely posturing on the part of Anthopoulos as the Braves prepare a foray into the depths of free agency. But given the club's hesitance to spend at top-of-the-market rates in the past, I would expect that Atlanta's free agent targets won't reach the Harper/Machado tier.
However, that said, Atlanta's salary flexibility and ludicrous hoard of prospect arms ready to fill the Major League rotation for the next half decade or longer mean that the Braves can afford to take a massive swing and miss without crippling the franchise for years. So few teams have such a luxury. As a result, they should be considered a sneaky contender to spend big dollars, especially for Harper as the Braves would likely love to put him in the outfield with Ronald Acuna Jr. and Inciarte. Machado makes a bit less sense given the presence of Ozzie Albies, Dansby Swanson, and well-rounded top prospect Austin Riley, but the money is there. There's just a chasm of disconnect between the figures on paper and the words of the general manager.
What Will the 2019 Payroll Be?
The standard disclaimer: ownership and management knows the actual budget whereas we're focusing on historical data and other relevant factors to project future spending in the immediate and more distant years to come.
The Braves' payroll has been quite consistent over the years, and given their historical trajectory and current revenue streams, I'd expect for them to at least comfortably plod along with methodical increases. That might mean something like $130 million in 2019.
However, last year's club blew open the competitive window. As a result, I foresee a slightly larger increase this year than expected. As a result, they're likely going to make a significant expensive addition or two. A reunion with Craig Kimbrel makes an awful lot of sense.
Projected 2019 Payroll: $135 million
Projected 2019 Payroll Space: $50.6 million