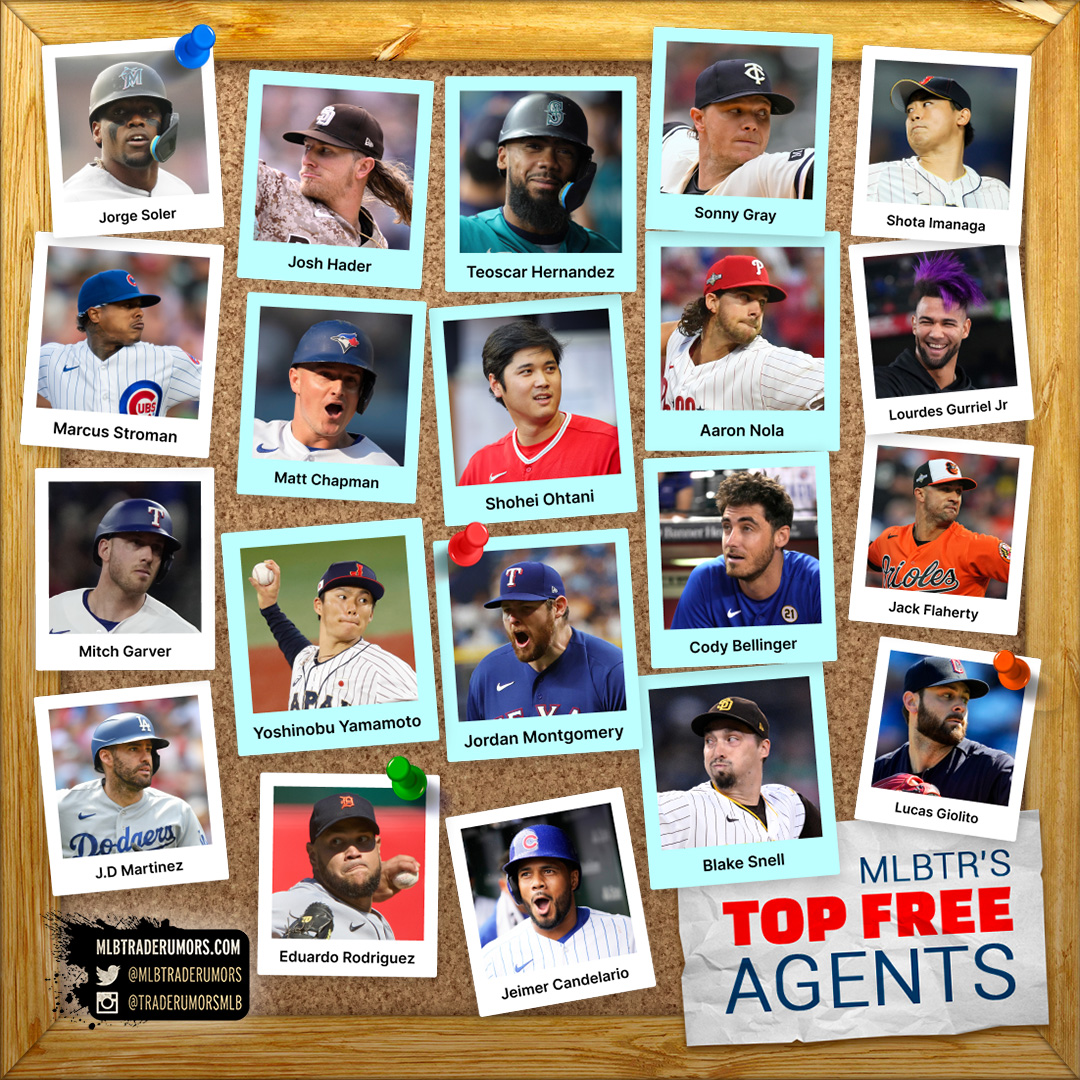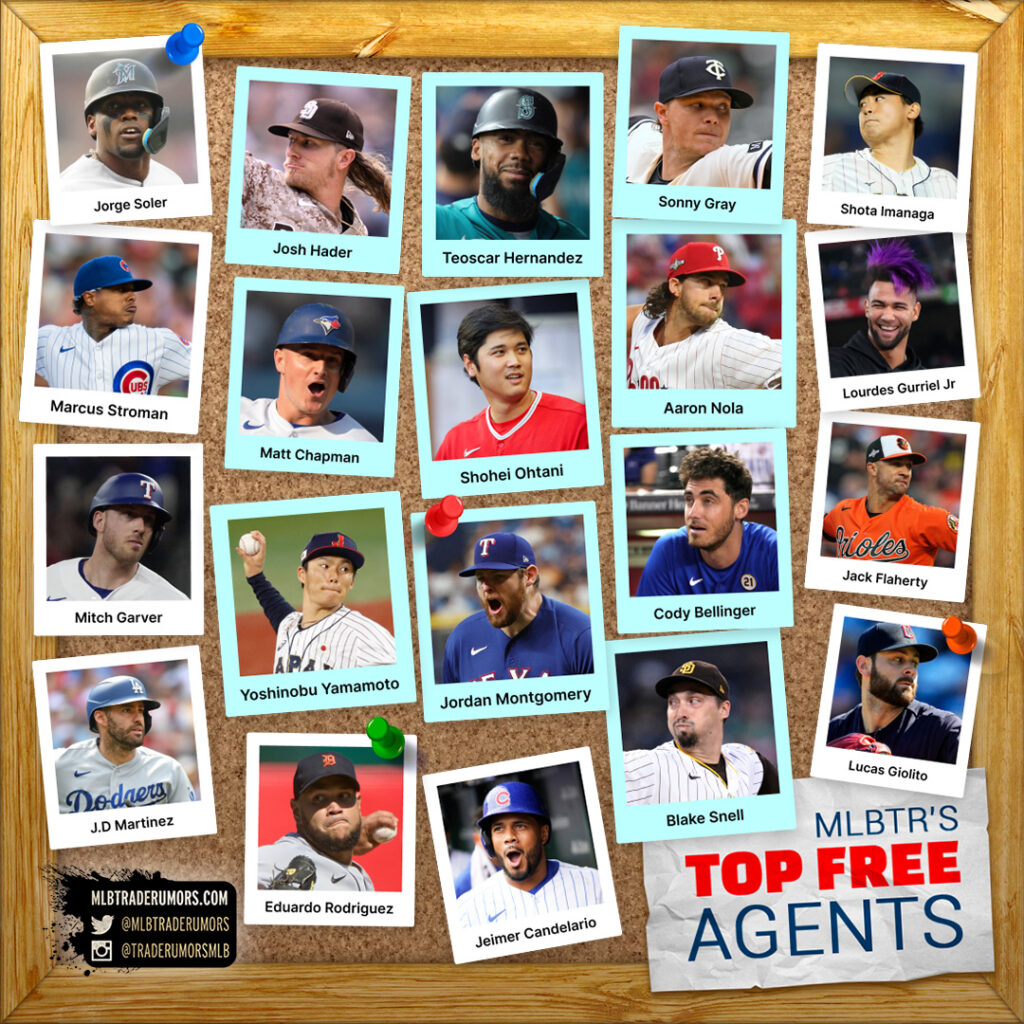 MLB Trade Rumors is proud to present our 18th annual Top 50 Free Agents list!  These are the top 50 MLB free agents by our estimation of their earning power.  To view the full 2023-24 free agent list, click here.
This list is a labor of love that represents more than a month of work by Anthony Franco, Tim Dierkes, Darragh McDonald, and Steve Adams.  We live and breathe MLB free agency at this website, and we've spent countless hours debating these contract projections.  While we reached a general consensus on the contracts, points of disagreement certainly remain.  We've each made our own set of team picks as well, but it's worth noting the difficulty in getting even one-fifth of those correct.
Please note that some clubs are under-represented in our team picks, but there will be notable free agent signings outside of our top 50, and some teams prefer to supplement via trade.
Making team picks is part of the fun, which is why we hold a free agent prediction contest every year!  This year's contest is currently open and closes at 11pm central time on November 13th.  Click here to enter!  You can change your picks up until the deadline.  Keep in mind that any player who signs prior to the deadline will be excluded from the results.
For an in-depth analysis of the upcoming offseason for each of the 30 teams, check out our Offseason Outlook series.
We're proud to be an independently-owned baseball website providing high-quality MLB hot stove analysis for the last 18 years.  We appreciate that you've chosen us over the alternatives, most of which are massive corporations.  Please consider supporting us directly with a Trade Rumors Front Office subscription.  Benefits include ad-free browsing, access to our awesome contract tracker research tool, access to our agency database, exclusive weekly articles from Anthony and Steve, and exclusive weekly live chats with Anthony.  It's well worth your while if you're a regular MLBTR reader, and it comes with a 100% money-back guarantee.
The 2023-24 MLB free agent market boasts a unique generational two-way star at the top in Shohei Ohtani and several big names within the top ten, but is lacking in position player depth.  We vetted these as much as possible, but with 50 predictions and a volatile free agent and trade marketplace, we know we'll be off on some. Have your say on all of this in the comment section!
Special credit goes to Anthony Franco, who authored the vast majority of the player blurbs to follow.
On to our top 50 free agents:
1. Shohei Ohtani. Twelve years, $528MM
Tim Dierkes' prediction: Dodgers / Anthony Franco's prediction: Dodgers / Darragh McDonald's prediction: Dodgers
Ohtani's two-way legend stretches back to his days in Japan. He'd hit .286/.358/.501 while pitching to a 2.52 ERA in parts of five seasons at Japan's highest level. Ohtani then decided to make the jump to the Majors, knowing that doing so involved sacrificing a substantial sum (likely hundreds of millions of dollars) in short-term earning power. By signing with an MLB club before age 25, he qualified as an international amateur and was subject to a hard-capped signing bonus. He landed with the Angels for just north of $2MM. That locked him into the traditional six-year reserve system (three years of roughly league minimum salaries, followed by three years of arbitration).
Ohtani was arguably the most anticipated international signee ever. There was never any question the Angels landed a player who'd contribute immense value. Yet some evaluators expressed skepticism about his viability as a two-way player. He was generally regarded as a potential ace on the mound, but there were questions about how his bat would translate against MLB velocity.
He dispelled some concern with a strong rookie showing. Ohtani connected on 22 homers in 114 games to win the 2018 AL Rookie of the Year. Dreams of immediate two-way stardom were put on hold when he suffered a UCL sprain in his throwing elbow after 10 starts. He required Tommy John surgery that October, limiting him strictly to designated hitter the following season.
Ohtani had a fine second year as a hitter. His return to the mound in the shortened 2020 campaign was marred by an inability to throw strikes. Heading into '21, there was legitimate debate about whether it was possible to succeed on both sides of the ball simultaneously. He put that to rest. Ohtani popped 46 home runs while turning in 130 1/3 innings of 3.18 ERA ball en route to a unanimous selection as AL MVP. He was arguably better the following year, working to a 2.33 ERA over 28 starts while hitting .273/.356/.519 with 34 homers.
Now, Ohtani hits free agency on the heels of his best offensive showing. He led the American League with 44 home runs while hitting .304/.412/.654 across 599 plate appearances. The left-handed hitter cut his strikeouts to a career-low 23.9% clip, walked at a massive 15.2% rate, and led all qualified batters in slugging percentage. He posted a 3.14 ERA through 132 innings, striking out an excellent 31.5% of opponents. Only a record-setting home run barrage from Aaron Judge last year has kept Ohtani from three consecutive MVP awards. He's the best player in the world, accomplishing things that leave MLB players and star athletes from other sports in awe.
His was shaping up to be a spotless free agent case. That changed on August 24, when Ohtani left the mound two innings into the first game of a doubleheader with arm fatigue. He underwent imaging that afternoon, which revealed he'd again suffered a tear in his UCL. Ohtani played the nightcap as the DH before the Halos announced that his season as a pitcher was finished. A week later, his reps at CAA said he'd require a procedure to address the issue.
Ohtani hit through the UCL injury for another 10 games. An oblique strain suffered during batting practice in mid-September ended his season. He underwent surgery to repair the UCL on September 19. The specific procedure remains unclear, though it's expected to keep him off the mound until 2025. According to his representatives, Ohtani will be able to hit by next Opening Day and could serve as a DH all season.
The surgery throws a wrench into his free agent case. Yet even if Ohtani were strictly a designated hitter, he'd be the top player in this year's class. Among qualified hitters over the last three seasons, he's ninth in on-base percentage and trails only Judge in slugging. While Ohtani's 2023 wasn't quite as impressive as Judge's 2022 campaign offensively, he's not that far behind the Yankee slugger as a hitter alone.
Ohtani has made clear he intends to pitch again when healthy. There's risk with any pitcher who has twice undergone major elbow surgery. Perhaps Ohtani will never regain his velocity or will struggle with command. Within the range of outcomes is the chance that he recaptures top-of-the-rotation form, though. Among pitchers with 300+ innings over the last three seasons, Ohtani ranks sixth in ERA (2.84) and fourth in strikeout percentage (31.4%). He's a possible Cy Young contender.
The market should respond with a record-setting deal. One could argue for Ohtani to seek a short-term pact that shatters the annual salary record in hopes of getting back to free agency after he reestablishes his health as a pitcher in 2025. While that's a potential consideration, he shouldn't have any problem establishing a much higher guarantee record as is.
Ohtani turned 29 in July. Judge, whose $360MM pact with the Yankees is the largest contract in MLB history, turned 31 in the first April of his deal. Ohtani offers upside on the mound that Judge didn't provide. Even if the injuries mounted to the point where it weren't viable for him to continue pitching, he'd likely be an asset in the corner outfield. Ohtani played the outfield in Japan and is an above-average runner. He has been a DH in the majors so as not to overwork him as a pitcher, not because he's a lumbering slugger. The "downside" of Ohtani not pitching is that he could be an everyday corner outfielder.
Between the youth, the unprecedented production and his marketability as an international superstar, Ohtani remains the best free agent in recent memory (potentially ever). Every high-payroll club will have interest. One of the Angels' selling points last time around was that they were willing to afford Ohtani wide leeway in setting his usage. That'll surely be a consideration, as will a franchise's competitive outlook. Geography could be a factor.
During his last free agent trip, Ohtani reportedly considered the Dodgers, Padres, Rangers, Giants, Mariners and Cubs in addition to the Halos. All but Chicago are Western division teams, though Ohtani hasn't publicly declared a preference for the West Coast. All those clubs will be involved, while traditionally big spenders like the Mets, Yankees, Red Sox and Astros should be in the fray. Ohtani received and will obviously reject the qualifying offer. He'll cost a signing team a draft choice (and potentially international bonus space). That's a marginal consideration for a player this good.
There's no precedent in forecasting where teams might draw the line. His camp figures to target $500MM as a round goal. A 12-year pact would run through his age-40 campaign, a mark reached by each of Trea Turner, Xander Bogaerts and Manny Machado last offseason. Judge was paid through 39. Teams showed increased willingness to stretch contract length to diminish the average annual salary for luxury tax purposes. A 12-year deal worth half a billion dollars would involve a $41.667MM AAV that ranks third in MLB history. Getting to $44MM annually would edge past Justin Verlander and Max Scherzer ($43.333MM) for the all-time record. We expect a team to offer the best of worlds — the AAV record and a pact running through age-40 — which would bring the guarantee to an eye-popping $528MM.
2. Cody Bellinger. Twelve years, $264MM
Tim: Yankees / Anthony: Giants / Darragh: Giants
Bellinger hit 39 homers as a 21-year-old en route to the 2017 NL Rookie of the Year. While his production took a dip in year two, he more than returned to form with an MVP showing in 2019. Bellinger hit .305/.406/.629 with 47 longballs, edging out Christian Yelich as the league's most valuable player.
Then came an offensive downturn. Bellinger was fine but unexceptional during the 2020 shortened regular season. While he had a strong postseason to help the Dodgers to a World Series, it wasn't without consequence. While celebrating a home run with teammate Enrique Hernandez in Game 7 of the NL Championship Series, Bellinger dislocated his right shoulder. He played in the Fall Classic before undergoing surgery that November.
The next two seasons were disastrous. Bellinger hit .165/.240/.302 around three injured list stints (none related to the shoulder) in 2021. He was marginally better the following season, posting a .210/.265/.389 slash through 144 games.
"He was hurt, plain and simple," agent Scott Boras told Bob Nightengale of USA Today in August. "He has surgery, and the Dodgers asked him to play with a 35% strength deficiency, and then with COVID, he was deprived of the expert medical treatment. He didn't have the shoulder strength." Boras subsequently walked back the implication the Dodgers had mishandled the situation after L.A. president of baseball operations Andrew Friedman told Jack Harris of the Los Angeles Times that he "(found) it to be a very convenient narrative."
The Dodgers declined to tender Bellinger an arbitration contract last winter. He fielded reported interest from the Rockies, Giants, Yankees and Blue Jays before signing a $17.5MM deal with the Cubs. It was a classic pillow contract. Rarely do one of those deals work out quite this well. Bellinger had a resurgent season, hitting .307/.356/.525 over 556 plate appearances. He connected on 26 homers, stole 20 bases and slashed his strikeout rate to a career-low 15.6%. Bellinger missed a few weeks with a left knee contusion but was otherwise healthy. He logged 686 innings in center field and rated as a plus defender in 421 2/3 frames at first base.
It'd be simplistic to say Bellinger is back to his MVP form. He homered in 4.7% of his plate appearances this year after connecting on a big fly 6% of the time during his first three seasons. Bellinger's batted ball metrics are uninspiring. His 31.4% hard contact rate (defined as an exit velocity of 95 MPH or higher) is almost nine percentage points below league average; it's well down from the 45% range at which he has squaring balls up during his MVP season.
At the same time, there are a lot of positives on the résumé. The shoulder certainly appears healthier now than it has in the past two years. He's putting more balls in play, which reduces the pressure to hit for power. Bellinger remains a quality defender in either center field or at first base. He's an above-average baserunner. He won't turn 29 until July, meaning next season is technically his age-28 campaign. The free agent class for hitters drops off precipitously behind him, particularly in center field. The shoulder offers a partial if incomplete explanation for his 2021-22 struggles.
Another former MVP, Kris Bryant, landed a $182MM deal with the Rockies two winters back on the heels of a lesser platform year. Bryant was two years older than Bellinger is now. Brandon Nimmo reset the center field market with a $20.25MM annual value over eight seasons from the Mets at age 30. He'd never reached Bellinger's MVP heights, although he'd also never experienced anything like his downturn. Nimmo's deal ran through age 37. Bogaerts was paid through 40 off a very similar platform showing to Bellinger's 2023, albeit with more career consistency.
We're betting on Bellinger's youth winning out. Bogaerts, Machado, Turner and Rafael Devers all signed decade-long deals last winter as teams sought to diminish the AAV. An 11-year or 12-year pact could be on the table. A $22MM AAV over 12 years would narrowly beat Nimmo's annual salaries while pushing past $250MM total.
The Cubs made Bellinger a qualifying offer, so he'll cost a signing team a draft choice. Each of San Francisco, the Yankees, and Toronto could check back in. Other clubs may not need center field help but could move younger outfielders around. The Cubs could try to retain him even with top prospect Pete Crow-Armstrong having reached the majors.
3. Yoshinobu Yamamoto. Nine years, $225MM
Tim: Giants / Anthony: Yankees / Darragh: Yankees
Yamamoto is the top Japanese pitcher (aside from Ohtani) to make the jump to the Majors in years. The right-hander reached Japan's highest level as an 18-year-old back in 2017. He found success by his second season and established himself in the Orix Buffaloes' rotation by 2019, his age-20 season.
That year, Yamamoto worked to a 1.95 ERA through 143 innings. It kicked off a five-year stretch of laughable run prevention. He didn't allow more than 2.20 earned runs per nine in any of his final five seasons in NPB. He hits the market on the heels of three consecutive sub-2.00 showings. Since the start of 2021, he carries a 1.44 ERA at the second-highest level of professional baseball.
Yamamoto won consecutive Sawamura awards as NPB's best pitcher in 2021 and '22. He arguably improved on that performance, posting a 1.21 ERA through 164 innings this year. That's a half-run lower than the league's second-place finisher. Yamamoto punched out 26.6% of opposing hitters, while his 169 total strikeouts ranked second in the league. He paired that with a minuscule 4.4% walk rate that is almost half the MLB average. He allowed just two home runs.  Yamamoto capped his NPB pitching career with an epic performance in Game 6 of the Japan Series, striking out a record 14 while throwing 138 pitches.
Kodai Senga posted a 1.94 ERA with a 27.5% strikeout rate during his final season in NPB. Some scouts suggested Senga's repertoire and/or fringy command projected him to a bullpen future at the MLB level. His first MLB season was excellent, as he pitched to a 2.98 ERA in 29 starts for the Mets after signing a $75MM deal.
Yamamoto is unanimously viewed as a better pitcher. He has a longer track record of statistical dominance and stronger reviews from scouts. Evaluators with whom MLBTR spoke project Yamamoto as a high-end big league starter, likely as a #2 arm in a strong rotation. He's on the smaller side for a starting pitcher, listed at 5'10" and 176 pounds. Yet there aren't many reservations about him holding up physically and there's no question he'll do very well financially.
On top of the statistical dominance and strong scouting reports, Yamamoto hits the market at an age almost never seen for a starter. He was born in August 1998, meaning he'll be entering his age-25 season. It's essentially impossible for a pitcher coming through the six-year MLB reserve system to get to free agency that young. The most recent comparison was Masahiro Tanaka, who joined the Yankees on a seven-year, $155MM pact in advance of his age-25 season in 2014.
With nearly a decade since the Tanaka deal, Yamamoto should handily surpass that number based on inflation alone. Gerrit Cole is the only pitcher to sign a nine-year guarantee. Aside from Cole, commitments to top starters tend to stop at seven years. Those typically begin in the pitcher's age-29 or older season, however. It's not uncommon to see pitchers paid through 36 or 37.
That probably be won't the case for Yamamoto. A commitment of 11 or 12 years would entail injury risk, while there's still some amount of uncertainty until he matches up with major league hitters. Eight years feels like the floor, with a decent chance he matches Cole's nine-year term. It's possible his camp negotiates an opt-out clause midway through the deal, as he's certainly young enough to have another bite at the apple a few years from now.
In addition to the sum guaranteed to the player, a signing team will have to send money to the Buffaloes. Yamamoto will be made available via the posting system, since he didn't reach the requisite nine years of NPB service time to qualify for full international free agency. The MLB team will pay a fee to the Buffaloes in proportion to the size of Yamamoto's contract. They'll owe the NPB club 20% of the contract's first $25MM, 17.5% of the next $25MM and 15% of any dollars thereafter. Unlike many of the other top free agents, he wouldn't cost a signing team a draft choice because the qualifying offer is not in play.
Yamamoto has 45 days from his official posting date to sign; he'd otherwise remain in NPB. He will find a deal within the posting window. He's young enough to appeal to teams at various stages of their competitive timelines. Any team that runs the kind of payroll to accommodate a $200MM+ free agent contract could be involved. The Mets, Yankees, Red Sox, Dodgers, Giants, Tigers, Cubs and Rangers all figure to check in, although upwards of half the league could realistically be in play.
4. Blake Snell. Seven years, $200MM
Tim: Phillies / Anthony: Red Sox / Darragh: Dodgers
Snell can reach heights matched by few pitchers. The left-hander is coming off his second Cy Young-caliber showing and ERA title alike. That he's never received a single Cy Young vote outside the seasons in which he has won the award hints at the volatility in his profile, but there might not be any starting pitchers more capable of blowing away an opposing lineup when he's on.
The run Snell put together from June onward was remarkable. After a pedestrian first couple months, the 6'4″ hurler turned in a 1.23 ERA while fanning 35% of batters faced through his final 23 starts. His typically scattershot command was still present, as he walked 13.2% of opponents. It didn't matter because hitters were incapable of touching him whenever he was around the strike zone.
It was a perfect time for the best stretch of Snell's career, yet he'd proven himself as a top-of-the-rotation arm even before that run of utter dominance. Snell rode a 1.89 ERA to the 2018 American League Cy Young while pitching for the Rays. He has allowed fewer than 3.55 earned runs per nine in five of his eight MLB campaigns. In the three years since being dealt from Tampa Bay to the Padres, he put together a 3.15 ERA with a 31.5% strikeout rate in 83 starts.  Snell is widely expected to land the 2023 NL Cy Young award on November 15th.
It's an unconventional profile for an ace. Snell issued an MLB-leading 99 walks this past season. Of the 95 starting pitchers with 300+ innings over the last three years, none has handed out free passes at a higher rate than his 12% clip. Snell isn't as efficient as most elite starters. He has averaged 5.19 innings per start for his career, and while that's partially a reflection of the Rays' aggressive bullpen management, he was working around 5 2/3 frames per appearance with the Padres this year. Snell reached the 180-inning threshold in his two (likely) Cy Young campaigns; he has otherwise never thrown even 130 innings in a season.
While the lack of volume is somewhat concerning, the league is increasingly skewing toward rate performance over bulk innings. Carlos Rodon landed a $162MM pact last winter without having a single 180-inning season to his name. Snell doesn't have the same level of injury concern as Rodon, who has previously undergone Tommy John surgery and an arthroscopic shoulder procedure. Snell underwent arthroscopic elbow surgery to remove loose bodies in 2019; he's battled fairly minor adductor (groin) issues in 2021-22 and hasn't been on the injured list since May 2022.
Snell also simply has hit levels of dominance than Rodon didn't reach. He's coming off a better platform season, especially in the second half. Rodon has never finished higher than fifth in Cy Young balloting. Snell is a year older than Rodon was, turning 31 in December, but he has the superior résumé and should land the loftier deal. His camp figures to take aim at $200MM and could look to beat the $217MM which David Price received from the Red Sox.
Snell received and will reject a qualifying offer from San Diego. Any traditional big spender might be involved in the market. The Dodgers, Mets, Phillies, Yankees, Cardinals, Red Sox, Rangers, Giants, Tigers, Cubs and Orioles all have payroll room and could theoretically pursue a top-of-the-rotation starter.
5. Aaron Nola. Six years, $150MM
Tim: Cardinals/ Anthony: Cardinals / Darragh: Cardinals
A career-long Phillie, Nola hits the open market for the first time. Philadelphia selected the LSU product with the seventh overall pick in the 2014 draft. Within a year, he'd reached the big leagues, working to a 3.59 ERA over his first 13 starts. An elbow strain limited him to 20 appearances during his sophomore campaign. Since then, the right-hander has been the picture of durability.
Nola's only injured list stints over the past seven seasons have been for a lower back strain in 2017 and a stint on the virus list in 2021. He has surpassed 160 innings in each of the last six full schedules and took a full slate of 12 turns in 2020. Only Gerrit Cole has thrown more innings over that span.
In recognition of that durability, Philadelphia signed Nola to a $45MM extension in 2019. The contract bought out two free agent seasons. While Nola doesn't have Cole's level of dominance, he is far more than an innings eater. The right-hander has turned in a sub-4.00 ERA in five of the last seven seasons despite pitching in a hitter-friendly home ballpark and typically operating in front of lackluster defenses. His run prevention has been spotty of late. Nola sandwiched a 3.25 showing in 2022 with middling ERA figures (4.63 and 4.46, respectively) in 2021 and 2023.
A slightly elevated home run rate was the main culprit for Nola's middling ERA this year. He surrendered 1.49 homers per nine innings, above the 1.32 HR/9 league average for starters. While it's the first time the longball has given Nola much trouble, his ground-ball percentage has dropped from the 50% range to just above 40% in each of the last three years.
Nola has pristine command, walking fewer than 6% of opposing hitters three years running. He paired that with a strikeout rate just below 30% from 2021-22. That dropped to 25.5% this year, although that's largely a reflection of a slow start. From June onward, Nola punched out 27.9% of opponents against a 5.5% walk rate.
It's not a traditional power profile. Nola averaged 92.7 MPH on his fastball and 79.4 MPH on the curveball that is his best offering. Despite the pedestrian velocity, he's shown the ability to post borderline ace-caliber results while shouldering as heavy a workload as any major league pitcher. Nola has three top-10 Cy Young finishes on his résumé, including a fourth-place nod in 2022.
He concluded this year on a strong note. Nola tossed 23 innings over four playoff starts, working to a 2.35 ERA. He struck out 23 while walking four to help the Phils within one game of a second straight pennant.
Since he reached the majors just after his 22nd birthday, Nola is reasonably young despite the early-career extension. He turns 31 in June. USA Today's Bob Nightengale reported last month that his camp had sought an eight-year pact that topped $200MM during extension talks with the Phils this spring. The team preferred a four- or five-year term.
Nola received and will decline a qualifying offer. He's entering his age-31 season, an age at which Jon Lester (six years, $155MM), Kevin Gausman (five years, $110MM) and Yu Darvish (six years, $126MM) all landed nine-figure guarantees. Nola is a year older than Carlos Rodon (six years, $162MM) was last offseason and didn't quite show the same upside, although he has far better durability and a more consistent track record. The Cardinals have already been linked to Nola, while Philadelphia president of baseball operations Dave Dombrowski has called it a priority to bring him back. More than a third of the league could be involved in his market.
Signed with Phillies for seven years, $172MM.
6. Jordan Montgomery. Six years, $150MM
Tim: Rangers / Anthony: Mets / Darragh: Giants
Montgomery began his career as a fourth-round draftee of the Yankees. The left-hander reached the majors in 2017, debuting with 29 starts of 3.88 ERA ball. The promising debut was interrupted by a Tommy John surgery midway through his second year. He barely pitched between 2018-19 and struggled to a 5.11 ERA over 10 starts during the shortened 2020 campaign.
The South Carolina product returned to form in 2021. He worked to a 3.83 ERA over 30 starts. He owned a 3.69 mark across 21 outings the next season before surprisingly finding himself in a deadline trade. After deciding Montgomery wasn't likely to factor in their playoff rotation, the Yankees traded him to the Cardinals for Harrison Bader. The left-hander continued plugging along, posting a 3.11 ERA in 11 starts for St. Louis down the stretch.
Montgomery was featured in another deadline deal this past summer. This one was far more predictable. St. Louis dropped out of contention almost immediately and became an obvious seller. After working to a 3.42 ERA over 21 starts, Montgomery positioned himself as arguably the top rental starter available. St. Louis sent him to the Rangers a couple days before the deadline. He continued pitching well in Arlington, working to a 2.79 ERA in 11 appearances.
Montgomery further burnished his résumé with 31 innings of 2.90 ball for the World Champion Rangers.  A scoreless seven-inning outing over the Rays was a huge factor in the Rangers winning the Wild Card series.  The lefty pitched well in a pair of ALCS starts against the Astros and added a clutch Game 7 relief outing.  Montgomery's lone World Series start, in which he allowed four runs in six frames, didn't advance the Rangers' cause but probably didn't diminish his postseason success overall.
Over the past three seasons, Montgomery owns a 3.48 ERA across 94 starts. His 22.5% strikeout rate is around average, while he has kept the walks to a tidy 6.2% clip. It's not an overpowering profile, but Montgomery does everything well. He's a consistent strike-thrower who misses enough bats and handles hitters of either handedness. Both his sinker and four-seam average a bit north of 93 MPH, while his changeup and curveball are quality secondary offerings. Since the Tommy John procedure, he has been durable.
Montgomery looks like a safe bet for upper mid-rotation production. He fits as a #2 or high-end #3 starter on a contender. The midseason trade adds to the appeal. Not only did he demonstrate he can pitch in the postseason, but changing teams rendered him ineligible for the qualifying offer. Aside from Yamamoto, he's the clear best pitcher available who wouldn't cost a signing team a draft pick.
Though they're older comps, the six-year contracts received by fellow southpaws Jon Lester and Patrick Corbin may be Montgomery's range.  Some suitors may stop at five years, as happened with Robbie Ray and Kevin Gausman, but a club may be able to differentiate its offer by adding a sixth year.  Despite trading Montgomery, the Cardinals or Yankees could look to re-engage given their clear rotation needs.  Montgomery certainly left a positive impression on the Rangers.  The Cubs, Diamondbacks, Dodgers, Mets, Orioles, Padres, Phillies, Red Sox, and Tigers also make some measure of sense.
7. Matt Chapman. Six years, $150MM
Tim: Giants / Anthony: Phillies / Darragh: Cubs
Chapman was a down-ballot MVP candidate during his first few seasons in Oakland. He paired elite defensive grades at third base with a slugging percentage north of .500 in three straight years, headlined by a 36-homer campaign in 2019. His 2020 season was cut short by a torn labrum in his right hip that required surgery.
Since that procedure, Chapman hasn't been the same caliber of hitter. He hit .210/.314/.403 with a 32.5% strikeout rate in 2021. The A's dealt him to the Blue Jays the following offseason. Over two seasons in Toronto, the right-handed hitter put up a .234/.327/.429 slash. He draws plenty of walks and has cut his strikeouts a bit from their 2020-21 peak, yet he's still punching out at an elevated 27.8% clip over the last two years.
Chapman was on a torrid stretch to start this season, running a .384/.465/.687 mark with a dramatically improved 22.8% strikeout rate through the first month. From May onwards, he limped to a .205/.298/.361 slash while striking out 30% of the time. The Jays were hitting him in the bottom third of the order down the stretch.
Volatility aside, the end line was a typical Chapman season. He hit .240/.330/.424 with 17 homers through 581 plate appearances. He lost a couple weeks towards the tail end with a sprained right middle finger. It wasn't a bad season overall considering he's still one of the sport's best infielders. A four-time Gold Glove winner (including this year), he ranks fifth among third basemen with 14 Defensive Runs Saved over the last two seasons.
The total package makes Chapman an above-average regular. As he gets further away from his peak days in Oakland, it's harder for teams to sell themselves on him hitting at a middle-of-the-order level, although his batted-ball metrics remain tantalizing. Chapman sits in the 98th percentile of MLB hitters in average exit velocity and barrel rate, per Statcast, and no qualified batter topped his 56.4% hard-hit rate. That profile could lead some teams to dream on a return to form.
Even if that doesn't come to pass, that shouldn't rule out a weighty long-term deal. After all, none of Dansby Swanson, Trevor Story or Javier Baez were elite hitters going into free agency, yet they each landed guarantees between $140MM and $177MM. While they're all shortstops, Chapman fits a broadly similar profile: a plus defensive infielder with power but enough swing-and-miss to put a cap on the offensive ceiling.
In a market light on position players, Chapman's glove gives him one of the more stable floors. He'll be 31 in April and should look for five- or six-year deals after rejecting a qualifying offer from Toronto. The Cubs, Mets, Yankees, Tigers, Phillies, and incumbent Jays could all show interest.
8. Josh Hader. Six years, $110MM
Tim: Rangers / Anthony: Rangers / Darragh: Rangers
Hader reestablished himself as one of the sport's best relievers with a dazzling platform year. He worked to a 1.28 ERA across 56 1/3 innings. Hader struck out 36.8% of opposing hitters, picked up swinging strikes on almost 16% of his offerings, and dominated opponents of either handedness.
A multi-inning weapon early in his career, the southpaw is now a prototypical closer. He hasn't worked more than one inning in a regular season appearance since 2019. Hader is an excellent ninth inning arm, successfully finishing 103 of 113 opportunities (a 91.2% success rate) over the last three years.
This was Hader's fifth season with a sub-3.00 ERA and the second time he allowed fewer than two earned runs per nine. His strikeout rate has dipped from its 47.8% peak but remains one of the game's best. Hader's 5.22 ERA from 2022 looks like a blip, the kind of anomalous season that sometimes affects even elite relievers.
So long as that spike doesn't come in the pitcher's platform season, teams can look past it. Edwin Diaz turned in a 5.59 ERA in 2019 amidst a five-year run in which he posted three sub-2.00 showings. That didn't impact Diaz's market value. The Mets righty became the first reliever to land nine figures, securing a five-year, $102MM pact last winter.
That's the obvious benchmark for Hader's camp. His career 2.50 ERA is nearly half a run lower than Diaz's 2.93 figure. Diaz throws harder and was a year younger than Hader is now, but the latter could get a slight edge as a left-hander. Hader will have the benefit of open-market bidding, while Diaz was negotiating exclusively with the Mets when he signed his deal just before free agency. It seems likely Hader will set a new record for a reliever contract, even if it'd take a sixth year to do so. Higher-payroll clubs will have more leeway to accommodate a nine-figure investment, although every team would improve by adding Hader to the bullpen. The Padres made him a qualifying offer, which he'll reject.
9. Sonny Gray. Four years, $90MM
Tim: Braves / Anthony: Dodgers / Darragh: Tigers
Gray, who turns 34 tomorrow, is likely to earn AL Cy Young votes after placing second in the American League with a 2.79 ERA. The Twins' 11-year veteran righty is one of the more desirable starting pitchers on the market this winter, despite his age and the burden of the qualifying offer.
The A's drafted Gray 18th overall back in 2011 out of Vanderbilt. Prior to the 2012 season, Gray reached #65 on Baseball America's prospect rankings, projecting as a potential #2 starter despite standing at 5'10". He dropped off the list after struggling in his first full pro season but had immediate MLB success upon reaching Oakland in the summer of 2013.
The high point of Gray's excellent run with the A's was his 2015 season, in which he earned his first All-Star nod and finished third in the AL Cy Young voting. He stumbled to a 5.69 ERA in 22 starts the following year, a season in which he hit the IL for a strained right trapezius and a subsequent forearm strain.
Gray started the 2017 season on the IL with a lat strain, but returned to form enough to earn himself a trade to the Yankees. He pitched well for the remainder of that season, punctuated by a strong start in Game 4 of the ALCS.
Gray struggled for the Yankees in 2018, losing his rotation spot by August.  After some tough words from Yankees GM Brian Cashman, Gray was shipped to the Reds in January 2019 as part of a three-team trade. The pitcher agreed to a three-year extension with a fourth-year club option as part of the deal. Gray rebounded in his first year in Cincinnati, earning another All-Star selection while finishing seventh in the Cy Young voting. After that season, Gray underwent arthroscopic surgery on his right elbow.
Gray worked around minor injuries to post decent results for the rest of his Reds career before being dealt to the Twins in March 2022 as part of the post-lockout frenzy. Despite IL stints that year for hamstring and pectoral strains, Gray pitched to a 3.08 ERA in 24 starts. The Twins picked up his club option for 2023. They were rewarded with a healthy and effective All-Star season: a 2.79 ERA, 24.3 K%, 7.3 BB%, and 47.3% groundball rate in 184 innings. Gray was also effective in a Wild Card series start, though he struggled in his ALDS outing.
This is Gray's first foray into free agency, and he'll turn down a qualifying offer from the Twins. He's had a very successful career to date. In fact, for players 5'10" or shorter, Gray leads all pitchers in bWAR in the Wild Card era (1995 to present). He's still tinkering at this stage in his career, reducing his fastball and curveball usage while increasing sliders, cutters, and change-ups.
Starting pitchers entering their age 34 or older season almost never exceed three years in free agency, with the exception of Jacob deGrom getting five. We still think Gray is likely to surpass Chris Bassitt's three-year, $63MM deal by securing a fourth year. As a pitcher whose age likely caps his contract at four years, Gray will be a top target for teams uninterested in ponying up for Montgomery, Nola, Snell, or Yamamoto. The Twins may look to retain Gray, but otherwise the Angels, Braves, Cardinals, Cubs, Diamondbacks, Dodgers, Marlins, Mets, Orioles, Padres, Phillies, Rangers, Red Sox, Tigers, and White Sox could be suitors.
Signed with Cardinals for three years, $75MM.
10. Shota Imanaga. Five years, $85MM
Tim: Cubs / Anthony: Cubs / Darragh: Angels
Imanaga is the second-best pitcher in this year's class of NPB starters. A 5'10" left-hander, he reached Japan's top level as a 22-year-old in 2016. Imanaga has pitched parts of eight seasons for the Yokohama BayStars, working to a 3.18 ERA in just over 1000 innings. He has posted consecutive sub-3.00 showings over the last two years, following up a 2.26 ERA in 2022 with a 2.80 mark across 148 innings this past season. World Baseball Classic fans may be familiar with Imanaga, who started Japan's WBC final win over the United States. He pitched two innings, allowing one run on a Trea Turner homer with a pair of strikeouts.
His 174 strikeouts narrowly topped Yamamoto's 169 for the NPB lead. Imanaga punched out an excellent 29.2% of batters faced against a 4% walk rate. While the strikeout and walk profile was slightly superior to Yamamoto's, he was a lot more susceptible to home runs. Imanaga was tagged for 17 longballs, more than Yamamoto has surrendered over the past three seasons combined.
MLBTR's contacts have described Imanaga as a #3/4 starter in the majors. His fastball typically operates in the low-90s but he was working in the 94-96 MPH range in shorter stints during the WBC. Sources to whom MLBTR spoke indicated that Imanaga isn't as highly regarded a pitcher as Mets righty Kodai Senga, who inked a five-year, $75MM contract last offseason. However, that guarantee for Senga now looks like a bargain, given his excellent debut campaign in Queens. As such, we feel that even with a perhaps lesser profile, Imanaga could secure a larger guarantee.
Imanaga underwent season-ending shoulder surgery back in 2020. He has returned from that procedure to log around 150 innings in each of the past three years. He turned 30 in September and could find a four or five-year deal. As with Yamamoto, Imanaga is available via the posting system as opposed to unrestricted free agency. He'll have 45 days to sign from the official posting date and the MLB team will owe the BayStars a release fee.
11. Eduardo Rodriguez. Four years, $82MM
Tim: Red Sox / Anthony: Reds / Darragh: White Sox
Rodriguez, 31 in April, signed a five-year, $77MM deal with the Tigers in November of 2021. That contract included an opt-out after 2023, which Rodriguez chose in lieu of the remaining three years and $49MM.
Rodriguez began his MLB career with the Red Sox in 2015, after the Orioles dealt him for Andrew Miller. He peaked with Boston in 2019, finishing sixth in the AL Cy Young voting after making 34 starts with a 3.81 ERA.
After getting COVID-19 in 2020, Rodriguez developed myocarditis. The heart condition caused him to miss that season, but he returned with a solid 2021 campaign. Bolstered by strong peripheral stats, E-Rod landed the big contract with Detroit despite a 4.74 ERA and a qualifying offer.
It's been an unconventional couple of years in Detroit for Rodriguez. He started his Tigers career in 2022 with high hopes and the Opening Day nod but landed on the IL in late May with a left ribcage strain. While on a rehab assignment, Rodriguez was transferred to the restricted list due to a marital issue. In a situation former Tigers GM Al Avila described as "unusual," the two parties did not have contact for roughly a month.  The full explanation for Rodriguez's time on the restricted list is not publicly known, but will surely be communicated to suitors. When Rodriguez eventually returned, the layoff had surpassed three months. He posted a career-worst 18.4 K% in his 91 innings in 2022.
Rodriguez again snagged the Opening Day nod in 2023, for a Tigers club with a new GM and lowered expectations. He started the season by ripping off 11 starts with a 2.13 ERA, 25.5 K%, and 6.1 BB%. At that point, Rodriguez went on the IL with a ruptured A4 pulley in his left index finger. He returned on the shorter side of a projected six-to-eight week recovery period.
That gave Rodriguez four starts to re-establish his health before the trade deadline. With the Tigers going nowhere this year and Rodriguez a threat to opt out after the season, it made sense for Detroit to find a trade for the lefty despite his ten-team no-trade clause.
The Tigers agreed to a deal with one of the teams on Rodriguez's list, the Dodgers, and the player exercised his right to veto the trade. In talking to reporters about the decision, Rodriguez cited "my future and my family." He later said the decision was "nothing against the Dodgers or the West Coast or whatever," and it was reported that he wanted to stay closer to family that liked Detroit and was otherwise based in Miami.
According to Ken Rosenthal of the Athletic, Rodriguez's agent Gene Mato proposed an additional year at $20MM on Rodriguez's contract if he'd accepted the trade to the Dodgers and declined to opt out after the season.  That suggests that being paid $69MM over the four-year span of 2024-27 would have been enough for Rodriguez and his family to get past their geographic preferences.  It appears that a lack of time to negotiate a new contract killed the Dodgers trade more so than any aversion to the West Coast on the part of Rodriguez.
Despite his injury this year, Rodriguez tallied a healthy 152 ⅔ innings for the Tigers with a career-best 3.30 ERA. His strikeout rate and Statcast numbers are less impressive than his previous walk year, and of course he's now two years older. He is at least free of the qualifying offer burden.
Vetoing a trade, Rodriguez's contractual right, shouldn't necessarily come with a stigma. But there could be some teams, particularly on the West Coast, that may be less inclined to pursue Rodriguez after he chose not to jump into a pennant race for three months. Teams will also consider Rodriguez's time on the restricted list in '22. Even so, sometimes just two serious suitors can drive up a player's price.
The mid-tier starting pitcher market moved in Rodriguez's favor since his last free agent experience. Jameson Taillon and Taijuan Walker set a new standard in the four-year, $68-72MM range, and it could be argued that Rodriguez's abilities surpass that pair. We're predicting a four-year contract, but a five-year deal could be on the table here, with a market comparable to that of Gray.
12. Teoscar Hernandez. Four years, $80MM
Tim: Angels / Anthony: Angels / Darragh: White Sox
Hernandez entered the season as one of the likelier nine-figure hitters in a weak offensive class. Between 2020-22, the right-handed hitter raked at a .283/.333/.519 clip in over 1300 plate appearances for the Blue Jays. Toronto dealt him to the Mariners for reliever Erik Swanson and a pitching prospect before his final season of arbitration.
His potential lone season in Seattle was below those standards. Hernandez hit .258/.305/.435 with 26 homers through 678 trips to the plate. His 31.1% strikeout rate was his highest since 2019, while he walked at a career-low 5.6% clip. Hernandez has always made his living more from power than a great plate approach. This year's .258 average and .305 on-base percentage were nevertheless his worst since 2019.
Hernandez seemed to turn a corner after a slow start. He had an excellent June and was one of the game's top hitters in August. That sandwiched a dreadful July, though, and he limped to a .227/.287/.336 line in the season's final month.
Optimistic teams could point to Hernandez's home/road splits. He hit just .217/.263/.380 at pitcher-friendly T-Mobile Park; his .295/.344/.486 slash away from Seattle was more characteristic. Perhaps it was simply an ill-timed platform year. In a market where there aren't many alternatives, Hernandez is still one of the top options for teams seeking a middle-of-the-order bat. He typically grades as a below-average defender in the corner outfield despite above-average sprint speed and arm strength. DRS and Statcast both felt he was roughly average in right field this past season.
Kyle Schwarber and Marcell Ozuna landed four-year deals worth $79MM and $64MM, respectively. Nick Castellanos secured $100MM over five seasons. Hernandez has a little more defensive value than that group and is typically a comparable or better hitter. His platform year was below theirs, though he's also facing less competition. Surprisingly, the Mariners neglected to make a qualifying offer to Hernandez, who will now hit the market free of that burden.  The White Sox, Mets, Red Sox, Angels, Marlins, Dodgers, Rockies and his old team in Toronto could all have interest.
13. Jeimer Candelario. Four years, $70MM
Tim: Cubs / Anthony: Royals / Darragh: Blue Jays
Candelario settled for a $5MM contract a year ago after being non-tendered by the Tigers. He's in line for a much more lucrative payday after a strong bounceback campaign. The switch-hitting infielder put together a .258/.342/.481 line in 99 games for the Nationals. Washington flipped him to the Cubs for a pair of prospects at the deadline. His .234/.318/.445 showing for Chicago was a little below his early-season level.
The overall season line still stands at an impressive .251/.336/.471. Candelario hit 22 homers and 39 doubles, three off his league-leading 42 doubles from two seasons prior. He draws a decent number of walks, strikes out at a roughly league average clip, and has solid power. Candelario hits at a slightly above-average level from both sides of the plate and owns a .254/.328/.437 slash over the last four seasons. The down 2022 that led Detroit to cut him loose like the outlier amidst otherwise solid production.
Candelario can play either corner infield spot. He's a roughly league average defender at third base and should be able to stick there for a few years. He's entering his age-30 season and won't cost a signing team a draft choice thanks to the midseason trade. He could land four years in a similar salary range as Mike Moustakas and Chris Taylor. The Cubs could try to keep him around, while other potential suitors include the D-Backs, Phillies, Yankees, Blue Jays and Giants.
14. Lourdes Gurriel Jr. Four years, $54MM
Tim: Royals / Anthony: Yankees / Darragh: Mariners
Gurriel played parts of six seasons at Cuba's highest level before leaving the country alongside older brother Yuli Gurriel in February 2016. Nine months later, the younger Gurriel brother signed a seven-year, $22MM pact with the Blue Jays. The deal allowed him to become a free agent at contract's end even if he didn't reach the traditional six years of MLB service.
That's what happened, as Gurriel spent his first season and a half in the Toronto farm system. He debuted in 2018 and showed a decent amount of offensive promise. The Jays initially experimented with him as a middle infielder. By 2020, he'd been kicked to left field permanently.
Gurriel is a good enough hitter to meet the higher offensive expectations associated with left field. He has had an above-average wRC+ in every season of his MLB career. He's an aggressive hitter who won't draw many walks, but Gurriel hits for solid batting averages and has topped 20 home runs on three occasions. He was well on that pace during the abbreviated 2020 schedule as well.
The Jays included Gurriel alongside Gabriel Moreno to acquire Daulton Varsho last winter. While Moreno was the headliner, Gurriel had a typically solid season. He connected on a career-best 24 homers with a .261/.309/.463 batting line. It was a volatile year — he was otherworldly in May, terrible in June and July, then very good down the stretch — but the aggregate production was solid. He also received a career-best +14 grade from Defensive Runs Saved over 778 innings. Statcast was less bullish, rating him as one run above average.
Gurriel popped three home runs in his 70 postseason plate appearances this year, including a shot in Game 4 of the World Series. Per the terms of his original contract, he's ineligible for a qualifying offer.
Gurriel turned 30 in October. He has one of the better offensive track records among a weak free agent class. A three- or even four-year deal could be on the table. His camp could take aim at the four-year, $53MM contract secured by Avisail Garcia two offseasons ago.  The Braves, Royals, Angels, Dodgers, and Mets could be potential matches.
15. Jung Hoo Lee. Five years, $50MM
Tim: Padres / Anthony: Padres / Darragh: Blue Jays
Lee is a left-handed hitting outfielder from South Korea who turned 25 in August. He has played parts of seven seasons in the Korea Baseball Organization, generally starring for the Nexen/Kiwoom Heroes. Lee has hit above .300 with an on-base percentage near or better than .400 every season. He didn't hit for much power early on but slugged north of .500 each season from 2020-22.
His best year was 2022, when he hit .349/.421/.575 with 23 home runs. He took more than twice as many walks as strikeouts across 627 plate appearances. Lee drove in 113 and was named the KBO's most valuable player. After the season, the Heroes announced they'd make him available to major league teams during the 2023-24 offseason through the posting system.
Unfortunately for Lee, his platform season was his worst in a few years. He hit .318/.406/.455 with just six homers in his first 86 games. He injured his left ankle in late July, necessitating season-ending surgery. The Heroes announced at the time that his rehab process would take roughly three months (link via JoongAng Daily). There's nothing to suggest he won't be ready for Spring Training.
Whether teams project Lee as a regular remains to be seen. One evaluator told MLBTR that Lee is unlikely to stick as a center fielder, which would put more pressure on his bat. Lee has strong pure contact skills, but there's some concern he won't hit for the kind of power necessary to play every day in the corner outfield. Of course, some clubs expressed similar worries about Masataka Yoshida when he was coming over from NPB a season ago. (Somewhat notably, both Yoshida and Lee are represented by the Boras Corporation.) The Red Sox had enough faith in the hit tool to guarantee him $90MM over five years, hinting at the variability in teams' projections on some players making the jump from another professional league. Contracts for such players can be notoriously difficult to project.
As is the case with Yamamoto and Imanaga, a major league team would owe a posting fee to the Asian club. The calculation is the same as it is for the NPB players: 20% of the first $25MM, 17.5% of the next $25MM and 15% of any dollars thereafter. Lee's potential suitors may depend on teams' perception of his ability to play center field regularly in the Majors.
16. Jorge Soler. Three years, $45MM
Tim: Blue Jays / Anthony: Astros / Darragh: Mets
Soler, 32 in February, opted out of a $13MM salary for 2024. He'd signed a three-year, $36MM deal with the Marlins in March of 2022.
Soler defected from Cuba back in 2011, inking a $30MM deal with the Cubs. He was traded to the Royals for Wade Davis shortly after the Cubs' 2016 championship. In 2019, Soler shook off a lengthy injury history on his way to a franchise-record 48 home runs with a 136 wRC+ for Kansas City. However, Soler fell all the way to an 86 wRC+ for the Royals over his next 536 plate appearances, leading them to trade him to the Braves at the 2021 deadline. He raked for the Braves and continued that success in the Fall Classic, winning World Series MVP. That strong finish, combined with consistently strong Statcast metrics, led the Marlins to reward Soler with the aforementioned three-year deal.
The up-and-down nature of Soler's career continued, as he posted a 95 wRC+ with the Marlins in 2022 while missing time due to bilateral pelvis inflammation and lower-back spasms. Given the chance to forgo the remaining two years and $24MM on his deal, Soler chose to stay with Miami for 2023.
This year, Soler returned to form with 36 home runs and a 126 wRC+ in 580 plate appearances. He was able to avoid the IL until a September stint for an oblique strain. Never known for his defensive prowess, Soler was limited to 241 2/3 innings in the outfield this year. That marked his continued transition into a designated hitter, a role in which he logged 102 games.
Among free agents, only Shohei Ohtani hit more home runs than Soler's 36 this year. His 126 wRC+ ranks behind only Ohtani and Cody Bellinger among qualified free agents. Soler's Statcast page remains covered in red (a good thing).
Four-year deals have been hard to come by for designated hitters of Soler's age, though Nelson Cruz and Victor Martinez were older than Soler upon landing theirs after the 2014 season.  Given his inconsistency and injury history, Soler seems more likely to land somewhere shy of Jose Abreu's three-year, $58.5MM deal from last winter.
17. Lucas Giolito. Two years, $44MM
Tim: Mets / Anthony: Orioles / Darragh: Mets
Giolito is one of the biggest wild cards in this winter's class. A former first-round pick and arguably the game's top pitching prospect, he headlined the 2016 Adam Eaton trade between the Nationals and White Sox. He spent most of 2017 in the minors and was bombed in his first extended MLB action the following year.
Everything clicked in 2019. Giolito posted his first of three consecutive sub-4.00 ERA showings while cementing himself as a very durable starter. He appeared on Cy Young ballots in three straight seasons while posting a cumulative 3.47 ERA with a 30.7% strikeout rate in 427 2/3 innings.
While he looked like a strong #2 starter heading into 2022, Giolito's past two seasons have been underwhelming. He has allowed almost five earned runs per nine innings pitched in both years. A fastball that averaged 94 MPH a few seasons ago is down slightly to the 92-93 MPH range. The whiffs have taken a corresponding step back; his 25.7% strikeout rate and 12.2% swinging-strike percentage remain better than average but are down from peak levels.
Giolito's biggest issue has been the home run ball. He surrendered an AL-worst 41 longballs over 184 1/3 innings this past season, which he split between three teams. Traded from the White Sox to the Angels at the deadline, he landed in Cleveland a month later when the Halos shed salary via a massive waiver purge. Giolito's homer issues heightened at each stop, resulting in an overall 4.88 ERA.
There's still plenty to like about the pitcher. He posts solid strikeout and walk marks. His only injured list stints since 2020 were minimal stays for a hamstring strain and abdominal soreness. The 2022-23 version of Giolito is a capable innings-eater not dissimilar from Jameson Taillon and Taijuan Walker, each of whom landed four-year deals in the $70MM range last offseason. Giolito could receive similar proposals. Like those pitchers, he won't be burdened by a qualifying offer, as the midseason change of teams renders him ineligible.
At the same time, there's a case for Giolito to prioritize a shorter-term deal. He won't turn 30 until next July. If he recaptures his 2019-21 form, five or six years well above $100MM could be back in play. How he approaches free agency could be based on risk tolerance. We're projecting him to bet on himself, locking in a $44MM guarantee over two seasons while securing an opt-out clause that could get him back to free agency next winter — a similar deal to former teammate Carlos Rodon's contract with the Giants two years back.
18. Marcus Stroman. Two years, $44MM
Tim: Dodgers / Anthony: Phillies / Darragh: Twins
Stroman joined the Cubs on a three-year, $71MM guarantee over the 2021-22 offseason. The deal allowed him to opt out after the first two seasons. The sinkerballer had a solid first year on the North Side, pitching to a 3.50 ERA behind a 51.7% grounder rate through 25 starts.
His second year as a Cub started off brilliantly. Stroman performed at a Cy Young level for the first couple months. Through the end of June, he turned in 102 innings of 2.47 ERA ball. He deservedly secured a second career All-Star nod. Stroman not only was trending towards an easy opt-out decision, he looked on track for a deal approaching nine figures. Along the way, the right-hander publicly angled for an extension with the Cubs. The organization didn't reciprocate, electing to keep their options open as the trade deadline approached.
The team played well enough in July to lead the front office to add rather than deal off the MLB roster. Yet Stroman's production tailed off as the team's improved. He surrendered 28 runs in 26 2/3 frames, pushing his season ERA up nearly a run and a half. On August 1, the Cubs placed him on the injured list with inflammation in his right hip. That wasn't expected to cost him more than a few weeks. However, Stroman revealed midway through his IL stint that he'd subsequently been diagnosed with a rib cartilage fracture. He was shut down from throwing entirely and didn't return to action until September 15.
By that point, the Cubs' playoff hopes were fading. Stroman stepped directly onto the MLB roster without a minor league rehab stint in an effort to right the ship. He pitched twice out of the bullpen before taking the ball for two abbreviated starts to close out the year. Stroman tossed eight innings of eight-run ball (five earned) with eight strikeouts and two walks over those four contests. His sinker and breaking pitch were each down around 1-2 MPH from their early-season level, although that could be explained by the abbreviated ramp-up period.
Though some thought Stroman would opt into the $21MM he had remaining with the Cubs for 2024, the righty's decision isn't especially surprising. Nathan Eovaldi's two-year, $34MM deal with the Rangers last winter likely serves as a floor for Stroman, especially since Stroman is ineligible for the qualifying offer Eovaldi had. With Stroman turning 33 in May, teams may stop at a two-year commitment. We wouldn't rule out a three-year pact, perhaps in the vein of Dallas Keuchel's $55.5MM deal.
19. Seth Lugo. Three years, $42MM
Tim: Diamondbacks / Anthony: Cardinals / Darragh: Reds
When he was a free agent last offseason, Lugo was coming off a five-year run as a productive setup man for the Mets. The right-hander prioritized a chance to compete for a rotation spot once he hit the market. He bet on himself with a two-year, $15MM guarantee from the Padres that allowed him to opt out after the first season.
It proved a worthwhile gamble. Lugo was a key contributor for an excellent San Diego rotation, working to a 3.57 ERA over 146 1/3 innings. He struck out a decent 23.2% of opponents against a tidy 6% walk rate. Lugo handled hitters from both sides of the plate and didn't lose much zip off his stuff, averaging 93.2 MPH on his sinker after sitting around 94 MPH while working short relief.
It wasn't a completely flawless season. A left calf strain cost Lugo a month in the first half. He struggled to turn a lineup over a third time, allowing a .266/.301/.531 batting line in those situations. Even if he's better suited for facing opponents twice, he's clearly capable of shouldering a larger workload than he was entrusted from the Mets.
Lugo didn't establish himself as a full time big leaguer until age 27. He's on the older side for a free agent, turning 34 in a couple weeks. While that's likely to cap him at two or three years, he could land an annual salary near the $13MM secured by Tyler Anderson and Zach Eflin last winter.
As a player who has never earned more than this year's $7.5MM, it's little surprise the Padres chose not to issue a qualifying offer to Lugo.  And as much as the Padres need starting pitching this winter, they're also expected to look to reduce payroll, so a $20.325MM offer to Lugo didn't make sense.
20. J.D. Martinez. Two years, $40MM
Tim: Mets / Anthony: Mariners / Darragh: Angels
Martinez, 36, remains an excellent source of right-handed offense at the designated hitter spot. Dating back to his 2014 breakout with the Tigers, he has never slipped below a 119 wRC+ outside of the 60-game pandemic season. This year on a one-year deal with the Dodgers, Martinez ranked third among free agents with 33 home runs and a 135 wRC+.
Originally drafted by the Astros, Martinez struggled in his initial exposure to big league pitching before overhauling his swing. Failing to understand the potential impact of those changes, Houston released Martinez in March of 2014. The Tigers snagged Martinez on a minor league deal, and he went on to rake to a 145 wRC+ over three-plus years before a trade to the Diamondbacks.
Despite a huge contract year and lack of a qualifying offer, Martinez fell well short of MLBTR's contract expectations in the 2017-18 offseason.  He still landed a five-year, $110MM deal from the Red Sox, for whom he posted a 154 wRC+ in his first two seasons.  Given the chance to opt out of his remaining three years and $62.5MM at that point — back when only the AL had the DH — Martinez chose to stay put. He then did the same after a disappointing and brief 2020 season.
Martinez rebounded with a 123 wRC+ for the Red Sox from 2021-22, though his '22 contract year was inconsistent and included a three-month stretch where he hit only six home runs. Given the universal DH, we still thought a two-year, $30MM deal was in the offing for Martinez after '22. Instead, he took a one-year, $10MM deal with the Dodgers. This allowed Martinez to reunite with Dodgers hitting coach Robert Van Scoyoc, largely credited with revamping Martinez's swing in the first place along with Craig Wallenbrock.
As strong as Martinez's 2023 season was, he was limited to 113 games due to back and groin injuries. Unlike last year, he finished strong with eight home runs in the season's final month plus another dinger in the NLDS.  Martinez's production was backed up by Statcast, with 98th percentile average exit velocity, barrel rate, and hard-hit rate. His success also came with an increased strikeout rate, up significantly from last year to a 31.1% mark that ranked among the ten worst in baseball. Age and lack of defensive value will likely cap him at two years, but in a market devoid of quality bats, Martinez is one of the best options for teams in need of offense.
Though Martinez would normally have been a solid candidate for a qualifying offer, the Dodgers are widely expected to pursue Ohtani this offseason.  Ohtani and Martinez are limited to designated hitter in 2024, which may explain the Dodgers' choice not to make the offer.
21. Jordan Hicks. Four years, $40MM
Tim: Orioles / Anthony: Yankees / Darragh: Tigers
Few pitchers can match Hicks' raw arm strength. The 6'2″ righty has owned a triple-digit fastball dating back to high school. By age 21, he'd not only secured a spot on the Cardinals' Opening Day roster but had earned enough trust to get high-leverage work. He pitched to a 3.47 ERA through a season and a half before his elbow blew out, necessitating Tommy John surgery in June 2019. The injury and the pandemic kept him off the field through 2020. Since he suffers from Type 1 diabetes, Hicks was able to opt out of the shortened season while still collecting a full year of service time.
The elbow remained problematic in 2021. He dealt with renewed inflammation and was limited to 10 appearances. The Cards nevertheless tried to stretch him out for work as a starter the following season. Hicks struggled over eight games and was moved back to the bullpen for good after losing around six weeks to a flexor injury in his forearm. His results were inconsistent down the stretch.
Hicks did his best to put those frustrating few seasons behind him in 2023. He avoided the injured list and combined for 65 2/3 innings of 3.29 ERA ball between the Cardinals and Blue Jays, who acquired him at the deadline. The injuries haven't materially impacted his arm strength. Hicks averaged 100.3 MPH on his sinker, the sixth-highest fastball speed in the majors (minimum five innings). As has been the case throughout his career, he was very difficult to elevate. He kept the ball on the ground at a huge 58.3% clip and allowed only 0.55 home runs per nine innings.
Despite the velocity, Hicks' fastball has sinking action that's more conducive to grounders than huge strikeout tallies. This year's 28.4% strikeout rate was a career-best mark. That's above-average but hardly elite for a closer. He's never had pristine control. The ideal fit is probably a team with a strong infield defense given the grounder-heavy profile, but any club could view Hicks as a unique upside play. He's atypically young for a free agent reliever, having just turned 27 in September.
It's easy to see a team falling in love with Hicks' potential, believing that he's only a few tweaks away from becoming an elite reliever. Pitchers with this type of arm strength and ground-ball ability are quite rare. The blend youth, velocity and generally solid track record give him a shot at three or even four years despite the injury history and unspectacular whiff rate.
22. Jack Flaherty. Three years, $40MM
Tim: Royals / Anthony: Tigers / Darragh: Pirates
Flaherty was drafted 34th overall by the Cardinals out of Harvard-Westlake High School in 2014. Heading into the 2018 season, with a brief MLB debut under his belt, Flaherty was ranked as the #53 prospect in the game by Baseball America. He put up a 3.34 ERA and 29.6 K% in 2018, finishing fifth in the NL Rookie of the Year voting.
Flaherty took his game to the next level in 2019, with a 2.75 ERA across 33 starts. The effort nabbed him a fourth-place finish in NL Cy Young voting and even a handful of MVP votes. Amazingly, Flaherty's ERA peaked at 4.90 on July 2nd of that year. He then reeled off 16 starts with an insane 0.93 ERA, striking out a third of batters faced. Flaherty followed that up with a pair of strong Division Series starts before faltering in an NLCS outing.
At just 24 years old and at the top of his game, Flaherty had earned the Cardinals' 2020 Opening Day nod before the pandemic hit. He still started the team's July season opener before coming down with COVID-19. It would've been a strong albeit brief season for Flaherty, had the Brewers not clobbered him for nine earned runs in three innings in September to torch his ERA.
Flaherty won his arbitration case against the Cardinals the following winter, and again got the team's Opening Day start. However, he was limited to a mere 78 1/3 innings in 2021, going 74 days between starts at one point due to a severe oblique strain. He returned for three starts in August before returning to the IL with a shoulder strain. With insufficient time to get built back up, Flaherty closed out his disappointing '21 season with three relief appearances.
Flaherty's injury woes worsened in 2022. He received a PRP injection in March of that year to treat shoulder inflammation, delaying his debut until mid-June. After three brief outings, he was back on the IL with a shoulder strain. He returned for a somewhat successful September, tallying only 36 innings on the lost season.
Flaherty logged only 160 2/3 innings in the Majors from 2020-22, plus another 36 frames spent on minor league rehab assignments. Expectations were low entering 2023, but the right-hander was able to avoid the IL and put up 20 middling starts for the Cardinals before being shipped to Baltimore at the trade deadline. He pitched his way out of the Orioles' rotation after seven starts, finishing up the regular season with a pair of relief outings. Flaherty was used for a couple of low-leverage relief innings in Game 2 of the ALDS against the Rangers.
Oddly enough, despite a 6.75 ERA in 34 2/3 innings with the Orioles, Flaherty's peripherals in Baltimore were better than in St. Louis. Overall, his strikeout and walk rates were both subpar, and there's simply not much to recommend him over the last four seasons.
However, Flaherty recently turned 28, and his youth plus his early career brilliance could lead a team to lock him up on three-year term. We've seen this scenario with Phil Hughes and the Twins after he posted a 5.19 ERA in 2013, as well as Tyler Chatwood and the Cubs coming off a 4.69 ERA campaign.  This approach could capture some upside for the team while still allowing Flaherty a shot at a big contract heading into his age-31 season.  Certainly opt-outs could be in play on a two or three-year deal, or Flaherty could sign a straight one-year contract to return to the market quickly. He makes more sense for a team that is not necessarily a top-tier contender in 2024.
23. Mitch Garver. Three years, $39MM
Tim: Rangers / Anthony: Rangers / Darragh: Red Sox
The Twins selected Garver in the ninth round of the 2013 draft. Despite strong minor league production, he never got much prospect attention. The right-handed hitter didn't debut until after his 26th birthday and wasn't quite established at the major league level until age 28. He broke out that season with 31 home runs in only 93 games, running a massive .273/.365/.630 slash through 359 plate appearances.
Garver lost most of the following campaign to an intercostal strain. He returned to hit .256/.358/.517 with 13 more homers in 68 games in 2021, although a groin injury and lower back soreness kept him out for stretches. Before the 2022 season, Minnesota traded Garver to the Rangers for infielder Isiah Kiner-Falefa, clearing room behind the plate for Ryan Jeffers.
The New Mexico product's first season in Texas didn't go well. He sustained a flexor strain in his forearm that prevented him from throwing. The Rangers used him at designated hitter for a stretch before shutting him down entirely. He underwent surgery in July.
Garver's injury woes continued early in 2023. A left knee sprain sidelined him from mid-April into early June. He returned as the #2 catcher/DH behind All-Star Jonah Heim and went on a blistering hot streak. Garver mashed at a .271/.369/.495 clip with 17 homers over 322 plate appearances from June onward. He was a key part of the Rangers' lineup in the postseason, typically batting fifth.  Hit hit three home runs in his 60 plate appearances, including one in Game 2 of the World Series.
Garver seems like a good fit for a team that would use him sparingly at catcher, or perhaps not at all.  Such a strategy could be optimal for his health, as Garver has never topped 102 games in a season and hasn't reached 90 since 2019.  His injury history limits his earning power, but we still think his offensive success in a thin market should result in a three-year deal similar to the $43MM deal Mitch Haniger signed in San Francisco after his own stretch of injury-shortened seasons.  The Rangers elected not to issue a $20.325MM qualifying offer to Garver, who has never earned more than $3.9MM in a season thus far.
24. Michael Wacha. Three years, $36MM
Tim: Reds / Anthony: Braves / Darragh: Reds
Since a seven-year run with the Cardinals to begin his career, Wacha has bounced around the league. He spent successive seasons with the Mets and Rays before joining the Red Sox in 2022. Wacha had his best season in years for Boston, pitching to a 3.32 ERA over 127 1/3 innings. That came in spite of a middling 20.2% strikeout rate that led the Sox to opt against issuing him a qualifying offer.
The lack of swing-and-miss contributed to a lengthy stay on the open market. Wacha was one of the last notable players to sign, waiting until mid-February to ink a deal with the Padres. It was a four-year, $26MM guarantee that paid the veteran $7.5MM for the 2023 season. The contract included a creative series of options seemingly designed to lower the Padres' CBT hit.
His 2023 campaign was remarkably similar to the previous season. Wacha allowed 3.22 earned runs per nine innings pitched through 24 starts. He struck out an average 22.4% of batters faced behind a fine but unexceptional 10.7% swinging strike rate. For the second straight season, his bottom-line results were better than his strikeout/walk profile would suggest. He owns a 3.27 ERA/4.00 FIP in 47 starts over the past two years.
Wacha missed around six weeks with inflammation in his throwing shoulder before returning in the middle of August. His run prevention dipped slightly down the stretch. Wacha owned a 2.84 ERA before the injury and allowed 3.88 earned runs per nine upon his return. He missed more bats and was throwing harder after the shoulder issue though, so it doesn't seem as though he was pitching through any ill effects.
The Padres, who are expected to trim payroll, turned down their option to pay Wacha $32MM over the next two seasons. At that point, turning down a $6.5MM player option for 2024 was an easy call for Wacha, so he's a free agent once again.  It comes as little surprise the Padres chose not to issue a qualifying offer to Wacha.
The 32-year-old Wacha is likely seeing a more traditional multiyear deal this time around in free agency.  Given a 3.27 ERA over the last two seasons, we think he'll find it.
25. Kenta Maeda. Two years, $36MM
Tim: Mets / Anthony: Twins / Darragh: Orioles
Maeda, 36 in April, dominated for the Hiroshima Carp in Japan for eight years, after which he was posted. Back under the old posting system, the maximum release fee was $20MM. Several teams were willing to pay it, but Maeda's market was muted due to elbow irregularities found in the MRIs his agency sent to interested teams.
The Dodgers landed Maeda in January of 2016 with an unusual eight-year, $25MM deal that included significant incentives for the number of starts made. Maeda finished third in the NL Rookie of the Year voting that year. He fell short of his rookie-year 3.48 ERA and 32 starts in subsequent seasons, but remained a solid Dodgers contributor from 2017-19. Maeda made 71 starts during those three years, as well as 34 relief appearances.
In February of 2020, reports initially indicated that Maeda landed in Minnesota as part of a three-team deal, which more significantly sent Mookie Betts to the Dodgers. The Twins were booted from the deal due to Boston's concerns with Brusdar Graterol's medical history. The Dodgers didn't share those concerns about Graterol, who was ultimately part of a separate deal sending Maeda to the Twins. Having told the Dodgers he preferred to work as a full-time starter, Maeda was surely happy in his new home. He demonstrated that by dominating in 11 starts in the shortened 2020 season, finishing second in the AL Cy Young voting.
Maeda went down for Tommy John surgery in September of 2021, choosing an internal brace procedure that would lead to a shorter recovery time. He would not make it back for the final month of 2022, however, leading to an eventual 19-month recovery period. After returning to the mound for four starts in April, the last of which was disastrous, Maeda spent nearly two months on the IL for a triceps strain. Upon returning, Maeda posted a 3.36 ERA, 29.0 K%, 7.0 BB%, and 1.43 HR/9 in 88 1/3 innings.  He was used in a multi-inning relief role for a pair of ALDS games.
Given his age and injury history, Maeda isn't likely to find a contract of more than two years. But, as he showed with his brilliant finish in 2023 and during his terrific 2020 campaign, he has the ability to turn a lineup over multiple times and thrive in a rotation role. A contending club looking for a mid-rotation arm on a short-term deal could spring for a two-year deal for Maeda, betting that his standout K-BB profile will bring continued success.
A qualifying offer made some measure of sense here, but the Twins chose not to offer one to Maeda.  Even with the potential losses of Maeda and Gray, Minnesota has solid rotation depth.
Signed with Tigers for two years, $24MM.
26. Rhys Hoskins. Two years, $36MM
Tim: Twins / Anthony: Angels / Darragh: Phillies
Hoskins entered 2023 as one of the top hitters in this winter's class. That could still be the case, but his market took a substantial hit in Spring Training. While retreating to the outfield grass to field a ground ball, he tore the ACL in his left knee. Hoskins underwent surgery and missed the entire season. The Phils indicated he could have made it back as a DH/pinch hitter had the team gotten to the Fall Classic, as he'd been able to take batting practice and run the bases.
Before the lost year, Hoskins had been one of the most consistent offensive performers in the Majors. He has been above-average at the plate in every year of his career, never posting an on-base percentage below .332 or slugging less than .454. Outside of an 18-homer barrage in 50 games as a rookie, he has never been an elite hitter. Hoskins is consistently very good: a 25-30 home run hitter who hits between .240 and .250 with plus walk rates. His career slash line sits at .242/.353/.492 in a little under 700 games.
Teams pursuing Hoskins are doing so for the bat. He's a below-average baserunner and defender at first base. The Phils tried him in left field in 2018 with disastrous results. He's not at the point where he'll have to move to designated hitter, but there's not a ton of value in the profile outside the batter's box.
Perhaps due to uncertainty around a return to full-time outfield work for Bryce Harper, the Phillies chose not to issue a qualifying offer to Hoskins.  That will be beneficial to Hoskins' market.
In a market without many offensive options, Hoskins looks like one of the stronger bets. There's added risk thanks to the knee injury but no indication that he won't be back to his typical level to start 2024. The $19-20MM average annual value secured by Jose Abreu and Anthony Rizzo last offseason could be attainable.  The bigger question is whether Hoskins, 31 in March and coming off a lost season, will look to max out his contract his first time through free agency.  He may be better served to take the latest version of a pillow contract: two years with an opt-out.
27. Robert Stephenson. Four years, $36MM
Tim: Cardinals / Anthony: Mets / Darragh: Orioles
Stephenson's projected contract might be the most surprising for a lot of fans. You'd be forgiven for not being familiar with Stephenson at all. Despite a strong prospect reputation during his time in the Reds' system, the right-hander had a mostly nondescript MLB career. He owned a 4.91 ERA in 326 innings between the Reds, Rockies and Pirates through this past May.
Things changed when Stephenson was dealt from Pittsburgh to the Rays for infield prospect Alika Williams on June 2. Upon landing in Tampa Bay, he began throwing an upper-80s cutter that took the place of his mid-80s slider as his go-to breaking pitch. By September, Stephenson had completely ditched the slider and was leaning on the cutter almost three-quarters of the time. It's not hard to see why. Hitters made contact on the pitch just 41.1% of the time they offered at it. Stephenson struck out nearly 43% of batters faced as a Ray, holding opponents to a putrid .138/.187/.300 batting line in 140 trips to the plate.
A former first-round pick, Stephenson has always had intriguing stuff. Pairing the cutter with a fastball that sits in the 96-97 MPH range made him essentially untouchable for four months. Stephenson picked up swinging strikes on 28.7% of his offerings in Tampa Bay. Not only was that tops in the majors, it's nearly three times the MLB average and almost eight percentage points higher than second-place Felix Bautista. No one should expect him to sustain that kind of dominance, but there's an argument that Stephenson is now one of the top handful of relievers in the sport.
How should teams weigh that against the track record? Stephenson's command has been inconsistent throughout his career. He's a fly-ball pitcher who has battled home run issues in the past — not only in hitter-friendly venues in Cincinnati and Colorado but during his stint in a pitcher-friendly setting in Pittsburgh. Outside of Josh Hader, Stephenson probably has the highest upside in the relief class, albeit with much higher risk. Kendall Graveman and Rafael Montero secured three-year pacts largely behind one dominant year as a setup option. Drew Pomeranz landed four years and $34MM after striking out 45% of opponents in a post-trade platform showing in 2019. Stephenson could find similar demand as the "buzz" reliever in this year's class.
28. Yariel Rodriguez. Four years, $32MM
Tim: White Sox / Anthony: White Sox / Darragh: Padres
Rodriguez, 27 in March, is an unfamiliar name to many fans. A 6'1″ right-hander, he's a native of Cuba. Rodriguez reached Cuba's highest level as an 18-year-old in 2015 and pitched there for six seasons. He worked to a 3.30 ERA in 91 appearances for Camaguey before moving to Japan.
In January 2020, Rodriguez signed with NPB's Chunichi Dragons. He split his first two seasons between NPB and the Dragons' minor league affiliate despite generally solid results at Japan's top level. By 2022, he secured a permanent spot in the Dragons' bullpen. Rodriguez tossed 54 2/3 innings over 56 appearances, pitching to a 1.15 ERA. He punched out 27.5% of opponents against an average 8.3% walk rate.
Rodriguez joined the Cuban national team for last spring's World Baseball Classic. He started twice, allowing two runs in 7 1/3 innings with 10 strikeouts and six walks. Rodriguez decided not to return to the Dragons, reportedly remaining in the Dominican Republic after the conclusion of the WBC. Chunichi placed him on the restricted list. He didn't pitch professionally in 2023 outside of the World Baseball Classic.
Last month, Francys Romero reported that Rodriguez had been granted his release from his contract with the Dragons. He's since reportedly been declared a free agent by MLB, and MLBTR has confirmed that no posting fee is owed to the Dragons. Rodriguez is firmly on the radar for MLB teams. Marc Topkin of the Tampa Bay Times reported a few weeks ago that the Rays were among more than a dozen clubs to attend one of Rodriguez's recent workouts in the D.R.
Evaluators who have seen Rodriguez suggest he could stick as a starting pitcher, with one indicating he could command between $30MM and $50MM as a free agent.  While MLBTR was able to talk to one evaluator who backed that assessment up, information has otherwise been scant on Rodriguez so far this offseason. We feel that he belongs on this list, but our confidence level in this contract projection is not high.
29. Reynaldo Lopez. Three years, $30MM
Tim: Mets / Anthony: Reds / Darragh: Twins
A former top prospect, Lopez struggled early in his career as a starter. Beginning in 2021, the White Sox transitioned him into a bullpen role. He has been an effective full-time reliever over the last two seasons, combining for a 3.02 ERA through 131 1/3 innings.
Lopez's strikeout and walk profile has bounced around. He fanned a solid but unexceptional 24.8% of opponents while keeping his walks to a tidy 4.3% clip in 2022. This past season, he upped the strikeouts to a strong 29.9% mark but saw his walk rate spike to 12.2%. In both years, he got swinging strikes on around 14% of his offerings.
Few pitchers throw as hard as Lopez does. He averaged 98.2 MPH on his four-seam fastball and found success with a high-80s slider. The right-hander was effective over a trio of teams. He went alongside Giolito from the White Sox to the Angels in the deadline trade, then joined his longtime teammate as a waiver claim of the Guardians after the Halos cut payroll. He finished the season with 11 scoreless frames of 12-strikeout ball over 10 appearances in Cleveland.
Lopez has the makings of a quality setup arm. He'll be 30 in January and could find three-year offers.
Signed with Braves for three years, $30MM.
30. Mike Clevinger. Two years, $26MM
Tim: Angels / Anthony: Angels / Darragh: Red Sox
A former fourth-round pick, Clevinger debuted with the Indians in 2016. A pitching development success story for Cleveland, he posted three straight seasons with an ERA of 3.11 or better. Clevinger found himself in a bit of hot water with the organization in 2020 after violating the league's pandemic protocols. Whether in part because of the disciplinary action or simply because his arbitration price tag was rising, Cleveland dealt him to the Padres for a six-player package including Josh Naylor, Cal Quantrill and Austin Hedges at that summer's deadline.
Clevinger pitched well in four starts for San Diego before suffering an elbow injury. He underwent Tommy John surgery that November and lost the entire '21 season to rehab. Since returning from the procedure, Clevinger has been solid but not as electric as he'd been in Cleveland.
The right-hander worked to a 4.33 ERA with a personal-low 18.8% strikeout rate through 23 outings during his final season in San Diego. He hit the open market and signed a one-year, $12MM pact with the White Sox. Reports emerged shortly thereafter that he'd been accused of domestic violence. After a six-week investigation, MLB found no cause for discipline. Clevinger began the year in the Sox's rotation as expected. He'd have been a midseason trade candidate once the team fell out of contention had he not suffered a right wrist injury in May. He was out until late July, returning for a single start before the deadline.
Clevinger continued taking the ball every fifth day for an uncompetitive White Sox team. He had a stellar August before a quieter finish in the season's last month. He wrapped the year with a 3.77 ERA over 131 2/3 innings. His 20% strikeout rate was a bit better than last year's but well below the career 27.3% mark he'd posted through 2020. Opposing hitters whiffed at a slightly below-average 9.8% of his pitches, his lowest figure since his rookie year. His 94.3 MPH average fastball speed remains solid, but he's not spinning the ball or missing bats at the same level as he had in Cleveland.
Even if Clevinger no longer has a top-of-the-rotation ceiling, he looks like a capable #4 starter. He has good command and has been generally effective at keeping runs off the board in the absence of huge whiff rates. Clevinger should be able to find two or three years in free agency despite turning 33 in December.
31. Kevin Kiermaier. Two years, $26MM
Tim: Blue Jays / Anthony: Blue Jays / Darragh: Yankees
Kiermaier spent a decade as arguably the game's best defensive outfielder with the Rays. His all-out playing style and athleticism made him exceptional at tracking down any ball hit within his vicinity … and left him repeatedly battling injuries after dives and wall crashes. While the glove has always been Kiermaier's calling card, he's a serviceable offensive player, typically posting league average numbers at the plate.
The three-time Gold Glove winner was bought out by Tampa Bay last offseason, an obvious move after he underwent season-ending surgery to repair a labrum tear in his left hip. Kiermaier stayed in the AL East on a one-year, $9MM pact with the Blue Jays. It quietly proved one of the more adept free agent pickups of the offseason.
Aside from a minimal IL stay due to an elbow laceration, Kiermaier stayed healthy and got into 121 games. He posted a decent .265/.322/.419 line through 408 trips to the plate while continuing to run down almost everything hit his way. Kiermaier checked in between 12 and 18 runs above average by measure of Defensive Runs Saved and Statcast in just under 1000 innings. Only Colorado's Brenton Doyle received better grades at the position.
Going into his age-34 campaign, Kiermaier remains one of the game's best outfield defenders. He's arguably the top free agent center fielder for teams that aren't serious contenders to meet Bellinger's asking price. There's not much precedent for players in their mid-30s whose profile is built around defense. Kiermaier is clearly better positioned than he was last offseason, though, making a multi-year deal likely. It's not out of the question he gets to three years, but that could be a hard sell for teams given the age and injury history.  While a qualifying offer could have been defensible, Kiermaier falls short of that salary tier and did not get one from the Blue Jays.
32.  Nick Martinez. Two years, $25MM
Tim: Cardinals / Anthony: Padres / Darragh: Blue Jays
After beginning his career as a depth starter with the Rangers, Martinez made the jump to Japan. He spent three seasons in NPB before returning stateside with the Padres. The right-hander opted out of a four-year deal following a 2022 campaign in which he turned in a 3.47 ERA over 106 1/3 innings. He quickly re-signed with the Padres on another convoluted contract that guaranteed him $26MM over three seasons.
Martinez's second season in San Diego looked much like the first. He again entered the year in competition for a rotation spot but primarily settled into a long relief role. Martinez started nine of 63 appearances but logged 110 1/3 frames, typically working between one and two innings out of the bullpen. His 3.43 ERA was a near match for the prior year's. He struck out an average 23% of batters faced against a serviceable 8.7% walk rate while keeping the ball on the ground at a strong 53.8% clip.
The Padres, possibly in payroll-cutting mode this offseason, declined a two-year $32MM option on Martinez.  Martinez then turned down two years and $16MM on his end.
While not a standout profile, Martinez has been an effective and versatile part of the Friars' pitching staff. His strikeout and walk profile was better out of the bullpen than the rotation, but he posted a 2.32 ERA over 42 2/3 innings as a starter. He has shown the ability to handle left-handed hitters and turn over a lineup multiple times, so he could get an extended rotation look in free agency. He recently turned 33, the same age at which swing types Ross Stripling and Seth Lugo secured two-year contracts last winter.
Signed with Reds for two years, $26MM.
33. Aroldis Chapman.  Two years, $24MM
Tim: Astros / Anthony: White Sox / Darragh: Angels
Chapman was a big story when he defected from Cuba in the summer of 2009. The flamethrowing lefty surprisingly landed with the Reds on a six-year deal worth $30.25MM. A plan to use him as a starter was quickly abandoned, and Chapman was regularly exceeding triple digits out of the Reds' pen by the end of 2010.
Despite flirtations with starting at various points in his early career, Chapman hasn't started a game in his 14-year career. He broke out as the Reds' closer in 2012, making the first of four consecutive All-Star appearances. With Chapman's salary rising through arbitration, the Reds struck a deal to send him to the Dodgers at the 2015 Winter Meetings. That deal was subsequently nixed once it was revealed Chapman had been involved in a domestic dispute. The Yankees acquired Chapman instead, and he went on to serve a 30-game suspension.  Later in the 2016 season, the Yankees traded Chapman to the Cubs in a deal centered around Gleyber Torres. Chapman went on to become a key piece in the Cubs' championship.
Less than five months later, the Yankees signed Chapman to a then-record five-year, $86MM free agent deal. Facing an opt-out decision after the third year of that deal, the Yankees convinced Chapman to stay by adding another year to his contract. That added year, 2022, turned out to be a rough final one in pinstripes for Chapman. His strikeout rate plummeted, his walk rate spiked, and he spent time on the IL for Achilles tendinitis as well as a leg infection brought about by a tattoo. After Chapman skipped a mandatory October workout, the Yankees fined him and left him off their ALDS roster.
His stock down, Chapman signed a one-year, $3.75MM deal with the Royals last January. Chapman had good results despite a scary walk rate, and the Royals deftly traded him to the Rangers for Cole Ragans and Roni Cabrera on June 30th. Though prone to the longball, Chapman generally pitched well for the Rangers and was one of Bruce Bochy's trusted relievers in the postseason. Chapman, who has logged 49 1/3 playoff innings in his career, allowed two runs in eight frames for Texas this postseason.
Chapman, 36 in February, ranked seventh among all relievers this year with an average fastball velocity of 99.6 miles per hour. Among relievers with at least 30 innings, his strikeout rate of 41.4% ranked second. His 14.5% walk rate was one of the game's worst, but when he's on, Chapman is still nasty. Some teams won't have an appetite for Chapman's reputation, but he may be able to find a two-year deal this winter. It's also possible he's at the one-year mercenary stage of his career.
34. Michael Lorenzen. Two years, $22MM
Tim: Marlins / Anthony: Rockies / Darragh: Diamondbacks
Lorenzen began his MLB career with six-plus seasons in Cincinnati. The Reds deployed him mostly out of the bullpen, dabbling with him as an outfielder at times. Lorenzen is no longer a two-way option but prioritized finding a rotation spot when he first hit free agency in advance of the 2022 season. He signed with the Angels and posted a 4.24 ERA through 18 starts around a shoulder strain that sidelined him for a couple months. He signed for one year and $8.5MM with the Tigers last winter.
In aggregate, Lorenzen's 2023 production — at least on a rate basis — wasn't much better than his '22 campaign. He concluded the year with a 4.18 ERA and saw his strikeout rate dip from 20.7% to 17.8%. While the results landed not far off league average at the end, Lorenzen reached bigger highs and starker lows than he did in Anaheim.
After a brief IL stay due to a groin strain delayed his season debut, Lorenzen was a mid-rotation starter in Detroit. He worked to a 3.58 ERA over 18 starts, rattling off three straight scoreless appearances in July and making his first All-Star team. The Tigers flipped him to Philadelphia for infield prospect Hao-Yu Lee on deadline day.
Lorenzen's first two starts with the Phillies were excellent. He tossed eight innings of two-run ball against the Marlins in his team debut. In his first home outing at Citizens Bank Park six days later, Lorenzen no-hit the Nationals. The nine-year veteran called it the "coolest moment" of his career.
Things dropped off sharply after that appearance. Lorenzen surrendered four-plus runs in each of his next five starts. The Phillies moved him to the bullpen on September 19. He wasn't a huge factor in the playoff run, appearing in only two postseason contests as a low-leverage reliever. Lorenzen's regular season work in Philadelphia resulted in a 5.51 ERA with a well below-average 13.6% strikeout percentage across 47 1/3 frames.
He hits free agency heading into his age-32 campaign. His 9.4% swinging strike rate was down nearly two percentage points from last season's mark, while his ground-ball rate dropped nine points. To his credit, Lorenzen cut his walks and topped 150 innings for the first time in his career. Perhaps his dip in production at the end of the year was tied to that personal-high workload. Lorenzen's overall numbers look like those of a #4/5 starter, though.
35. Sean Manaea. Two years, $22MM
Tim: Pirates / Anthony: Rays / Darragh: Dodgers
Manaea returns to free agency for a second consecutive offseason. In 2022, the southpaw looked on his way to a strong multi-year deal before a dismal second half tanked his value. He took a two-year, $25MM contract with the Giants that allowed him to opt out after the first season. The goal was to hold a rotation spot all year and reestablish himself as an above-average starting pitcher.
That's not how things played out. Manaea struggled out of the gate, allowing a 7.96 ERA over his first eight appearances. By the middle of May, the Giants had kicked him to the bullpen. He spent most of the year working multiple innings of relief with quietly strong results. From May 11 through September 6, Manaea tossed 67 2/3 innings across 25 relief appearances. He posted a 3.86 ERA, struck out over 28% of batters faced and held opponents to a .216/.293/.340 line.
The Giants gave him four starts from that point forward. He worked to a 2.25 ERA with 18 strikeouts and two walks in 24 innings to finish out the year. It was again a tale of two halves, but Manaea closed this season on a much stronger note than he had last fall.  He leaves $12.5MM on the table by opting out.
Manaea found an extra couple ticks of velocity in San Francisco. He averaged 93.6 MPH on his fastball after sitting at 91.3 MPH the previous season. That's not entirely a reflection of working out of relief. He was sitting in the 94-95 range as a starter early in the year and closed the season with a 93.2 MPH average over six innings as a starter against the Padres.
Teams could target Manaea as either a starter or multi-inning reliever. He'll turn 32 in February.
36. Harrison Bader. Two years, $20MM
Tim: Giants / Anthony: Twins / Darragh: Twins
Bader entered the season with a chance to play his way towards the top of a thin free agent class for hitters. The Florida product showed plus speed and excellent center field defense during his time with the Cardinals. While it was undercut by injuries and offensive inconsistency, he showed the potential to impact the game on both sides of the ball. The Yankees acquired a then-injured Bader for Jordan Montgomery at the 2022 trade deadline. He barely played in the regular season but connected on five homers in nine playoff games.
He couldn't maintain that offensive momentum into 2023. Bader combined for a .232/.274/.348 slash between the Yankees and Reds, who nabbed him off waivers in a late-season transaction. He had a trio of injured list stints, missing time with a left oblique strain, right hamstring strain, and strained right groin. None of those were especially serious individually, but they added to a lengthy history of nagging health concerns. Bader has gone on the IL seven times in his major league career, mostly with relatively minor soft tissue problems. Plantar fasciitis in his right foot cost him two and a half months in 2022.
Bader has dramatic platoon splits. The right-handed hitter owns a .258/.322/.464 mark against left-handed pitching over the past three seasons. He's hitting .248/.293/.373 versus righties over that stretch. His glove and baserunning are enough to keep him from falling into a complete platoon, but he's a bottom-of-the-order hitter against right-handed starters.
The defense should be enough for Bader to find a multi-year deal. Glove-first outfielders like Manuel Margot and Jackie Bradley Jr. have signed two-year contracts worth $10-12MM annually. Bader won't turn 30 until next June. He could look to secure an opt-out to potentially retest free agency, when a four-year offer could be attainable if he turns things around.
37. Tyler Mahle. Two years, $20MM
Tim: Nationals / Anthony: Blue Jays / Darragh: Tigers
Mahle looked like an quality mid-rotation starter at times with the Reds. The 6'3″ righty struggled over his first couple campaigns but took a massive step forward in both whiffs and run prevention during the shortened 2020 season. He carried that into a full schedule in 2021, turning in a 3.75 ERA with an above-average 27.7% strikeout percentage over 33 starts and 180 innings.
The results backed up early in 2022, as Mahle allowed 4.40 earned runs per nine across 19 outings. The Twins bet on his track record, solid strikeout/walk profile and results away from the homer-happy Great American Ball Park. At the deadline, Minnesota sent Spencer Steer and Christian Encarnacion-Strand as part of a package to acquire Mahle from a then-rebuilding Reds team.
That trade didn't work for Minnesota. Mahle made four starts before shoulder inflammation sent him to the injured list. He returned this year, turned in a 3.16 ERA over five starts, then injured his UCL. Mahle underwent Tommy John surgery in May. The typical 14-16 month rehab timeline would give him a chance to return to a big league mound around the All-Star Break in 2024.
It was an ill-timed injury for the impending free agent, who had a shot at a deal of four or more years had he stayed healthy. Now, he's likely to look for a two-year pact. That'd give him financial security while he works back from surgery. The team could get below-market production if he returns healthy down the stretch and into 2025. That's fairly common for talented pitchers midway through TJS rehab. The two-year, $20MM extension that German Marquez signed with the Rockies could serve as a template.
38. Gio Urshela. Two years, $20MM
Tim: Blue Jays / Anthony: Blue Jays / Darragh: Tigers
It took a few seasons for Urshela to establish himself at the major league level. He played a limited role in parts of three seasons with the Indians and Blue Jays. It wasn't until an injury to Miguel Andujar opened the Yankees' third base job in 2019 that Urshela broke out. He connected on 21 home runs with a .314/.355/.534 line to supplant Andujar as New York's top option at the hot corner.
While that'll probably go down as his best full season, Urshela has been an effective regular for the past five years. He combined to hit .275/.320/.438 from 2020-21. The Yankees dealt him to the Twins as part of the Josh Donaldson/Isiah Kiner-Falefa swap the next winter. Urshela posted a .285/.338/.429 slash over his lone season in Minnesota. With younger infielders waiting in the wings, the Twins traded him to the Angels last offseason.
Urshela's season in Orange County was an odd one. He hit .299 over 62 games but had the worst power numbers since he became a regular. He homered just twice in 228 plate appearances. His .374 slugging percentage was his first sub-.400 mark in five years. Urshela's hopes of snapping that power funk were dashed in mid-June. While trying to beat out an infield hit, he landed awkwardly on the first base bag and sustained a left pelvis fracture, ending his season.
While it's not the platform he envisioned, there could still be enough interest for Urshela to secure a multi-year contract. He's a high-contact hitter who runs strong averages to compensate for low walk totals. He's typically a threat for double digit homers and 20-plus doubles. His defensive reputation should also work in his favor. Urshela is generally regarded as a strong defender despite mixed reviews from public metrics (plus grades from DRS, well below-average marks from Statcast). He can moonlight at shortstop and could perhaps draw consideration as a second baseman in a weak middle infield market.
Utility players Eduardo Escobar and Brandon Drury secured two-year pacts approaching $20MM. Urshela could fall into that range thanks to the down platform year. He turned 32 last month.
39. Amed Rosario. Two years, $18MM
Tim: Tigers / Anthony: Marlins / Darragh: Marlins
An elite prospect during his time coming through the Mets organization, Rosario debuted in the majors as a 21-year-old. He never became the franchise shortstop some evaluators thought he would. Rosario's offense was up-and-down, largely on account of a very aggressive approach. He was similarly inconsistent at shortstop, routinely receiving well below-average defensive grades.
Over three and a half seasons in Queens, Rosario hit .268/.302/.403. During the 2020-21 offseason, New York included him alongside Andres Gimenez as part of a package to bring in Francisco Lindor and Carlos Carrasco from the Indians. Rosario spent two-plus years as Cleveland's shortstop, playing almost every day with solid but unspectacular results.
Between 2021-22, the right-handed hitting infielder combined for a .282/.316/.406 batting line. He put the ball in play with regularity and ran strong batting averages but did so with modest power and a well below-average 4.5% walk rate. The overall offensive productivity was around league average.
Rosario's final season in Cleveland didn't go as planned. His line fell to a .265/.306/.369 slash over 412 trips to the plate. His metrics at shortstop were dreadful, with DRS pegging him a staggering 16 runs below average over 774 2/3 frames. Statcast estimated him at -11 runs. While he has never rated as a good defender, this year's grades were the worst of his career. Cleveland decided to turn shortstop over to Gabriel Arias, sending Rosario to the Dodgers in a challenge trade for Noah Syndergaard. Rosario played a limited role in L.A., seeing more action at second base than shortstop and starting 28 of their last 61 games. The Dodgers left him off their playoff roster.
There's no doubt it's an inopportune time for one of the worst years of his career. Rosario entered the season as the top shortstop in a weak class. Some clubs may no longer even consider him a shortstop, preferring him at second base. He finished the year with a .263/.305/.378 mark, including a .252/.293/.343 showing against right-handed pitching.
At the same time, he's a one-time top minor league talent who's a few weeks from his 28th birthday. The middle infield class remains barren. Teams like the Marlins, Giants, White Sox, Red Sox, Tigers, A's and Pirates could look for help at either second base or shortstop, with Rosario a potential rebound target.
40. Whit Merrifield. Two years, $18MM
Tim: White Sox / Anthony: White Sox / Darragh: White Sox
A two-time American League hits leader, Merrifield has an old-school playing style. He's a high-contact hitter who consistently hits for solid averages and runs the bases well. Merrifield was selected to the All-Star Game for the third time after hitting .286/.342/.392 in the first half. He struggled coming out of the break, posting a .256/.286/.370 finish to conclude with a .272/.318/.382 line through 592 trips to the plate. He stole 26 bases in 36 attempts.
While Merrifield consistently gets into the double digits in home runs, the profile is built around his bat-to-ball skills. Over the past three seasons, he owns a .268/.311/.385 mark in just shy of 1900 trips to the plate. Merrifield splits his defensive work between second base and the outfield, generally receiving better grades for his time on the dirt.
The eight-year veteran is one of the better middle infielders available in a very thin class. He'll likely be limited to two years since he's turning 35 in January. His camp could take aim at the $18MM range secured by Jean Segura and Brandon Drury last winter. The Mariners, White Sox, Brewers, Red Sox, Pirates, Tigers and Nationals are among a host of teams that could look for help at the keystone.
41. Justin Turner. One year, $16MM
Tim: Diamondbacks / Anthony: Diamondbacks / Darragh: Marlins
It has been a decade since Turner's breakout after landing with the Dodgers. The veteran corner infielder has been an above-average hitter in every season dating back to 2014. Turner doesn't have quite the same power he did during his 2014-19 peak, but he's still a well-rounded offensive player. He has 20-homer pop, good plate discipline and plus contact skills.
That carried over from Los Angeles to Boston. The Dodgers bought Turner out for $2MM in lieu of a $16MM option last offseason. He more than made up the difference, signing with the Red Sox on a two-year guarantee that included an $8.3MM salary in the first season along with a $6.7MM buyout on a 2024 player option. He earned an additional $1MM in incentives.
Turner played well enough to make retesting free agency an easy call. He connected on 23 homers with a .276/.345/.455 line across 626 plate appearances. His strikeout and walk profile remained strong, while his batted ball metrics were consistent with his late-career work in Southern California. The righty-swinging Turner was markedly better against left-handed pitching this season, but he has traditionally had neutral or reverse platoon numbers. He's still capable of playing an everyday role in the middle of a lineup.
Nearing his 39th birthday, Turner has lost a couple steps defensively. His third base ratings dipped from above-average to a little below towards the end of his Dodger tenure. With Rafael Devers manning the hot corner in Boston, Turner played mostly designated hitter or first base. While a signing team probably wouldn't want to pencil him in for 1000 innings of third base work anymore, he can bounce between the corner infield spots and upgrade a lineup at DH.
Turner was ineligible for the qualifying offer as a player who has previously received one. His age probably keeps this to one year. He should land a similar commitment to last offseason's as one of the best bets in the class for above-average offense in 2024. The D-Backs, Padres, Cubs, Tigers, Giants, Yankees, Phillies and Marlins could all fit.
42. Jason Heyward. Two years, $16MM
Tim: Dodgers / Anthony: Royals / Darragh: Pirates
The 2023 campaign was the final of Heyward's eight-year free agent deal with the Cubs. That he spent the whole season with the Dodgers is a reflection of how poorly the Cubs' $184MM investment panned out. Heyward's only above-average offensive showing in Chicago came during the shortened 2020 season. When the Cubs released him at the start of last offseason, he concluded his tenure with a .245/.323/.377 line in seven years.
As a result, few expected Heyward would make a significant impact when he signed a minor league deal with the Dodgers. He made L.A.'s Opening Day roster in the role of veteran mentor but quickly played his way into a key rotational outfield option. Heyward had a resurgent season at the plate, connecting on 15 homers with a .269/.340/.473 batting line in 377 plate appearances. While he didn't make dramatically harder contact, he was more effective at hitting the ball in the air en route to his highest single-season slugging mark since 2012.
That strong rate production was no doubt aided by a sheltered role. The Dodgers shielded Heyward from left-handed pitching, giving him all but 28 plate appearances with the platoon advantage. Had they played him regularly against southpaws, the slash line would look less impressive. There's solid value in a strong side platoon capacity, particularly when paired with plus defense. The five-time Gold Glove winner continued to rate highly as a right fielder, with both DRS and Statcast pegging him five runs above average across 624 innings. Even at age 34, he's capable of covering center field if needed.
Heyward certainly locked down a Major League contract this time around. He has a case for two years as a platoon option who'll offer a respected presence in a locker room. The White Sox, Royals, Rockies, Nationals, Marlins and Guardians are possible suitors.
Signed with Dodgers for one year, $9MM.
43. Yuki Matsui. Two years, $16MM
Tim: Cubs / Anthony: Giants / Darragh: Cardinals
Matsui, 28, has established himself as one of the better relief pitchers in Japan. The left-hander has tallied 30+ saves on six occasions for the Tohoku Rakuten Golden Eagles, including a personal-high 39 saves this past season. He worked to a 1.57 ERA over 57 1/3 innings, his third consecutive year with a sub-2.00 mark. Matsui punched out an excellent 32.4% of opposing hitters while walking just 5.9% of batters faced.
The statistical profile has been impressive throughout his decade-long run in NPB. Matsui owns a career 2.40 ERA with a strikeout rate just below 32%. He's younger than any notable free agent reliever in the class aside from Hicks. Unlike Yamamoto and Imanaga, Matsui has surpassed the requisite nine year service threshold to reach international free agency. An MLB team wouldn't owe compensation or a posting fee to the Eagles.
While that makes him one of the more intriguing relievers available, Matsui isn't without question marks. He's listed at 5'8″ and 167 pounds, with that slight frame perhaps a source of trepidation for some teams. Evaluators with whom MLBTR spoke were mixed on his profile, which one described as headlined by an above-average slider and a deceptive delivery. His youth still opens the possibility of two or three years.
44. Frankie Montas. One year, $15MM
Tim: Orioles / Anthony: Nationals / Darragh: Cardinals
Montas is an upside play coming off a season and a half lost to a shoulder injury that eventually required surgery. The right-hander flashed mid-rotation ability from 2018-19. His '19 campaign was cut short by an 80-game suspension after a positive test for the performance-enhancing substance Ostarine. He struggled during the abbreviated 2020 season before putting together his first full campaign of above-average results in 2021.
Through 187 innings, he turned in a 3.87 ERA with a 26.6% strikeout percentage. He was off to a similarly strong start in 2022, allowing 3.18 earned runs per nine through 19 outings on a rebuilding A's club. Montas missed some time in early July with shoulder discomfort but avoided the injured list. Oakland dealt him to the Yankees at the deadline.
Montas' time in the Bronx did not pan out. He was rocked for a 6.35 ERA in eight starts down the stretch. His season ended with an IL placement due to shoulder inflammation. He continued to battle soreness during the offseason and underwent arthroscopic surgery in February. The injury cost Montas almost all of his platform year. He returned for one appearance against the Royals during the penultimate game of the season. The average velocity on his sinker (93.9 MPH) and splitter (85.2 MPH) were down a tick from pre-surgery levels, although Montas was limited to three innings on a minor league rehab stint with the season winding to a close.
Signing Montas would be a high-risk upside play. While that traditionally takes the form of a one-year deal, Michael Conforto signed a two-year, $36MM guarantee with a conditional opt-out clause after missing all of 2022 following shoulder surgery. It's possible Montas has enough appeal to secure a two-year deal with an opt-out himself, although a straight one-year pact would be more standard. He turns 31 in March. He's young enough to have a shot at a four-plus year contract next offseason if he recaptures his pre-surgery form.
45. Brandon Belt. One year, $15MM
Tim: Red Sox / Anthony: Pirates / Darragh: Brewers
Belt reached free agency for the first time in his career last offseason. At the time, the longtime Giants slugger was coming off a middling .213/.326/.350 showing over 78 games. His 2022 season had ended in September when he underwent surgery on his right knee. Belt considered retirement early in the winter but decided to keep going after the procedure rejuvenated him.
The Blue Jays guaranteed the veteran first baseman $9.3MM on a one-year deal. His season was very good. Belt hit .254/.369/.490 with 19 home runs through 404 trips to the plate. He walked at a massive 15.1% clip to keep the on-base percentage up despite a career-worst 34.9% strikeout rate. Belt had a pair of brief stints on the injured list — 10 days in June for hamstring inflammation and two weeks in September because of muscle spasms in his back — but didn't have any issues with the surgically-repaired knee.
Toronto aggressively shielded Belt from left-handed pitching. He only took 39 plate appearances (9.7% of his season tally) against southpaws. The favorable role no doubt propped up Belt's season line, but he has been an impact bat against right-handed pitching in three of the past four years. In a market light on offense, Belt is one of the better options for teams looking to add a lefty presence to the middle of a lineup. If he wants to play a 14th MLB season, he should earn a nice boost on this year's salary.
46. Hector Neris. Two years, $15MM
Tim: Reds / Anthony: Cardinals / Darragh: Twins
Neris' 1.71 ERA this year ranked seventh among qualified relievers. The 34-year-old righty maintained a solid 28.2 K%, though his control can come and go and was subpar this year. Neris additionally lost over a mile per hour off his fastball and saw his groundball rate take a tumble, but he was able to strand over 90% of baserunners.
Neris established himself as a key part of the Phillies' bullpen back in 2016, and took hold of the closer role the following year. However, struggles the following year led to a demotion to Triple-A.  Neris was able to regain Philly's closer job in 2019, logging a career-best 28 saves.
In November of 2021, the Astros signed Neris to a two-year, $17MM deal. He had a solid run in Houston, and his 2024 club option converted to a player one when he met certain appearance thresholds. Neris turned down his one-year, $8.5MM option to explore the open market. Durability is one of Neris' best assets, as he's never been on the IL for an arm injury and ranks third among MLB relievers with 297 1/3 regular season innings from 2019-23.
47. Jakob Junis. Two years, $15MM
Tim: Padres / Anthony: Diamondbacks / Darragh: Padres
Junis, 31, turned in back-of-the-rotation numbers over parts of five seasons for the Royals. Kansas City cut him loose after the 2021 campaign. The righty inked a $1.75MM deal with the Giants, who controlled him for a second season via arbitration.
The former 29th-round pick operated in a swing role during his first year with the Giants. He started 17 of 23 outings and worked to a 4.42 ERA over 112 innings. San Francisco kicked him to relief this past season. Junis had a quietly solid year as a multi-inning reliever, allowing a career-low 3.87 ERA in 40 appearances covering 86 frames. He fanned 26.2% of opponents against a modest 5.7% walk percentage.
Junis averaged 93.7 MPH on his sinker, two ticks higher than his previous career high. He leans more often on a mid-80s slider that presents a particularly tough look for right-handed hitters. Many clubs will prefer him as a reliever thanks to the heavy reliance on the breaking ball, but it's not out of the question he finds a team willing to let him battle for a spot at the back of a rotation. He could aim for a similar deal to those secured by Lugo and Matt Strahm.
48. Luis Severino. One year, $14MM
Tim: Tigers / Anthony: Brewers / Darragh: White Sox
Among the class, few players have seen their stock drop to the same extent as Severino. He made consecutive All-Star games and secured top-10 Cy Young placements in 2017-18. The righty topped 190 innings in each season and combined for a 3.18 ERA with a 28.8% strikeout rate. Going into 2019, he and the Yankees agreed to a $40MM extension that covered his four arbitration years with a $15MM club option for his first would-be free agent season.
Injuries essentially robbed Severino of the first three years of that deal. Shoulder and lat problems limited him to three starts in 2019. The club announced the following February that he'd suffered a UCL injury requiring Tommy John surgery. That cost him all of 2020 and a good portion of '21. Severino was set back again by shoulder discomfort late that season, keeping him to four relief outings.
The Dominican-born hurler entered 2022 healthy. He was effective early on, working to a 3.45 ERA behind a 27.2% strikeout rate into mid-July. A lat strain then sent him back to the injured list, keeping him out into September. He made it back to throw 16 regular season innings at the end of the year and tossed 11 frames over two playoff starts. The Yankees were encouraged enough by the form he showed when healthy to exercise the option.
Unfortunately, the lat issues resurfaced this year. Another strain sent Severino to the IL for the first six weeks of the season. He returned at the end of May to reassume a rotation spot. This time, his effectiveness disappeared. Severino was hit hard throughout the summer, surrendering a 6.65 ERA across 89 1/3 innings.
His 2.32 HR/9 rate was second-worst among starting pitchers. The strikeout rate plummeted nearly nine percentage points. He generated swinging strikes on only 9.1% of his offerings after earning a whiff more than 12% of the time in each of the previous two seasons. Severino's disastrous year finished on a sour note in September. A left oblique strain cut his season short.
Nothing in the 2023 statistical profile is encouraging. The reasons for hope are twofold: his pre-'23 track record of strong performance when healthy and still-present velocity. It'd be easier to explain Severino's terrible year if the injuries had completely sapped his arm strength. Instead, he averaged an impressive 96.5 MPH on his heater — only a touch below its peak level. His slider wasn't as sharp as it had been in prior seasons, but Severino's repertoire didn't collapse.
A change in environment or potential pitch mix alteration could make him a popular target for a one-year deal. Severino has more impressive raw stuff than Noah Syndergaard did when he found a $13MM guarantee last offseason. Matthew Boyd received $10MM as a rebound candidate coming off a season in which he was limited to 13 1/3 innings. Severino's camp could look to beat those numbers on a pillow contract.
Signed with Mets for one year, $13MM.
49. Liam Hendriks. Two years, $12MM
Tim: Phillies / Anthony: Diamondbacks / Darragh: Red Sox
Hendriks, 35 in February, went from struggling starting pitcher to waiver bait to one of the best relievers in all of baseball. His relief career took off with the 2015 Blue Jays, and then ascended to elite levels with the 2019-20 A's.  The White Sox inked him to a $54MM free agent deal, and were rewarded with a pair of All-Star seasons.
In January of this year, Hendriks announced he'd been diagnosed with Non-Hodgkin's Lymphoma. With the whole game rooting for the Aussie closer, Hendriks announced he was cancer-free by April.  He rejoined the White Sox in late May, but soon after injured his elbow and required August Tommy John surgery. The White Sox had included a $15MM club option with an oddly equal buyout for 2024 designed perhaps with Tommy John surgery in mind, as declining the option allowed them to defer payment over a decade.
Hendriks now has the chance to hook on with a team with an eye on him returning to late-inning prominence in 2025. He could be of particular interest to CBT payors, since the AAV of his contract would be low.
50. Tim Anderson. One year, $12MM
Tim: Marlins / Anthony: Mariners / Darragh: Athletics
In a decision that would've seemed shocking a year ago, the White Sox declined Anderson's $14MM club option after an abysmal 2023 season.
A former first-round draft pick, Anderson started his career a bit slowly, flashing an intriguing power/speed combination but posting middling on-base marks over his first three seasons. He took a significant step forward in 2019, hitting .335/.357/.508 to win the batting title. That spurred a stretch of four consecutive above-average years at the plate. Anderson combined for a .318/.347/.473 slash between 2019-22. He made two All-Star Games and won a Silver Slugger while receiving down-ballot MVP votes in 2020. Six months ago, he looked to be one of the best shortstops in the majors.
Anderson instead was one of the worst players in MLB this past season. He managed just one home run in 524 trips to the plate, hitting .245/.286/.296. His 13 stolen bases were his lowest in a 162-game schedule since his rookie year. Anderson struck out in 23.3% of his plate appearances, his highest rate since 2018. While he has always been a ground-ball hitter, this year's 61.1% grounder rate was a personal high.
Along with the dreadful offensive showing, Anderson rated as a below-average defensive shortstop. Statcast felt he was marginally worse than par, but DRS pegged him 16 runs below average — the lowest total in the majors. Anderson has expressed a willingness to move to second base if the team desires.
The 30-year-old Anderson played at roughly a 4-WAR pace as recently as last year, and this year's middle infield market is barren.  While it's fair to assume the White Sox found no trade interest in Anderson at his $14MM option price, he could have a market a few million dollars below that. In his eight-year big league career, Anderson has at times rubbed fellow players the wrong way, with his "put up your dukes" moment with the Guardians' Jose Ramirez this summer serving as an example. That will be a factor in his market, but his track record should generate several suitors.
Honorable mentions: