Though Spring Training is underway, let's move on to our 15th team payroll projection. Below find the links to the earlier posts in this series.
Philadelphia Phillies
Los Angeles Dodgers
Los Angeles Angels
Atlanta Braves
New York Yankees
Chicago White Sox
Boston Red Sox
Minnesota Twins
Milwaukee Brewers
San Francisco Giants
St. Louis Cardinals
Chicago Cubs
New York Mets
San Diego Padres
If you have questions about financial information made available to the public and the assumptions used in this series, please refer to the Phillies piece linked above.
Today, we look into a club whose rebuild earned a World Series win, yet who finds itself with a rotation in flux: the Houston Astros.
Team Leadership
The Astros franchise got off to a bit of a rough start, beginning play in 1962 as the Colt .45s, but the team was obtained by GE Credit and Ford Motor Credit just over a decade later in 1975 as a result of crippling debt related to the building of the Astrodome. Thankfully for the future of baseball in Houston, former Yankees minority owner John McMullen purchased the club in 1979 and oversaw a period of relative stability before selling to Drayton McLane in 1993. McLane's period of ownership was filled was success, from the Killer Bs to the 2005 National League pennant winners, Astros fans became accustomed to winning. Fans could have been understandably concerned when McLane sold the club at the end of 2011 to Houston businessman Jim Crane. While Crane's ownership tenure got off to a rocky start, losing 218 games over his first two seasons, the results have been stellar over the past four seasons, particularly the team's 2017 championship.
This year's team has been assembled by general manager Jeff Luhnow, who took the reins in Houston in December 2011, shortly after Crane's purchase was finalized, after nearly a decade running the Cardinals' scouting department. Luhnow utilized his drafting prowess over his first few drafts to add stars like Carlos Correa, Lance McCullers Jr., and Alex Bregman, with others such as Forrest Whitley and Kyle Tucker close to contributing. Infamously, Luhnow also whiffed on a pair of number one overall picks in right-hander Mark Appel and left-hander Brady Aiken, though Luhnow salvaged his losses by flipping Appel to Philadelphia as a minor piece in the Ken Giles trade and recouping a compensation pick for Aiken going unsigned that became Bregman.
On the whole, it's difficult to argue with the results that Crane and Luhnow have compiled: they tanked their way to a miserable 176-310 (36.2 percent winning percentage) over their first three years followed by a stellar 374-274 (57.7 percent winning percentage) mark over the last four years.
Historical Payrolls
Before hitting the numbers, please recall that we use data from Cot's Baseball Contracts, we'll use average annual value ("AAV") on historical deals but actual cash for 2019 and beyond, and deferrals will be reflected where appropriate. And, of course, the value of examining historical payrolls is twofold: they show us either what type of payroll a team's market can support or how significantly a given ownership group is willing to spend. In the most useful cases, they show us both. We'll focus on a 15-year span for the Astros, covering 2005-18 for historical data as a means to understanding year 15: 2019. This period covers the transition from McLane to Crane ownership and includes a tank for the ages with winning teams on either side, so this provides an excellent window into what to expect from the club as they rev up to contend again. We'll also use Opening Day payrolls as those better approximate expected spending by ownership.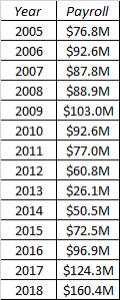 The Astros were in the top half of leaguewide spenders each year from 2005 through 2010 before their 2011 dip. Then Crane tore the whole operation down to the studs, reaching a comical low in 2013. The 2013 Astros began the year with just five players earning north of $1 million — Bud Norris, Carlos Pena, Jose Veras, Erik Bedard, and Wesley Wright — yet Norris, Pena, and Veras were jettisoned in July while Wright was shipped out in mid-August.
The Astros understandably came under fire for their extremely low payroll at the time, but the low spending was justified by the fact that Crane incurred $275 million in debt to purchase the team and by Crane's own promise that "once our minor league system is filled in, we'll move up into the top five or 10 in payroll." It took a few years for the payroll to reach such lofty heights, but by 2018, Houston found themselves with the seventh-highest end-of-season payroll.
Like most teams, the Astros haven't been that close to the luxury tax threshold, but that changed in 2018 and figures to be a relevant consideration in 2019 as well. While the Astros never blew past their international amateur bonus pools to the extent that some other teams did, they did incur the top penalties and restrictions in 2016, showing a willingness to spend internationally. Nevertheless, their Major League payrolls present a good picture of baseball operations spending.
Future Liabilities
Get ready for Jose Altuve and a whole bunch of soon-to-be free agents.


We'll start with Altuve, the 2017 American League Most Valuable Player and heart and soul of the franchise. His contract features one more discounted year before leaving $130 million on the books from 2020-24. As long as Altuve continues to produce like an MVP, I suspect that Houston won't complain.
Moving to the top of the list, Houston has just one more year with Justin Verlander under contract. The team's marquee trade acquisition in August 2017 after a period of struggles with the Tigers, Verlander was reinvigorated and returned to Cy Young caliber form. Owed a net of $20 million thanks to a contribution from Detroit, Verlander represents a good bargain in 2019 in advance of his first-ever walk year. He did originally have a vesting option for the 2020 season, but Verlander waived the option to facilitate the trade.
Next we find a trio of outfielders with two remaining years of control. 2018 provided a great, and timely, reminder of Michael Brantley's offensive prowess when healthy, and he figures to set the table near the top of the lineup for the next two seasons. Joining him will be Josh Reddick, whose average power and above-average on-base ability had been a given for years before his BABIP against right-handed pitching surprisingly cratered in 2018. He's no star, but he's a good bet to rebound to be an average starter in 2019. Finally, George Springer slipped in the power department in 2019, but his ability to get on base and play a solid defensive outfield kept him valuable. If the power returns, he'll be a star once again as he nears free agency.
Yuli Gurriel has underwhelmed somewhat since arriving from Cuba, and at 34, there's not much reason to think he'll improve dramatically going forward. He's solid as a regular, though Tyler White's offensive prowess could render Gurriel susceptible to losing some playing time.
The majority of the remaining guaranteed contracts are one-year commitments. Smith unfortunately ruptured his Achilles in December 2018, so he won't be expected back until late summer, if at all. At this point, it's fair to wonder if he'll be able to contribute to the 2019 team. Chirinos, Miley, and Rondon should each play a role on the 2019 squadChirinos may get a crack to take the everyday job, but Houston would probably prefer it if Max Stassi's 2018 breakout — he posted the second highest framing runs added per Baseball Prospectus despite playing a part-time gig — was a harbinger of things to come. Miley could find himself in the rotation's fifth spot if Verlander and Gerrit Cole stay healthy while Collin McHugh and Josh James make successful returns to starting. And Rondon remains best-suited for a setup role rather than closing, a job he should stick with provided that Roberto Osuna remains entrenched.
The final contract offers some forward-looking control. New Astro Aledmys Diaz will head to arbitration should the team elect to keep him, although he'll need to prove his health after spending time on the disabled list in each of his first three Major League seasons.
Houston has done well in avoiding dead money with only the final buyout payment for Singleton allocated to this year's payroll.
Lest you find yourself wondering why the Astros are such a powerful ball club, let's take a look at one of the most robust arbitration tables in the game: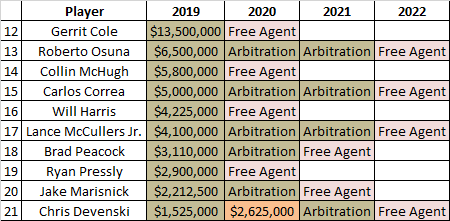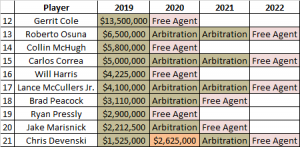 There's some serious star power here.
We'll start with the starting pitchers. Much like Verlander before him, Cole appears to have been invigorated by his move to Houston. He pitched like an ace in Pittsburgh in 2015, then pitched well but not nearly as well in 2016-17. With the Astros in 2018, Cole was an ace once again. McHugh lost most of his 2017 to injury, then found his rotation job claimed by Cole last year. With Charlie Morton (surely) and Dallas Keuchel (presumably) out the door, McHugh figures to have first dibs on a starting job after excelling in relief last season. Unfortunately, McCullers won't help his case in 2019 as he'll spend the year recovering from November 2018 Tommy John surgery.
The majority of the Houston bullpen is listed in the table above. It all starts with Osuna, who starred after arriving via trade from Toronto at the end of his 75-game suspension for violating Major League Baseball's policy on domestic violence. His baseball abilities are indisputable. His off-the-field activities present the club with significant risk, both with regards to public relations and roster construction. Even in his mid-30s, Harris represents superb value, especially given his ability to stifle batters of both handedness. He is likely in line for a big contract next offseason. Peacock and Pressly both figure to pitch a lot, with Houston hoping to get a lot of innings out of Peacock and high-leverage innings from Pressly. Finally, Devenski starred in long role in 2016, excelled in 2017 — though to a lesser degree than the prior year — then floundered in 2018. He still has some time to kill before free agency.
We close the arbitration table with the two position players. Correa, the 2015 American League Rookie of the Year, produced three nearly identical excellent seasons from 2015-17 before an injury-marred 2018. Just 24, Correa likely has years of stardom ahead of him. Marisnick, on the other hand, seems destined for a part-time gig that accents his defensive and baserunning skills. Outside of 2017, he hasn't shown enough with his bat to warrant a more significant share of time, especially against same-sided pitching.
What Does Team Leadership Have to Say?
To Crane's credit, when he stripped the club down to next to nothing, he promised that he'd spend when it made sense…and then he did. But what about pushing payroll even higher? Crane has shown a willingness here, too, commenting in December that, "I'd say if the right situation came long — certainly we're not going over [the luxury-tax threshold] — but we could move closer to that. We were pretty high up in the food chain last year. A lot of teams realize the penalty is pretty severe if you go over. We'll stay within the strike zone." Luhnow hasn't been as open about the team's spending plans, but Crane provided plenty of guidance.
After living through a miserable rebuild, Crane seems keenly aware of the value of contending seasons and willing to spend to supplement his winning teams.
Are the Astros a Player for Bryce Harper?
I think that the Astros could be lurking in the shadows for Harper.
The team is smack in the middle of their window of contention, but having just lost Morton and (presumably) Keuchel from their rotation, they could use a boost. They currently have Brantley and Reddick manning the corner outfield spots, but Reddick is eminently tradeable. And that's why Harper could fit so easily. If Houston offloaded Reddick and a portion of his $13 million annual salary for 2019 and 2020, the cost of Harper would be mitigated. With Harper likely obtaining a contract with opt-out clauses starting in the early 2020s, signing him allows the team to maximize their current window without seriously jeopardizing their ability to keep Altuve, Correa, and Bregman together for a decade or more.
The luxury tax is a serious consideration, but it should be avoidable. I currently have the team's luxury tax payroll at $181.2 million. If the Astros followed the blueprint above, jettisoning Reddick and signing Harper for, say, $30 million per year, they still might be able to stay south of the tax line.
The Astros have looming rotation questions with the free agencies of Verlander and Cole coming, but building around an offensive core of Altuve, Correa, Bregman, Brantley, Springer, White, and Harper…whew.
What Will the 2019 Payroll Be?
How high is Crane willing to go?
As of now, I have the Astros at $164.9 million with the aforementioned $181.2 tax number. After sporting a $160.4 million payroll in 2018 and mentioning that the books have room to expand, there's surely room for more.
Projecting just how high that number goes is tricky. The 2018 payroll was achieved by the age-old formula of 2013 payroll times five plus $4 million. What does that tell us for 2019?
All kidding aside, Houston is primed to take another step. Harper represents approximately three additional wins over what Houston figures to get out of right field in 2019, and if Reddick could be unloaded, it makes tons of sense. However, Houston has made such a move yet, so it stands to reason that perhaps Crane isn't interest in pushing payroll quite this high.
So let's split the difference here between what it would take to add Harper and where payroll currently stands. This represents a 9.2 percent increase of 2018 spending, a sensible amount for a team in the midst of their best-ever window of contention.
Projected 2019 Payroll: $175 million
Projected 2019 Payroll Space: $10.1 million