You remember Eric Sogard. He once rode his rec spec-chic good looks and charmingly scrappy play to internet stardom, nearly winning the memorable "Face of MLB" contest through a thrilling hijacking effort launched by the crafty A's faithful.
The good times didn't last in Oakland. Sogard was a solid contributor in 2013, but his high-contact, low-power approach fizzled as he turned in consecutive sub-70 wRC+ seasons at the plate. There was a second act in Milwaukee in 2017, when Sogard turned in a remarkable combination of 45 walks against 37 strikeouts despite a near-total absence of power (.104 ISO). But he collapsed in the following campaign, carrying a ghastly .134/.241/.165 slash in 113 plate appearances for the Brewers.
Thus it was with little fanfare that the Blue Jays inked Sogard to a minors pact this past offseason. He was a solid depth piece, destined to open the year at Triple-A. At most, Jays fans might have hoped they'd finally have an organizational replacement for fan-favorite Ryan Goins, a utility infielder who was feted as a hero upon his return to Toronto. He had been dumped unceremoniously the winter prior after appearing in a career-high 143 games, sneaking the ball over the right field wall nine times and producing 62 ribbies. (That last state is the one that Jays announcer Buck Martinez chose to support his questionable assertion, in the above-linked video, that Goins had a "great year" in 2017. Goins slashed .237/.286/.356.)
As it turns out, Sogard was called upon by the Jays when youngster Lourdes Gurriel Jr. got the yips. Sogard had hit well at Triple-A, mostly by hounding young pitchers into walks. He drew seven free passes against just four strikeouts in 38 plate appearances while socking a dinger and a pair of doubles among his eight base knocks.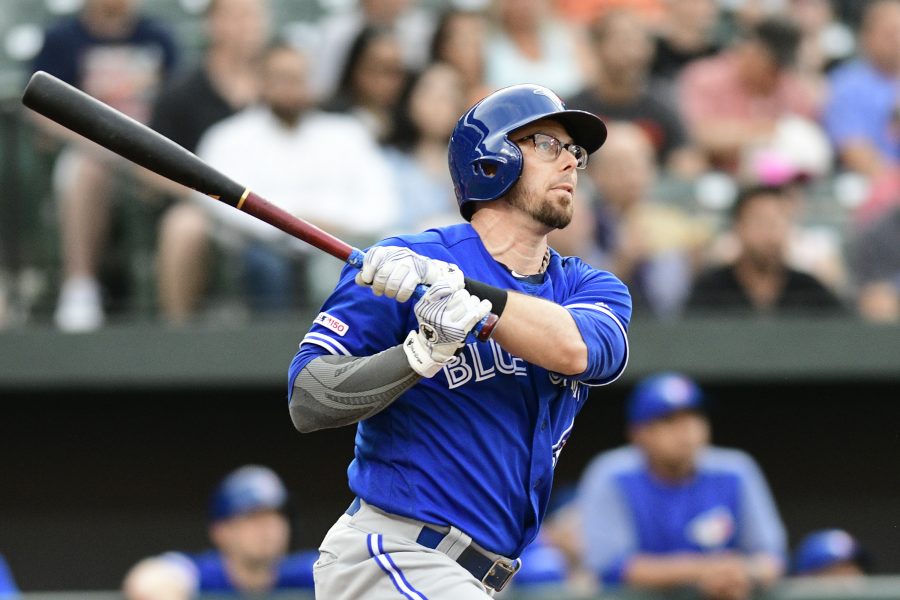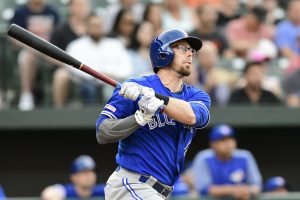 There was nothing remarkable about any of this … until the ghost of Goins inhabited Sogard's spectacles. Those nine long balls Goins hit in his legend-making campaign? Well, Sogard has matched him already in nearly half the tries. The 33-year-old journeyman is now through 261 plate appearances of .294/.364/.478 hitting in Toronto, handily topping even mid-prime Goins in output. He's hitting well against righties but doing even more damage against same-handed pitching (137 wRC+).
Just what is going on here? Is it remotely sustainable? Is Sogard a legit deadline trade chip for the rebuilding Toronto team?
This Goins-Sogard thing has had far longer legs than I anticipated when I sat down to write this, but it will help illustrate one more point. In large part, it seems Goins just happened to loft a few over the course of the season. His nine homers averaged 400 feet with a 27.6 degree average launch angle. Otherwise, he averaged only an 8.3 degree launch angle that season and has typically sat lower even than that.
Sogard? Much as with his predecessor, every single one of his homers has gone down the right field line — two-thirds of them at the Rogers Centre. They're likewise flying on fairly lofty flight paths — moreso, in fact. Sogard's mean dinger is taking a parabolic path of 29.6 degrees, placing him 122nd on the list of all home run hitters in the majors this year, sitting comfortably among between a bunch of double-digit dinger men.
That's about where the similarities end. Sogard is producing some true wall-scrapers. His long balls are averaging just 380 feet, good for 399th of 452 players registered by Statcast. They have left the bat at a meager 96.5 mph average exit velo. That's just 445th of 456 players in the database; you have to run up the board to Yuli Gurriel (14 homers at a 99.4 mph average exit velo) to find another hitter with more long balls.
The baseball may not be juiced, per se, but it sure is flying like never before. And Sogard is taking full advantage, maxing out his meager power to the breaking point. He currently owns a .184 isolated power mark — more than double his career average (.090) — despite a meek 20.7% hard-hit rate, 85.3 mph average exit velocity, and grand total of three barreled balls this season. Oh, and he's also sending the ball skyward like never before, with a hefty 19.2 degree average launch angle.
Now, I'm not going to sit here and tell you that Sogard absolutely can't keep things going like this. But Rogers Centre has borne witness to more long balls than any other MLB stadium this year. The Jays' pitchers are playing their part in that, to be sure. But let's just say that teams weighing a move for Sogard will want to do some ballpark dimension overlays before pulling the trigger.
Even if many of his dingers would've snuck out elsewhere, it seems wise to bake in a healthy amount of anticipated regression. Sogard does possess undeniable mastery of the strike zone and outstanding contact ability. He carries a 3.7% swinging-strike rate this year and sits under four percent over his career. This isn't a player selling out to put the ball over the wall. But it's also not one who's newly stinging the sphere.
Sogard, a poster boy? In a sense, yeah. Teams considering him will need to closely parse the changes to the broader state of play and try to assess how he'll fit in moving forward. Can Sogard keep tucking balls into the front rows of the right field bleachers? That depends not only upon a look at Sogard, but other matters. Can pitchers find a way to adjust to these universal changes? Will the baseball undergo further physical change? Likewise, other deadline targets — those performing well and those struggling to adapt, hitters and pitchers alike — will be viewed with one eye on the ever-flying long ball.
Photo courtesy of USA Today Sports Images.