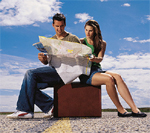 Tim sends his best from Cancun and wishes everyone was with him.
Not!
They are still trying to find their honeymoon hotel so he's not quite sure when he'll be back. And, no, he didn't send any Cancun beach shots. Dang..
Speaking about vacations, how about the Astros signing Lee at $100m/6? Wow. My take is this – the power starved Astros obviously felt they were one player away and Lee happened to be available. He'll probably hit 40 home runs despite all the talk about his lack of power after April last year. Don't forget Minute Maid is full of hot air.
The Astros also jumped on Woody Williams at $12.5/2. I suppose this is a message to Astros fans that Pupura doesn't expect the Rocket to resign. Just a guess. At 40-years old, Williams is a huge risk of course.
The Rangers signed Frank Catalanotto to a $13.5m/3 year deal today too. Dan Szymborwski at the Baseball Think Factory believes it is a solid deal for the Rangers, and I agree.
MLBTR's reader eeleye99 was kind enough to offer up that the Blue Jays are reportedly ready to sign Rod Barajas as their every day receiver around $6m/2. Nice catch eeleye99 – thanks.
Another MLBTR reader – Rayman, found that Dave Roberts is reportedly picking the Giants over the Brewers. Kudo's for the find Rayman.
At The Plate has started compiling all the teams top 10 prospects by publication. They have done a great job of this for several years now. You might want to bookmark the site.
Bucco Blog has indicated that the most sought out pitcher on the Pirates staff this winter has been southpaw Tom Gorzelanny. There have been rumors that the Braves wanted Gorzelanny and Maholm for LaRoche, and today Tracy Ringolsby, the award winning columnist of the Rocky Mountain News, has indicated that a Rockies Brad Hawpe trade has been discussed with the Pirates who will only give up Maholm. I assume they also want Gorzelanny in any package. I love Tracy's writing – the guy is flat out kewl.
Interestingly, Ringolsby is also reporting in that article that agents are complaining that the Rockies didn't offer enough to Francis in his latest $13.5/4 year deal. I suppose the agents had to find a way to say the "C" word this year, despite the soaring value of contracts so far.
Have you ever read the The Carbolic Smoke Ball blog? OMG – it is Hilllll ar ious.
By Jake at Bucco Blog