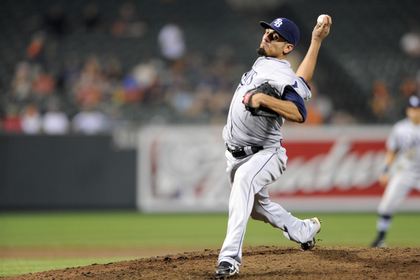 Eight player trades don't come along very often, but the Rays and Cubs finalized one today. Tampa sent Matt Garza, Fernando Perez, and minor leaguer Zach Rosscup to Chicago in exchange for Sam Fuld and prospects Chris Archer, Brandon Guyer, Robinson Chirinos, and Hak-Ju Lee.
Garza, 27, posted a 3.91 ERA with 6.6 K/9, 2.8 BB/9 and a 35.8% ground ball rate in 204 2/3 innings for the Rays last year. He heads to arbitration for the second time this winter and is set to receive a raise from the $3.35MM salary he earned in 2010.
Garza joins Ryan Dempster, Tom Gorzelanny, Randy Wells, Carlos Zambrano and Carlos Silva in a crowded Chicago rotation. It wouldn't be surprising to see Cubs starters appear in trade rumors before long. If any team could afford to spare a starter, it was the Rays, who still have David Price, James Shields, Jeff Niemann, Wade Davis and Jeremy Hellickson. The return from the Cubs doesn't impact Tampa's Opening Day roster, but it adds depth to the Rays' already impressive farm system.
Baseball America ranked Archer first among Cubs prospects this offseason while Lee placed fourth and Guyer placed tenth. Archer, a 22-year-old right-hander, made it as high as Double-A last year. The starting pitcher posted a 2.34 ERA with 9.4 K/9 and 4.1 BB/9, limiting opponents to 6.4 H/9. The Cubs acquired him from the Indians just over two years ago in the Mark DeRosa trade. Jim Callis of Baseball America notes that Archer is a year away from the majors and could be a closer in the future (Twitter link).
It's not a great time to be an up-and-coming shortstop in the Cubs organization, as Starlin Castro figures to be the team's shortstop for years. Lee, who was born seven months after Castro, is also a highly-regarded shortstop. The native of Korea has a .299/.370/.375 line with 57 stolen bases in two pro seasons. When Baseball America ranked Lee sixth among Cubs prospects before the season, the publication described him as a gifted hitter with the tools to make difficult defensive plays.
Guyer, who turns 25 this month, posted a .344/.398/.588 line in 410 plate apperances at Double-A last year. He has played all three outfield positions in his four-year minor league career.
Chirinos, who turns 27 this month, has infield experience, but has primarily been a catcher in 2009-10. He hit .326/.416/.583 with 18 home runs in the upper minors last year.
Fuld, 29, has a .252/.368/.344 line in 155 big league plate appearances spread over three seasons. The outfielder has spent most of his six-year pro career in the minors, where he has a .285/.372/.405 line.
Perez, 27, has a .234/.301/.351 line in 107 big league plate appearances. He hit .223/.280/.299 in 426 plate appearances at Triple-A last year.
The 22-year-old Rosscup was the Rays' 28th round selection in 2009. Last season, he registered a 2.64 ERA with 8.3 K/9 and 1.8 BB/9 for the Rays' Gulf Coast and Single A affiliates.
ESPN.com's Buster Olney hears from a talent evaluator that the Rays' haul gives them depth, but not necessarily impact players (Twitter link). MLB.com's Jonathan Mayo agrees and notes that Archer and Lee have some good upside (Twitter link).
ESPN Chicago's Bruce Levine first reported that the deal was in place, though he and Bruce Miles of the Daily Herald both reported that the deal was close. Miles later added Perez's inclusion, both Jon Paul Morosi of FOX Sports and Gordon Wittenmyer of The Chicago Sun-Times added details (via Twitter).
Photo courtesy of Icon SMI.