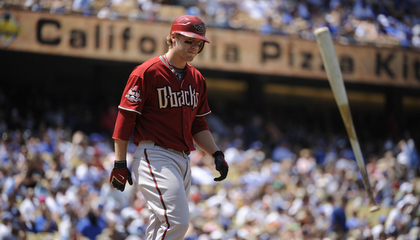 The Arizona Diamondbacks were baseball's preeminent strikeout team last year, and I'm not talking about their pitchers. D'Backs hitters led the majors with 1,529 strikeouts in 2010, 154 more than the second place Marlins. They became the first team in history to have four players with 140 or more strikeouts, and they tacked on a fifth such player for good measure. Clearly, so many unproductive plate appearances is a problem.
Unsurprisingly, new GM Kevin Towers made cutting down on whiffs a priority when he took over earlier this offseason. "There's some nice hitters on this ballclub, but the strikeouts are somewhat alarming," he said. "That's something we certainly need to cut back. I like to see breaking records for walks more than strikeouts."
The process started when Towers let first baseman Adam LaRoche depart via free agency. LaRoche struck out in 30.7% of his at-bats in 2010 (172 times total), and will be replaced by either Brandon Allen or the recently acquired Juan Miranda. Allen has struck out in 26.1% of his minor league at-bats, Miranda 23.2%. Neither player has much experience in the big leagues, fewer than 300 plate appearances combined. LaRoche was offered arbitration and Arizona did receive a supplemental first round pick when he signed with the Nationals earlier this week.
The second move will have more impact in the strikeout department. Mark Reynolds is the only player in the history of the game to strike out 200 or more times in a season, and he's done it in each of the last three years. In 2010, he ended a stunning 42.3% of his at-bats with strike three, 6.6% more than second place Adam Dunn. Reynolds was traded to the Orioles for a pair of relievers, so Towers addressed two of the team's biggest weaknesses with that one move. Stepping in at third base could be a number of people. Tony Abreu (19.1% strikeouts in his career) appears to be the frontrunner, but Melvin Mora (17.5%), Geoff Blum (16.7%), and perhaps even Sean Burroughs (13.3%) are in the mix. 
Arizona will still feature the strikeout ways of Justin Upton, Chris Young, and Kelly Johnson, but the LaRoche and Reynolds moves will help quite a bit in that department. What's the cost to the offense, though?
LaRoche has hit 25 homers on the nose in each of the last three seasons, and is a safe bet for another 20+ in 2011. Although his OBP was a career-low .320, it had not been lower than .340 in the four seasons prior, so there are reasons to expect a rebound. Reynolds had a down year by his standards but still clubbed 32 homers. He's alternated .349 and .320 OBP's in his four full big league seasons, and is due for the high end of that range in 2011. That's a loss of 57 homers between the two players, 31.7% of the team's total output in 2010.
Allen has hit 20+ homers in his last three minor league seasons while Miranda has hit 18 and 20 homers in the last two years, most of which was spent in Triple-A. Both players have strong minor league OBP's, .370 or better in recent years. Carrying that level of production from the minors into the show is another matter, but at least the D'Backs have options at first base.
Third base is different story. Abreu, Blum, Mora, and Burroughs have hit 28 homers combined over the last two seasons, still four shy of what Reynolds did by himself in 2010. In fairness, that quartet of third base candidates have played primarily part-time during those last two years (or less, in Burroughs' case). Mora is the high man of the group with a .353 career OBP, though Abreu matches that mark in his minor league career. Neither Blum nor Burroughs will make much of a dent in that column.
Towers certainly addressed the team's 2010 strikeout issues by parting ways with the two biggest offenders, but he did so at the cost of power. Allen and Miranda appear capable of approximating if not outright replacing LaRoche's offense, but it's far from a sure thing. The league average third baseman hit 19 home runs last season, and it looks like Arizona will have trouble reaching that modest output in 2011, nevermind replacing what Reynolds was capable of. First and third base are traditional power spots, so the D'Backs will have to hope for repeat performances from Johnson, Young, and Stephen Drew at up-the-middle positions.
The correlation between strikeout rate and overall OPS is not a strong one, and in fact it shows that even the game's most productive hitters whiff quite a bit. That's the power-strikeout trade off, it's very hard to have the former without the latter. Despite all the strikeouts, Arizona had the 12th best OPS in the game last season (.740) and were middle of the pack in runs scored (713), so they weren't that much of a drain on the offense. Towers achieved his goal of cutting down on the K's this offseason, but don't be surprised if the team's overall offense takes a hit in 2011 as a result. 
Photo courtesy of Icon SMI.