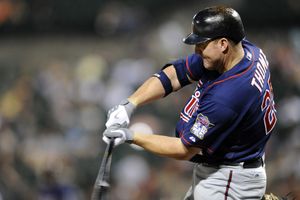 The Rangers may have missed out on their top offseason target, but they signed Adrian Beltre and they aren't done yet. Texas is pursuing Jim Thome, according to ESPN.com's Buster Olney.
Any team looking to add thump against right-handed pitching is likely salivating over the .294/.430/.617 line Thome has posted against right-handers in his 20-year career. Last year was better than usual, as the slugger hit 25 homers and hit .302/.455/.698 against righties. But as productive as Thome is at the plate, he wouldn't fit effortlessly in the Rangers' lineup because he's left-handed and doesn't play defense.
Michael Young has a history of handling lefties better than Thome, but he probably wouldn't be available to spell Thome against southpaws. Mitch Moreland and Chris Davis both hit from the left side and struggle against southpaws, which makes Young a likely candidate to play first base against left-handers regardless of which first baseman wins the everyday job.
If Young plays first base against lefties, the Rangers would likely rely on Thome to DH, though he is nothing special against southpaws (career .763 OPS). Outfielders David Murphy, Julio Borbon and Engel Beltre all bat from the left side, so the Rangers wouldn't gain a platoon advantage if they were to DH Josh Hamilton against southpaws and replace him in the field.
A right-handed DH like Vladimir Guerrero, Manny Ramirez, Troy Glaus, Marcus Thames or Andruw Jones would allow the Rangers to DH Hamilton against some right-handers while a lefty-hitting outfielder like Borbon or Murphy played the field. The Rangers could DH Hamilton against righties even if they sign Thome, but not without depriving Thome of the chance to demolish right-handed pitching.
This is not to say that Thome isn't a fit in the Lone Star State. He is coming off a remarkably productive season and if he can repeat his 2010 performance, lineup shuffling would be secondary for the Rangers. Plus, the offseason isn't over. The team could sign Thome and adjust its lineup accordingly by making a secondary move or two.
Photo courtesy of Icon SMI.