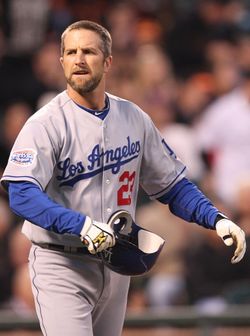 It's not quite as bad as Zambrano-for-Kazmir, but you have to think that Dodgers GM Ned Colletti would love to have a do-over on the trade that sent Carlos Santana and Jon Meloan to the Indians for Casey Blake and about $2MM in 2008. Two-and-a-half years later, Santana has developed into one of the two best young catchers in baseball while Blake finds himself at a career crossroads.
Following the trade, the now 37-year-old Blake hit .251/.313/.460 with ten homers in 233 plate appearances. The Dodgers re-signed him to a three-year, $17.5MM contract after the 2008 season, and Blake rewarded them in 2009. He hit .280/.363/.468 with 18 homers in 565 plate appearances, though he did battle nagging hamstring issues throughout the season.
Last season was a much different story. Blake came out of the gate well, hitting .273/.354/.482 in his first 39 games, but it all went downhill from there. His final 106 games featured a .238/.307/.378 batting line, and he struck out in 28 of his final 69 plate appearances of the season. The end result was a .248/.320/.407 line, a 99 OPS+ that was his worst in three years.
The Dodgers owe Blake a reasonable $5.25MM in 2011, then must decide whether to exercise his $6MM club option for 2012 or buy him out for $1.25MM. Given his declining performance and age, the latter looks more likely right now. The free agent market for players in their late-30's and relegated to the corner infield spots is not robust, so the best case scenario for Blake likely has him playing well enough that the team picks up that option. 
Photo courtesy of Icon SMI.