The Mariners are next in our Offseason In Review series.
Major League/International Signings
Notable Minor League Signings
Extensions
Trades and Claims
Notable Losses
Summary
The Mariners "won" the 2009-10 offseason and ended up winning 61 games.  Now they're in a difficult position: they're not committed to a full rebuild, but they probably don't have the talent to contend in 2011.  Let's see how GM Jack Zduriencik handled this conflict within the confines of limited payroll flexibility this offseason.
Baseball America's 2011 Handbook ranked Seattle's farm system 18th in the game, and the Mariners added quality prospects by signing Peguero and Guerrero.  Getting Roe for Lopez was a win in that the latter appeared headed for a non-tender.  However, Zduriencik did subtract one live arm in sending Cleto to St. Louis for Ryan.  The goal should be to add to the farm system while retaining players who can help the Mariners compete in 2012.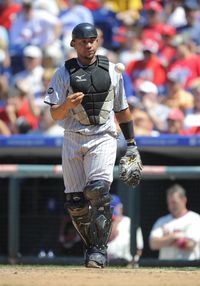 Given the importance of intangibles when evaluating catchers, free agent contracts are often difficult to assess.  I don't love the Olivo signing, but the price is OK compared to John Buck and there is something to be said for having a veteran behind the plate for top prospect Michael Pineda and other inexperienced pitchers.  Going entirely with youth behind the plate last year did not go well.
Cust, Bedard, and minor league signings like Delcarmen and Ray are smart moves with little downside.  Perhaps with more stability Cust can post a .400 OBP over a full season.  Bedard took less to remain in Seattle and says he's as healthy as he's been in years.  Delcarmen and Ray will take on prominent bullpen roles, which is a risk a contending team couldn't take.  Ryan did cost Cleto, but the infielder fits with the Mariners' tendency to scoop up underrated defenders.  The Mariners reportedly checked in on many starters with health concerns beyond Bedard, such as Justin Duchscherer, Chris Capuano, Rich Harden, and Jeff Francis.  In the end, the risk/reward equation didn't work for Seattle with these free agents.
2011 may be more of a regrouping year than a rebuilding one for the Mariners under new manager Eric Wedge.  They'll be free of significant payroll commitments after '11, though Felix Hernandez's salary takes a big jump for '12.  I think the Mariners intend to make more of a push toward contention for '12, after seeing what they have in Pineda, Dustin Ackley, Michael Saunders, Justin Smoak, Dan Cortes, and Josh Lueke.