When Carlos Delgado cracked the Blue Jays' Opening Day roster 17 years ago, the two-time defending World Champions knew the 21-year-old catching prospect was powerful. He had punished Southern League pitchers the year before, hitting 25 home runs, posting a .954 OPS and establishing himself as one of the best prospects in baseball. But when he had eight home runs after 13 games in April of 1994, everyone was surprised, including Delgado.
"I was a kid in a candy store," he told MLBTR over the phone from Puerto Rico. "I'm at the big league level, I'm hitting, I'm hitting home runs and it's great. I was on cloud nine."
Pat Gillick, a 2011 Hall of Fame inductee who was Toronto's GM at the time, credits Blue Jays scout Epy Guerrero for his role in discovering and signing Delgado in 1988. Seeing the teenager develop from a prospect to a big leaguer was nearly as exciting for Gillick as it was for Delgado.
"We all knew that he had tremendous power potential," Gillick recalled. "But potential is one [thing and] results and performance is what counts."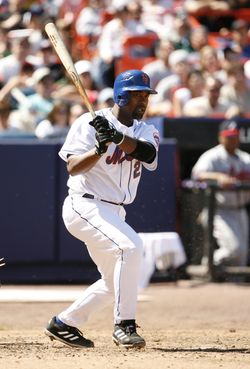 The Blue Jays weren't sure of Delgado's defense behind the plate, so they put him in a new position, left field. Brewers assistant GM Gord Ash was Toronto's assistant GM at the time and he says Delgado's hitting ability forced him onto the big league roster.
"Obviously his bat earned him the opportunity but we struggled as to where to play him defensively," Ash said in an email. "I think in retrospect that brief opportunity helped him better transition when he came back to stay."
Nearly two decades later, Delgado has announced that his playing days are over and the reasons for his retirement are firmly grounded in reality. His hips allow him to do normal daily activities, but they prevent him from swinging the way he once did.
Delgado had hoped to play in the majors again, so after a brief comeback attempt with the Red Sox last year, he underwent hip surgery in the fall and started preparing for the rigors of another MLB season. About two weeks ago, Delgado was watching video of his swing and he realized his playing career was over.
"I watched myself hit a few times and it didn't resemble anything like the swing that I had, so at that time and with the discomfort I had, I knew that it wasn't there anymore," Delgado said.
Before his hips started limiting his mobility, Delgado was one of the most durable and powerful players in the game. He averaged 35 home runs and 148 games per season from 1996-2008, posting a .937 OPS over the course of that 13-year stretch. Now 38, Delgado finishes his career with 473 home runs, four of which came on a single night. Delgado won't say his historic power outburst is the highlight of his career, but he acknowledges that it's up there.
"That four home run night in September of 2003 was great, but I can also say that Opening Day 1994 was phenomenal because it was my first Opening Day at the big league level," Delgado said. "I can look back to my first All-Star Game in 2000, which was a great experience. It was pretty surreal. Even when I was in Puerto Rico in 1995, I played for the so-called 'dream team' and we swept the Caribbean Series."
Delgado spent four seasons with the Mets and another one with the Marlins, who signed him to a $52MM contract in 2005. Yet he spent most of his career – 12 seasons of it – in Toronto and he remains grateful that the Blue Jays didn't give up on him when he didn't work out as a catcher or a left fielder.
"They were patient with me," he said. "The city embraced me like family. It was phenomenal having that opportunity and I met some great friends there like Shawn Green, Pat Hentgen, Jose Cruz Jr., Darrin Fletcher [and] Roger Clemens."
The Blue Jays didn't make the playoffs once during Delgado's tenure (excluding 1993, when he had two plate appearances as a callup). So he looks back at the Mets' 2006 playoff run as one of the best experiences of his career, even though the Cardinals beat the Mets in the seventh game of the NLCS.
"It was phenomenal," Delgado said. "It was a great experience. It was an energy that you'd never experienced before. I wish I could have done it more often. I wish it had happened every year, but it didn't happen. After 12-13 years when I finally made it, it was great."
Now that it's all over, Delgado says he'll spend some time with his wife and children before deciding whether to pursue other opportunities in baseball. When eligible, he'll become a candidate to join former teammate Roberto Alomar in the Hall of Fame, but he says he doesn't intend to worry about Cooperstown.
"It would be a great honor," Delgado said. "I would be lying if I told you that it wouldn't be. But by the same token, I try to keep it real, because that's a situation where I really have no control. I played the game with passion, I played the game as hard as I could for as long as I could and I did what I wanted to do, which was have fun and play … I think I had a pretty good career. I put some numbers on the board, but like I said it's beyond my control."
Photo courtesy Icon SMI.