I've recently opined that it's difficult to identify an ace starter likely to hit the trading block in July.  However, in most years a few would-be contenders are surprisingly bad and a few pitchers have breakout or unexpected seasons, giving the trade market some semblance of an available #1 or #2 starter.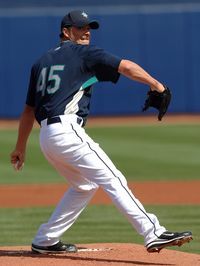 Could the Mariners' Erik Bedard be that pitcher in 2011?  As MLB.com's Cash Kruth notes, Bedard will take a Major League mound today for the first time since July 25th, 2009.  He had multiple surgeries in the interim, as doctors repaired a torn labrum in his pitching shoulder.  The 32-year-old made it through Spring Training unscathed, and pitched well aside from his final outing.
Bedard's Seattle career to date consists of 30 starts spread across two seasons.  Though he was working through shoulder issues, the numbers are strong: a 3.24 ERA, 8.9 K/9, 3.9 BB/9, and 0.9 HR/9 in 164 innings, with only 135 hits allowed.  Bedard averaged fewer than 5.5 innings per start, so he'll be most effective on a club with a strong bullpen. 
Bedard is not the #1 starter he was in 2007 with the Orioles, but he could still be the best available at the trade deadline.  We've seen injuries kill his trade value before, so there's no point in getting serious about suitors until July.  Still, the Yankees would make sense, assuming the two front offices can put aside any bad blood from last year's Cliff Lee talks.  Otherwise, we'll have to wait to see which contenders develop rotation needs three months from now.