The Red Sox are next in our Offseason In Review series.
Major League Signings
David Ortiz, DH: one year, $12.5MM.  Club option exercised.
Bobby Jenks, RP: two years, $12MM.
Dan Wheeler, RP: one year, $3MM.  Includes $3MM+ vesting/club option for 2012
Hideki Okajima, RP: one year, $1.75MM.
Matt Albers, RP: one year, $875K.  Arbitration eligible after 2011 season.
Alfredo Aceves, SP: one year, $650K.  Arbitration eligible after 2011 season.
Total spend: $174.775MM.
Notable Minor League Signings
Extensions
Trades and Claims
Notable Losses
Summary
This offseason the Red Sox lost a couple of key contributors in Beltre and Martinez, compensating by committing to Crawford and Gonzalez through 2017 and '18, respectively.  Otherwise, GM Theo Epstein retained Ortiz, tinkered with the bullpen, and locked up Buchholz to a flexible contract.
Beltre and Martinez were huge losses for the Red Sox, who did not seem aggressive about retaining either player.  The team was able to maintain great corner infield offense, while improved left field production should make up for a downgrade at catcher.  The draft pick results: the Sox lost #24 to sign Crawford, but gained #19, 26, 36, and 40 for Beltre and Martinez.  The Red Sox once again demonstrated that it's better to sign someone else's Type A and let yours leave rather than re-sign your own.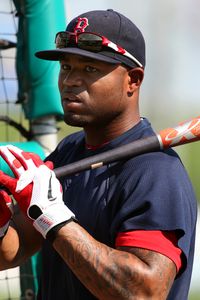 The Red Sox flexed their financial muscle with the Crawford signing, agreeing to a contract in the range of what most people expected for the left fielder.  His first 58 plate appearances of 2011 notwithstanding, Crawford adds offensive value with his bat and a little more with his basestealing.  Still, Corey Hart and Nick Swisher offer similar offensive production, and they wouldn't have gotten seven-year deals or $20MM salaries as free agents.  Instead, the Crawford signing appears to be the biggest investment in defense we've ever seen.
Only a few teams could afford to pay Crawford over $100MM, but the battle to obtain Gonzalez was a level playing field.  The superstar first baseman earns just $6.3MM this year, about a quarter of his market value.  Acquiring him for the 2011 season meant luxury tax savings and no draft pick cost.  Gonzalez instead cost three significant young players.  Kelly is a consensus top 50 prospect, and Rizzo fits into the top 75.  Fuentes is also highly regarded. 
Even dealing with the GM who knows Boston's farm system best, Jed Hoyer, Epstein made a good win-now move in acquiring Gonzalez.  A trade like this makes more sense for the Red Sox than waiting for the prospects to develop.  Another benefit: Gonzalez was willing to sign a below-market contract and didn't require the 2011 salary to be overwritten.
The Buchholz extension was of a different type; the Red Sox guaranteed him almost $30MM in the name of three free agent years and possible arbitration savings.  This has been an effective strategy for Boston, but as it gains in popularity the prices rise and the deals become less team-friendly.  Though Buchholz's 2.33 ERA earned him a sixth-place Cy Young finish last year, Baseball Prospectus' SIERA put him at 4.29.  The top-notch ERA estimator placed Kevin Slowey and Luke Hochevar in the same ballpark, so Buchholz isn't an ace yet.  Like Jon Lester after '08, the Sox need Buchholz to take another step forward to make this contract a big win.
Epstein's bullpen tinkering brought in Jenks, Wheeler, Okajima, Albers, Aceves, plus several lefties on minor league deals.  The Red Sox could have purchased a more established southpaw, looking at the free agent market. 
I agree with the decision to exercise Ortiz's option, even if $12.5MM seems steep compared to certain DH signings.  Victor Martinez and Adam Dunn required at least that much, plus four-year commitments, to essentially serve as DHs.  The trio is a cut above players like Vladimir Guerrero, Hideki Matsui, and Jack Cust.
Waiting until the Gonzalez extension became official allows me to talk about Boston's slow start; they're 5-10 at the time of this writing.  This is a concern.  If you pegged them as a 95 win team back in March and consider the first 15 games a fluke, they're projected now to win 91 games.  Unless the team balances their start by reeling off a winning streak, I think they'll be aggressive in seeking trade deadline upgrades.
Photo courtesy of Icon SMI.