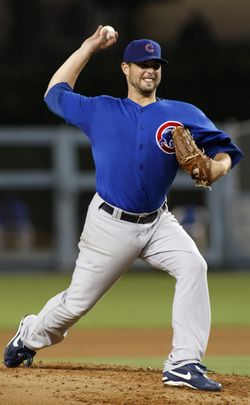 The Cubs' rotation has run into some bad injury luck early this season, with both Andrew Cashner (shoulder) and Randy Wells (forearm) now on the disabled list. The former was a first round pick that spent just one full season in the minors, the latter an unheralded 38th round pick that spent parts of six seasons in the minors before getting to the big leagues. If it wasn't for a transaction that took place three years ago today, one of them wouldn't even be in the organization.
Wells, now 28, was originally drafted as a catcher out of Southwestern Illinois Community College in 2002, but the team moved him to the mound in late 2003 even though he'd never pitched in high school or college. He posted a 4.43 ERA in 107 2/3 innings the next season (Single-A), then was even better in 2005 (2.87 ERA in 106 2/3 IP at Single and Double-A). Baseball America didn't consider him much of a prospect though, and it wasn't until 2007 that Wells got some attention.
In his second crack at Triple-A, Wells made nine starts and 31 relief appearances for the Iowa Cubs in 2007. Although his 4.52 ERA was hardly noteworthy, he did strike out 9.5 men per nine innings. That's what caught the eye of the Blue Jays, who selected Wells with the 11th pick of the 2007 Rule 5 Draft. He made the team out of Spring Training in 2008, though he appeared in just one game with them (scoreless inning with one walk).
Apparently that was all Toronto needed to see. Nine games into the season, the Jays designated Wells for assignment, making room on both the 25-man and 40-man rosters for left-hander Jesse Carlson. After toiling in limbo (and on waivers) for a week, Wells was returned to the Cubs on April 16th as per Rule 5 Draft protocol. He made four relief appearances in Chicago later that year, and has pitched to a 3.67 ERA in 60 starts (365 2/3 innings) in the two years since.
Wells is a true player development success story, a guy that changed positions (more like vocations, really) as a professional and climbed the ladder one step at a time. He was ranked as one of his organization's top 30 prospects just once by Baseball America, when they placed him 22nd in Toronto's system prior to the 2008 season. Wells may be hurt now, but he's done some fine work for the Cubs over the last few years. The only reason they have him around though is because the Blue Jays cut ties with him three years ago today.
Photo courtesy of Icon SMI.