Much to the surprise of everyone outside of Ohio and, let's face it, a good number of people who reside in the Buckeye State, it's May and the Indians are still in first place. Predictably, many are asking whether the Indians will eventually give way to the White Sox or the Tigers and sink to the bottom of the AL Central standings. Here's an equally relevant question: how did the Indians assemble the team that has posted the best record and run differential in baseball so far in 2011?
The answer, to a considerable degree, is 'trades.' The Indians' closer (Chris Perez), three fifths of their Opening Day rotation (Justin Masterson, Carlos Carrasco, Mitch Talbot) and seven of their nine everyday players (Carlos Santana, pictured, Matt LaPorta, Asdrubal Cabrera, Michael Brantley, Grady Sizemore, Shin-Soo Choo and Travis Hafner) were all originally acquired in trades. Though he acknowledges that the Indians have built through deals (some of them enormously successful), GM Chris Antonetti says trades are just one avenue the front office considers.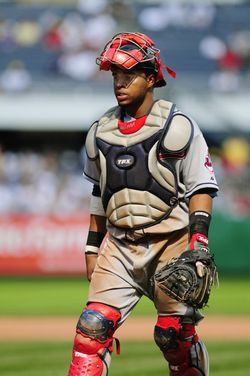 "We're not wed to that approach," Antonetti told MLBTR. "Our current roster composition largely reflects value judgments we made at the time we were presented with trading opportunities.  In a number of instances, we had a player approaching the end of his contract and we determined that it was better for the organization to trade for more established prospects rather than take the draft picks in return."
Players like C.C. Sabathia and Victor Martinez don't often appear on the trade market, so Antonetti and GM-turned-team president Mark Shapiro were able to obtain future difference makers such as LaPorta, Brantley and Masterson in summer trades for their stars. 
The Indians didn't want to trade Sabathia in 2008 – what team would? – but they faced the reality that they were struggling. Instead of waiting and obtaining draft picks after losing the left-hander to free agency, they decided to send him to Milwaukee. Trades, the Indians determined, could help them turn the team around more quickly.
"We knew to do it solely through the draft takes a long time and it's an uncertain course, because you're dealing with players that are so far away from the Major Leagues," Antonetti said. "By the time drafted players progress through the development system, establish themselves as Major League players, then take that step to become productive Major League players, there's a very long lead time in that and there's also a very high attrition rate."
The Indians knew this from experience. After winning the AL Central six times in seven years from 1995-2001, they rebuilt. A mere four years later, they won 93 games and made an extended playoff bid thanks, in large part, to the haul they obtained from the Expos in the Bartolo Colon trade (Lee, Sizemore and Brandon Phillips).
By trading for players who had already developed in the minor leagues, the Indians accelerated a return to relevance which culminated in 2007, when they made it to within a game of the World Series. However, it would be nearly impossible to repeat the Colon trade, especially considering the human element involved in all deals.
"In the end it's still very much an art, far more than it is a science," Antonetti said. "We're ultimately talking about future human performance and that's certainly something that's very difficult to predict."
Antonetti isn't making predictions for the 2011 Indians, yet it's clear that they're further along than expected. Summer trades don't typically pick up until June at the earliest, at which point the Indians front office will evaluate the club and determine whether it's time to become buyers, rather than sellers.
"We're encouraged by our start and remain confident that we have a talented team," Antonetti said. "Obviously, the more games we play, the more information we'll have on where we stand in the division."
It's also possible that Cleveland's reinforcements will continue to come from the minor leagues. Alex White arrived in the majors last weekend and contributed instantly. Other top prospects, such as Lonnie Chisenhall and Jason Kipnis, could tempt Indians brass if their strong play continues.
"As needs arise, we'll first look internally and if we don't feel we have a suitable replacement or fortification internally, then we'll look externally to improve the team." Antonetti said.
It may seem unlikely that Indians will make a major acquisition this summer, but it wouldn't be the first time they've surprised us this year. Plus, they certainly aren't afraid of making a trade or two.
Photo courtesy Icon SMI.