There was an incredible amount of managerial turnover last year. Bobby Cox, Lou Piniella, Joe Torre and Cito Gaston walked away from the role on their own terms and other skippers were simply fired. Here's a midseason look at all 12 MLB managers in their first full seasons with their current clubs:
American League
Buck Showalter's Orioles are 36-46 and John Farrell's Blue Jays are 42-44. The AL East is arguably baseball's toughest division, but the O's entered the season with high hopes after finishing strong in 2010 and signing a number of free agents.
Ned Yost has led the Royals to a 34-50 record and overseen the big league debuts for top prospects like Eric Hosmer and Mike Moustakas. Former Indians manager Eric Wedge has the Mariners on the fringes of contention, 2.5 games out of the AL West with a 42-43 record.
National League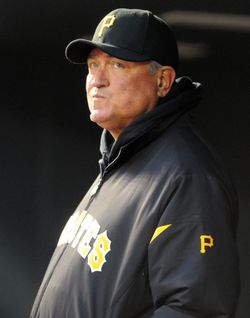 The Braves have the second-best record in the NL (50-36) under new manager Fredi Gonzalez and Terry Collins has the 43-42 Mets above .500 in his first season in New York. Another NL East skipper, Edwin Rodriguez, was fired after the Marlins' record slipped to 32-39.
Ron Roenicke has the Brewers in contention with a 45-41 record, but Mike Quade of the Cubs checks in at 35-51 in his first full season in Chicago. Clint Hurdle of the Pirates (pictured) is probably the favorite to win NL Manager of the Year, since Pittsburgh is finally above .500 at 44-41.
Kirk Gibson of the Diamondbacks has Arizona in contention with a 46-40 record and has emerged as an NL Manager of the Year candidate himself. Another former big league star, Don Mattingly, has led the Dodgers to a 37-49 record.
Listing these managers' records is an admittedly simplistic way of checking in on them. Their records are a reflection of the players on their rosters, the injuries they've dealt with and the opponents they've faced, not just their work as skippers. Photo Courtesy Icon SMI.