The Giants have the worst offense of any National League contender, so GM Brian Sabean pounced on the best hitter available.  The Mets officially announced today they've traded right fielder Carlos Beltran and cash considerations to San Francisco for pitching prospect Zack Wheeler.  Reportedly, the Mets are sending $4MM to the Giants in the trade.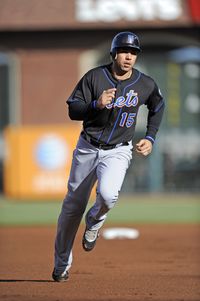 Beltran (pictured) is hitting .289/.391/.513 with 15 home runs in 419 plate appearances, in what has already become his healthiest season since 2008.  Signed by the Mets to a seven-year, $119MM free agent contract before the 2005 season, Beltran's agent Scott Boras negotiated a clause preventing his team from offering arbitration at the deal's conclusion.  Such an offer was no sure thing anyway, with Beltran earning $18.5MM this year.  About $6.5MM of that remains, of which the Mets are assuming $4MM.  Since Beltran has 10-and-5 rights, the trade took 24 hours to become official.  The Braves, Red Sox, Pirates, Rangers, Indians, and Phillies had also been involved in trade talks for Beltran.
Wheeler was a big price to pay for two months of Beltran's services.  The Giants' sixth overall pick in the 2009 draft, the hard-throwing righty has a 10.0 K/9 in High-A ball this year.  The consensus among Keith Law, Baseball America, and Kevin Goldstein is that Wheeler is among the top 36 prospects in the game.
Tim Brown first reported the deal, with Buster Olney and Joel Sherman adding details.
Photo courtesy of Icon SMI.