The Cubs' first-ever Japanese player is heading to Cleveland.  The Indians acquired right fielder Kosuke Fukudome and about $3.9MM from the Cubs today for minor leaguer outfielder Abner Abreu and reliever Carlton Smith.  With Shin-Soo Choo and Grady Sizemore on the DL, the Tribe has a clear need for outfield help, and Fukudome was willing to waive his no-trade clause to join the AL Central contender.  For the second summer in a row, Cubs GM Jim Hendry is taking on salary to ship out overpaid veterans.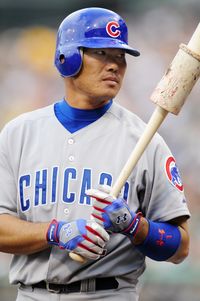 Fukudome, 34, is hitting .273/.374/.369 in 345 plate appearances for the Cubs this year.  He leads the NL with 4.34 pitches per plate appearance.  Though his right field defense drew praise initially, Fukudome has been below-average per UZR over the last few years.  He is owed almost $4.7MM for the balance of the season, and the Cubs will pay all but $775K of that.  Fukudome signed a four-year, $48MM free agent deal with the Cubs in December of '07 after spending his career in Japan with the Chunichi Dragons.  
Fukudome cannot be offered arbitration after the season, so draft pick compensation was not a factor.
Abreu, 21, is hitting .244/.294/.429 in 367 plate appearances in his second stint at High-A. Prior to the 2010 season, Baseball America ranked him 23rd among Indians prospects, describing him as a player who has offensive tools but "remains raw at the plate."  Smith, 25, has a 4.50 ERA, 9.0 K/9, 3.9 BB/9, and 0.8 HR/9 in 46 Triple-A relief innings, his second stint at the level.
Ken Rosenthal broke the story, with Danny Knobler, Buster Olney, Jon Heyman, Paul Hoynes, and SportsTime Ohio adding details.
Photo courtesy of Icon SMI.