This time last year, the Major League home run leader appeared to be on the trade block and teams were asking about his availability daily. The Giants, Phillies, White Sox and Tigers all inquired on Jose Bautista, and while the talk intrigued front offices and fans alike, it didn't faze Bautista.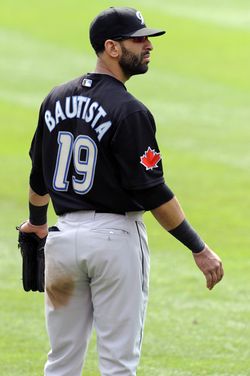 "That wasn't something that bothered me too much," he told MLBTR. "By now, I don't think any trade rumors bother me. It's always somewhat intriguing to know that you're involved in talks."
Twelve months later, the MLB home run leaderboard looks similar – Bautista tops it with 31 home runs – but the right fielder turned third baseman no longer hears himself mentioned as a trade candidate. Bautista, who has switched organizations six times in his career, obtained some stability over the winter, signing a five-year, $64MM extension with the Blue Jays. 
On this date seven years ago, long before the multiyear contracts and home run titles, the trade talk turned to reality for Bautista, who was traded twice on July 30th, 2004. The Royals sent him to the Mets, who flipped him to the Pirates, the organization that drafted and developed him. Bautista was on the field for batting practice when he was told to go inside.
"I just thought it was a routine call into the office to talk about something else," he recalled. "They told me straight up 'all right, we've got some good news and bad news, which one do you want first?' I was like 'give me the bad news first and then give me the good news.' They said 'well the bad news is we just lost you, we just traded you away. The good news is you're going to your original team and you're going to have a lot of opportunities."
Then a rookie Rule 5 pick who had already suited up for the Orioles, Rays and Royals in the first three months of the 2004 season, Bautista says getting traded so often early on in his career was disorienting at times.
"There's always a  little bit of 'what the hell am I doing wrong that people don't want me,'" he said. "At the same time, you're going somewhere where people do want you. Mixed bag of feelings, but ultimately it was the best thing that happened to me at that point in my career."
Seven years later, Bautista doesn't have to pack his bags or hear his name in trade rumors. It's now time for him to experience this summer's trade deadline in another way – as an observer.
Photo courtesy Icon SMI.