It was on this date in 2008 that the Indians sent C.C. Sabathia to the Brewers. He was virtually unbeatable in his 17 starts with Milwaukee, posting a 1.65 ERA and leading the Brewers to their first postseason appearance since 1982.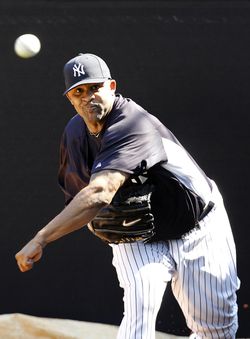 After the season, Sabathia signed his current seven-year, $161MM contract with the Yankees, a deal that includes an opt-out clause this offseason. Sabathia has said before that he intends to stay in New York, but he hasn't completely ruled out the possibility of opting out of the remaining four years and $92MM on his contract. We won't know more for a while, since the sides aren't going to discuss the opt-out during the season.
On this date in 2009 and 2010, I looked back at the trade that sent the big left-hander to Milwaukee, but today I'm going to look ahead to the offseason and what the market for Sabathia's services might look like. 
Sabathia, the 2007 Cy Young Award winner, is an annual threat to add a second Cy Young to his mantle. He averaged a 3.27 ERA with 7.6 K/9, 2.7 BB/9 and 234 innings in 2009-10, finishing in the top four in Cy Young voting each season. So far in 2011, his numbers are as good as ever; he has a 2.90 ERA with 7.7 K/9 and 2.2 BB/9 in 136 2/3 innings. 
Sabathia stands out as one of the best whether you're looking at traditional stats or advanced metrics. Some general managers will note that Sabathia leads the league in wins (12) for the third consecutive season. Others will note that he leads American League starters in Wins Above Replacement this year (4.3 WAR, according to FanGraphs) and that Roy Halladay is the only pitcher with more WAR over the course of the past ten seasons. 
Sabathia throws hard (average fastball velocity of 93.3 mph), induces ground balls (48.2% ground ball rate) and pitches deep into games (in the AL only Justin Verlander and Felix Hernandez have logged more innings) all while playing in the game's toughest division.
Later this month, Sabathia will turn 31, so obtaining another seven-year deal would require some especially skillful negotiating on the part of his representatives at Legacy Sports. His former teammate, Cliff Lee, did sign a five-year deal as a 32-year-old, however. 
Though it's too early to tell whether Sabathia will opt out, any team that can contemplate a nine-figure investment in a pitcher would figure to have strong interest if he decides to test the market. The Yankees, naturally, would be at the top of any such list, so the left-hander may end up re-signing in New York, just as Alex Rodriguez did after opting out of his contract at the end of the 2007 season.
Sabathia won't necessarily topple his old contract, like Rodriguez did in '07, since he'll be 31 this offseason. But Sabathia's consistent success has likely set him up for considerably more than $92MM in guaranteed money this winter, whether it's with the Yankees or somebody else.
Photo Courtesy Icon SMI.