3:51pm: The player to be named later in this trade is one of the Tigers' top three picks from the 2010 draft, tweets ESPN's Shannon Drayer.  That means Nick Castellanos, Chance Ruffin, or Drew Smyly.  I'm guessing Ruffin or Smyly.
12:08pm: The Tigers added pitching today, acquiring starter Doug Fister and reliever David Pauley from the Mariners for third baseman Francisco Martinez, outfielder Casper Wells, southpaw Charlie Furbush, and a player to be named later. The Tigers have Fister for the long haul, as he's under team control through 2015 and isn't arbitration eligible until after next season.  Both teams have confirmed the trade.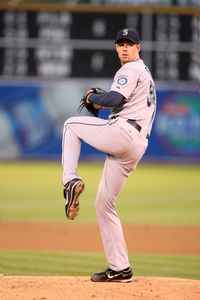 Fister, 27, has a 3.33 ERA, 5.5 K/9, 2.0 BB/9, 0.43 HR/9, and 46.4% groundball rate in 146 innings this year.  The big righty's walk rate ranks seventh in the AL, his innings total tenth.  His 6.95 innings per start average is a welcome contrast from the Tigers' non-Verlander starters, who all average around six.  Drafted in the seventh round in 2006, Fister (pictured) never cracked a Baseball America top 30 Mariners prospect list, but he's become a solid mid-rotation innings eater.  The acquisition sets up the Tigers' front four starters beyond this season, with Brad Penny eligible for free agency but Fister, Justin Verlander, Max Scherzer, and Rick Porcello under team control.
Pauley, 28, has a 2.15 ERA, 5.6 K/9, 2.7 BB/9, 0.33 HR/9, and 49.0% groundball rate in 54 1/3 relief innings for Seattle this year.  His relief innings total ranks second in the American League.  He's potentially under team control through 2015 as well.  Pauley adds depth to the Tigers' bullpen with righty Al Alburquerque battling elbow inflammation.  Those holding Pauley in fantasy leagues can probably cut bait, explains Dan Mennella of CloserNews.
Martinez, 20, is currently with the Tigers' Double-A club.  Baseball America ranked him fourth among Tigers prospects prior to the season, noting he's always played against older competition and has projection remaining.
Wells, 26, is hitting .257/.323/.451 in 125 plate appearances for the Tigers.  A right-handed hitter,  Wells can play all three outfield positions.  Prior to the season, Baseball America ranked Wells 19th among Tigers prospects, explaining that "his holes at the plate will limit him to being a role player in the big leagues."
Furbush, a 25-year-old rookie, has a 3.62 ERA in 32 1/3 innings this year, mostly in relief.  This year at Triple-A he posted a 3.17 ERA, 10.2 K/9, 2.7 BB/9, and 1.2 HR/9 in 54 innings.  Baseball America ranked him 26th among Tigers prospects prior to the season, noting that the Tommy John survivor used deception to rack up strikeouts in the minors.  Furbush lacks a true plus pitch, according to BA.  As for the player to be named later, he'll be chosen from a group of three on or before August 20th according to Jon Paul Morosi.
GMs Dave Dombrowski and Jack Zduriencik hooked up on a trade almost exactly two years ago, when the Tigers acquired Jarrod Washburn, according to our Transaction Tracker.
Jerry Crasnick first reported the two teams were making progress, while Danny Knobler, Jon Heyman, and Larry Stone added details.  Photo courtesy of Icon SMI.