MLBTR's list of general manager candidates introduced 20 people who were identified by their peers as potential Major League GMs. We're now going to bring you closer to the candidates with a series of pieces. Today the series continues with Red Sox executive Ben Cherington. 
When Red Sox assistant GM Ben Cherington started his baseball career with the Indians in 1998 he was essentially the least experienced person in a front office filled with rising stars. He has since become one of the top executives in Theo Epstein's front office and is now considered a GM candidate himself.
Cherington joined the Red Sox when Dan Duquette was GM and credits Duquette for trusting his eye for talent, both as an area scout and, later on, in Latin America. In the nine years or so since Epstein became Boston's GM, Cherington has taken on more responsibility and now assists in player acquisitions, arbitration, quantitative analysis and scouting.
I spoke to him yesterday; here are some highlights from our conversation: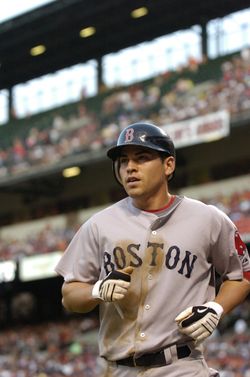 On beginning his baseball career in the Indians' front office in 1998:
There was a remarkable group of really talented people in that front office at the time. It's really remarkable when you look back at it. John Hart was the GM, Dan O'Dowd was the assistant GM, Mark Shapiro was the farm director, Neal Huntington was the assistant farm director, Josh Byrnes was there, Paul DePodesta was the one who hired me as an intern … it was just a remarkable reservoir of talent. For someone who was looking to soak everything in, you couldn't help but do that there.  
There are a lot of things that I saw in Cleveland that I'm not ashamed to say we've tried to copy in Boston. There's some things that I think that they were ahead of the game on in terms of player development, principles, developing people within a front office.
On Red Sox GM Theo Epstein and other influences in the game:
I consider Theo my mentor. I consider myself very lucky to have worked with the other people that I did prior to Theo. I learned more [from Epstein] about the game and people and how to get things done and how to do all of that with a sense of humor and compassion. It has made me a better person and if I'm ever lucky enough to be a GM it'll make me a much better GM. I've been incredibly lucky and I think the only reason my name is out there at all as a GM candidate is because of those experiences. 
On blending traditional scouting with objective performance metrics:
You can blend appropriately information from those two extremes. Depending on the player and the circumstances, you may lean more on one than the other. Obviously if you're evaluating a 16-year-old in the Dominican, you don't have a lot of hard performance history, so you're going to rely more on subjective evaluation. 
As you get closer to the big leagues, the more performance history you have and the more you can incorporate that into the projection for the player. And you factor in other information like their health, contract situation, etc. 
That's what Theo strove for from the very get-go. From the day he took the general manager's job, he did not want the Red Sox to be a quantitative-driven baseball ops department, he didn't want it to be a subjective, traditional scouting-driven baseball operations department, he wanted to do both. 
On a particular instance where the blend of scouting and stats worked well to select a player who has become an MVP candidate:
Jacoby Ellsbury (pictured) sticks out to me as an example. Here's a guy who was a good player in the Pac-10. Athlete, ran well at Oregon State, actually didn't play center field early on at Oregon State. He was a good performer, not an elite, elite performer relative to some other players who have gone through college and become big leaguers. He was a good performer.  There was a sense that some things about his performance at the college level that we felt gave him the chance to transition into pro ball successfully. 
More importantly, we had some of our best scouts who believed in the guy as a player and really believed that the things that didn't pop off of the page performance-wise, specifically in the area of power production, would end up improving because of what they saw with their own eyes on the field and the way that they projected his body to develop and his swing to develop, the way the ball came off of his bat.
So we made that decision to take him in the first round. He was really the result of people seeing the game from different perspectives, coming together to see the good things about Jacoby as a player and to see the things that he wasn't doing as well as he is now and deciding that he had a chance to do those things.
Photo courtesy Icon SMI.