Jim Thome once helped the Indians reach six playoff berths in seven years. Now, after a nine-year absence from Cleveland, Thome is back and the Indians are hoping their all-time home run leader can help them pass the Tigers in the standings and reach the playoffs once again.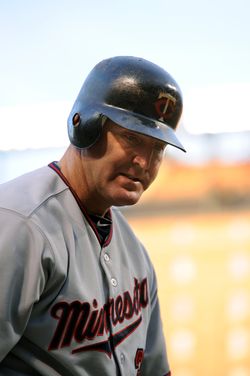 "Jim Thome is a Hall of Fame-caliber player and person. He has meant so much to this organization – both on and off the field – and it is an honor to bring him back in an Indians uniform where he created so many great memories," GM Chris Antonetti said in a statement. "Having his bat and presence in the middle of the lineup certainly improves our team"
Thome, the newest member of MLB's 600 homer club, accepted a deal to the Indians last night. The Indians announced that they'll send a player to be named later to the Twins on or before October 15th.
The veteran, who turns 41 in two days, had the right to reject any deal as he holds a no-trade clause. Reportedly, Thome's preference was to return to Philadelphia where he played from 2003 through 2005.
Thome's homecoming is much more than a feel good story for the Tribe. He's sure to see a lot of time at the DH spot with Travis Hafner on the disabled list and possibly out for the year.
Thome (pictured) is the Indians' all-time leader in home runs (334) and walks (997) and he is among the franchise's all-time leaders in RBI (2nd, 927), extra base hits (3rd, 613), on-base percentage (3rd, .414) and slugging percentage (3rd, .567).
Nick Camino of WTAM 110, Buster Olney of ESPN.com, Scott Miller of CBSSports.com and Jordan Bastian of MLB.com reported on the move last night. Photo courtesy Icon SMI. Ben Nicholson-Smith contributed to this post.