In a surprising intra-division deal, the Twins announced today that they've traded left fielder Delmon Young to the Tigers for minor league lefty Cole Nelson and a player to be named later.  The press release notes that the PTBNL must be chosen on or before October 15th.  The Tigers already had an open spot on the 40-man roster for Young.  It's not yet clear whether Young cleared waivers, or just made it past the seven American League clubs that would have allowed the Tigers to win the claim.  Young won't have to alter his plans, as the Twins were headed to Detroit tonight to begin a three-game set.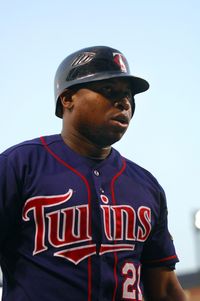 Young, 25, is hitting just .266/.305/.357 in 325 plate appearances in a season that has included separate DL stints for oblique and ankle strains.  Though he's generally regarded as a subpar defender, his UZR is positive in this year's 642 inning sample.  Young (pictured) is under team control through next year, but with a mild raise likely from this year's $5.375MM salary, the Twins weren't necessarily going to tender him a contract in December.  By trading Young now, the Twins saved about $1.3MM in salary.    
Drafted first overall by the Rays in 2003, Young was the key part of the '07 challenge trade that sent Jason Bartlett and Matt Garza to Tampa Bay.  He hasn't lived up to his potential, posting solid batting averages but failing to draw walks or hit for power outside of his .493 slugging percentage last year.  Still, a year ago it was hard to picture the Twins moving Young, especially to a division rival.  
With the Tigers' Brennan Boesch expected to return from a strained thumb tonight and Young now in the mix, the job of right fielder Magglio Ordonez is in jeopardy.
Nelson, 22, has a 4.87 ERA, 7.4 K/9, 4.3 BB/9, and 0.5 HR/9 in 105 1/3 innings for the Tigers' High-A club this year.  He's spent time in the rotation and bullpen.  As our transaction tracker shows, this is the first trade between GMs Dave Dombrowski and Bill Smith.
Photo courtesy of Icon SMI.