A year ago, Jacoby Ellsbury had nearly as many trips to the disabled list (three) as he did extra base hits (four), which tells you much of what you need to know about his season. It's hard to imagine a more complete turnaround for the 28-year-old, who might be the American League's MVP in 2011.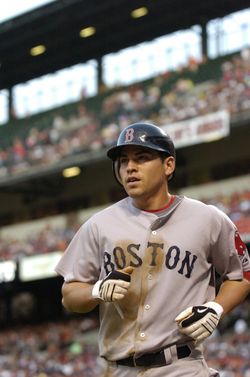 The increase in productivity foreshadows an offseason raise for Ellsbury, who will be arbitration eligible for the second time after the season. He earns $2.4MM this year and, as you might imagine, stands to earn much more through arbitration in 2012 and 2013 before hitting free agency after the '13 campaign.
How much more? Let's start by examining the case of Hunter Pence, a similar player who's ahead of Ellsbury in terms of service time. Pence earned a $3.4MM raise last offseason after putting together a solid season in 2010.
Two weeks' worth of games remain this year, yet it's already clear that Ellsbury's platform season blows Pence's away (see note 1). From a career standpoint, Ellsbury is comparable to where Pence was a year ago (see note 2).
With far better platform numbers and comparable career numbers, it won't be hard for agent Scott Boras to argue that Ellsbury deserves a raise that exceeds the $3.4MM boost Pence obtained a year ago. In that sense, Pence's raise is a springboard for Ellsbury.
Our latest projections have Ellsbury making $6.8MM next season, which would represent a $4.4MM raise (though it would fall short of Pence's current $6.9MM salary). Ellsbury could earn significantly more than $6.8MM if he brings in lots of offseason hardware and no award would affect his bank account like the MVP.
Last year's winner, Josh Hamilton, did not end up going to arbitration, but we have a sense of how his hearing would have gone from the numbers filed by his agency and the Rangers. Boras, who will no doubt mention Hamilton, will be careful in bringing filing numbers up, since arbitrators view them differently than actual, agreed upon salaries (see note 3). Hamilton filed for $12MM last year and the Rangers countered at $8.7MM, conceding that Hamilton's MVP season had earned him a raise of at least $5.45MM (see note 4).
Jose Bautista, who emerged as one of the game's best players last year, earned $2.4MM during his breakout year – exactly what Ellsbury earns this year. Like Hamilton, Bautista signed an extension before going to an arbitration hearing, though he completed the deal after the Blue Jays offered $7.6MM in arbitration. In other words, the Dominican slugger was headed for a worst-case-scenario raise of $5.2MM.
Hamilton and Bautista showed that players can overcome low career totals in arbitration with a huge platform year, but Ellsbury's history won't be forgotten. The Red Sox could point out Ellsbury's shortcomings when it comes to length and consistency of career contribution if the sides go to a hearing.
He was limited to 18 games last year after fracturing his ribs in an April collision with Adrian Beltre and had three separate stints on the disabled list. While Boras might argue that the injury was fluky and doesn't present long-term concerns, he wouldn't debate that it will limit his client's negotiating power (see note 5).
To match the raises Texas and Toronto offered their respective stars last winter, Boston would have to offer a 2012 salary in the $7.5-8MM range. Boras, of course, could file for considerably more. It's early and Ellsbury's earning potential depends on the season's final two weeks, the playoffs and postseason award voting. Even at this point, we can safely say that he's headed for a salary that exceeds $6MM. Millions more than that are within Ellsbury's grasp, not that the Red Sox are complaining.
Notes:
1 – Ellsbury already has more homers (27 vs. 25), more RBI (94 vs. 91), more runs (109 vs. 93), more stolen bases (36 vs. 18) a higher average (.320 vs .282), a better on-base percentage (.379 vs. .325) and a better slugging percentage (.544 vs. .461) than Pence posted in 2010. Ellsbury was an All-Star (Pence was not) and will collect MVP votes (Pence did not).
2 – Both have a third-place finish in Rookie of the Year voting and one All-Star selection. Pence had more homers (92 vs. 47), RBI (315 vs. 224) and a better slugging percentage (.481 vs. .446). Ellsbury has more runs (330 vs. 304), more stolen bases (172 vs. 54) a higher average (.300 vs. .287) and a better on-base percentage (.355 vs. .336). It's also worth noting that Ellsbury has 22 games of postseason experience (.261/.316/.391 line with 5 steals) and a World Series ring, while Pence has never appeared in the playoffs.
3 – Similarly, the Red Sox have to be careful about pointing to the salaries Hamilton ($7.25MM) and Jose Bautista ($8MM) are earning in 2011, since the salaries are part of carefully structured mutliyear deals.
4 – Hamilton won a batting title and led the league in slugging percentage and OPS, but Ellsbury doesn't lead the league in any traditional stats (he leads all of baseball in FanGraphs' version of wins above replacement – not that there's precedent for WAR convincing panels of arbitrators).
5 – If Ellsbury signs an extension – the Red Sox would like to lock him up – the discussion shifts once again, since the sides would have to value multiple future seasons instead of just one. It's early but MLBTR projects that Ellsbury's salary could rise as high as $13MM in 2013, his last year before hitting the open market.
Photo courtesy Icon SMI. Matt Swartz contributed analysis to this post.