With three weeks to go in the regular season, it's clear that Albert Pujols and Prince Fielder will be the most tempting free agents on the market this offseason. With all due respect to Jose Reyes, C.C. Sabathia and C.J. Wilson, the two first basemen are likely to command the biggest free agent contracts of the winter.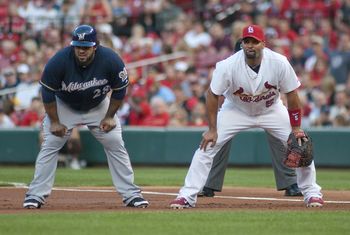 Pujols, 31, is having the worst season of his career in terms of average (.293), on-base percentage (.366) and slugging percentage (.549), but the three-time MVP leads the National League in homers and is tenth in OPS. Not bad for an off-year.
Fielder has a .292/.405/.542 line with 31 homers and a league-leading 108 runs batted in. Plus, he's still just 27 years old. Like Pujols, Fielder will cost a top draft pick, but teams are prepared to surrender those picks for elite production.
Not every team needs a first baseman and not every team can afford a nine-figure contract for a single player, regardless of how productive he is. Heading into the season, we knew that the market for Fielder and Pujols would be limited to half of the teams in baseball at the absolute best. Now that we're 140 games into the season, we have a sense of which clubs have a need at first base and which ones don't. 
Last month, MLBTR's Tim Dierkes provided a reason why each MLB team could back away from Fielder, who has always seemed more likely to test free agency than Pujols. At this point, Pujols must also want to see what's out there and Cardinals GM John Mozeliak says he's ready for his franchise player to test the market.
Fielder's representative, Scott Boras, and Pujols' representative, Dan Lozano, have no doubt started sizing the first base market already. Here's how it looks: 
Five Teams Likely To Have Interest
The Cardinals want Pujols back, so we'll hear about them until he signs. Similarly, the Brewers will likely express some interest in bringing Fielder back, though their chances of re-signing him have never seemed particularly good.
The new Cubs general manager could grab some headlines by signing Pujols or Fielder away from a division rival and replacing free agent Carlos Pena with a more complete player. The Rangers, who have Michael Young and Mike Napoli in the mix at first base, have been aggressive under new ownership, signing Adrian Beltre and pursuing Cliff Lee.
Despite the financial troubles of owner Frank McCourt, we can't rule out the Dodgers. James Loney has been doing his best to avoid the non-tender that once seemed inevitable, but his torrid August won't make GM Ned Colletti forget about Pujols and Fielder.
Ten Teams The Agents Would Do Well To Engage
The Yankees and Red Sox already have elite first basemen, so Lozano and Boras would have to sell the teams (and potentially their clients) on DH roles. Both clubs will have more pressing needs to address, but you can't rule out either, so prepare to hear about Boston and New York in connection with the two first basemen.
Like the Cubs, the Orioles will likely have a new general manager in town. That person will have to decide whether it's worth spending big instead of relying on in-house options like Luke Scott, Chris Davis and Mark Reynolds. The Mariners are in a similar situation to the Orioles in that they don't appear poised to contend in 2012 and have internal options, namely Justin Smoak and Mike Carp.
Blue Jays fans, prepare yourselves for a November MLBTR headline that reads something like this: 'Blue Jays Interested In Fielder, Pujols.' Toronto's front office is tight-lipped about free agent moves, so many available players get linked to the Jays, even when the club's interest is tepid. The Jays have money and would be a better team with an elite first baseman, so that headline may be worth clicking on.
The Angels have two first basemen (Kendrys Morales, Mark Trumbo) and five outfielders (Peter Bourjos, Mike Trout, Vernon Wells, Torii Hunter, Bobby Abreu) for five total spots. Unless GM Tony Reagins gets really creative on the trade market, I don't see much room at first or DH.
The same could be said about the Nationals, who have Mike Morse and Adam LaRoche at first base, but let's not rule Washington out. Their connection with Boras has been well-documented and they may view Pujols and Fielder as the kind of player who could push them into contention (and push Morse to the outfield).
Though there may be some rumblings about the Marlins' potential interest, it's hard to imagine them coming through with the winning bid, even as they head into a new ballpark. Gaby Sanchez's presence further lessens the likelihood of a deal, but both agents could have interest in engaging Florida just in case.
The D'Backs and Giants are sleepers in the Pujols-Fielder sweepstakes. The NL West rivals could both use a boost at first base (only four clubs have gotten a lower OPS from their first basemen this year), but both have incumbents at the position. Would it be that hard to find another role for Paul Goldschmidt? How about relegating Aubrey Huff to the bench and moving Brandon Belt to the outfield? These are question the D'Backs and Giants could ask themselves this offseason. 
15 Teams That Don't Appear To Be Fits
The Rays, Indians, Pirates, Padres and Athletics don't have the money to get involved (though the latter three teams rank 28th, 29th and 30th in OPS at first base this year).
It's hard to imagine Pujols or Fielder signing with an AL Central club, since the Tigers, White Sox, Twins and Royals already have first basemen and/or DHs in place. That leaves the Rockies, Astros, Reds, Braves, Mets and Phillies, who all have established first basemen and bigger offseason needs.
Photo courtesy Icon SMI.