The Blue Jays acquired reliever Sergio Santos from the White Sox for righty prospect Nestor Molina, announced the team.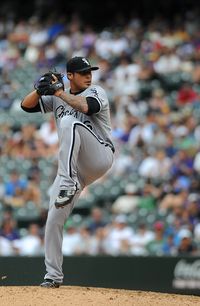 In Santos, 28, Blue Jays GM Alex Anthopoulos found his closer on the trade market.  The converted infielder posted a 3.55 ERA, 13.1 K/9, 4.1 BB/9, 0.85 HR/9, and 43% groundball rate in 63 1/3 innings for the White Sox this year, saving 30 games in 36 tries.  He was formerly a shortstop in Toronto's minor league system from 2006-08.  It was surprising to see Santos (pictured) dealt, as there had been no rumors and he signed a three-year, $8.25MM deal with the Sox in September.  The contract includes three club options, so the Blue Jays have cost certainty on Santos potentially through 2017.  For fantasy analysis of Toronto's Santos acquisition, check out Bryan Grosnick's post at CloserNews.    
Molina, 22, posted a 2.21 ERA, 10.2 K/9, 1.1 BB/9, and 0.6 HR/9 in 130 1/3 innings across High and Double-A this year.  Molina is a converted infielder himself, and appears close to MLB-ready.  Though Molina was not among the Blue Jays' top 30 prospects in Baseball America's handbook before the season, his stock presumably rose with his excellent 2011.  Molina is a good prospect who doesn't offer much projection, writes ESPN's Keith Law.  Kevin Goldstein of Baseball Prospectus agrees, saying "his stuff falls well below his statistics," and he projects as a #4 starter with a shot at becoming a #3.
"This is the start of a rebuilding," White Sox GM Kenny Williams told reporters today, noting that it is not "the start of falling domino rebuilding."  Santos himself was affordable, but perhaps Williams preferred a future rotation candidate in Molina.  A lot is riding on Molina after this surprising one-for-one swap.  Given Williams' rebuilding comment, look for plenty of rumors regarding John Danks, Gavin Floyd, Carlos Quentin, and others in the coming weeks, although the offers have disappointed Williams to date.  
Anthopoulos and Williams matched up once before, on the July deal that sent Jason Frasor and Zach Stewart to Chicago for Edwin Jackson and Mark Teahen.  
Photo courtesy of Icon SMI.