The Matt Moore extension showed any young pitcher is a candidate for a multiyear extension, regardless of service time.  Once the Giants gain clarity on the situations of Matt Cain and Tim Lincecum, why not lock up Madison Bumgarner?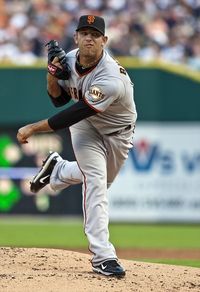 Bumgarner, just 22, quietly became one of the ten best pitchers in the National League this year.  He posted a 3.21 ERA, 8.4 K/9, 2.0 BB/9, 0.53 HR/9, and 46% groundball rate in 204 2/3 innings.  It's possible the best is yet to come, as the lefty posted a 5.8 K/BB ratio over his final 23 starts.
Bumgarner is represented by SFX, the agency that ranks fourth in extensions since 2009 with seven.  Four of those were for starting pitchers Zack Greinke, Ubaldo Jimenez, Justin Verlander, and Clay Buchholz.  The Giants have a GM in Brian Sabean who is open to extensions, so the biggest question may be whether Bumgarner prefers long-term security or maximum year-to-year earnings.  Bumgarner received a $2MM signing bonus as the tenth overall pick in 2007, so he already has some measure of financial security.
Bumgarner has one year and 127 days of Major League service.  Since January of 2008, four pitchers with at least one year of service but less than Bumgarner's 1.127 have signed multiyear extensions: James Shields, Jimenez, Brett Anderson, and Wade Davis.  All signed four-year deals worth $10-12.6MM.  The Rays' Davis and Shields each allowed for three club options, while Anderson and Jimenez have two.  A third Rays starter, Moore, merits a mention in that he signed for more money than any of them, getting a $14MM guarantee with just 17 days of service.  Moore's contract also includes three club options.    
It's easy to see that Bumgarner is more accomplished than Shields, Jimenez, Anderson, and Davis were at the time their extensions were signed.  Bumgarner has a 3.10 career ERA, while the others were all over 4.00.  Anderson and Shields had similar strikeout and walk rates, but Bumgarner hasn't been nearly as homer-prone.  Bumgarner has the most wins, at 20.  Only Shields tops Bumgarner's innings total, a small 14-inning advantage that swings to Bumgarner when postseason innings are included.
If the Giants don't get at least one of Bumgarner's free agent years, an extension probably isn't worth considering for them.  Unless the lefty's extension is to shatter precedents, he'll probably have to accept club options on his third arbitration year and first free agent season.  If I were Bumgarner's agent, I'd be aiming for at least $16MM on a four-year deal.  A big win would be to get his third arbitration year guaranteed, pushing the value to $23-24MM over five years.  That might seem pricey now, but another strong season will push the required guarantee past $30MM.
Photo courtesy of Icon SMI.