12:23am: Stults is indeed in the trade along with Thomas, tweets Rosenthal. Right-hander Juan Jaime is expected to be the fourth player in the deal from the Braves' side, reports Bowman (Twitter link).
12:15am: Braves manager Fredi Gonzalez said the deal won't be officially announced until the league reviews it in the morning, tweets Bowman. The players appear to be in the process of being notified, however. Mark Saxon of ESPN Los Angeles tweets that an emotional Uribe confirmed to reporters that he's been traded.
WEDNESDAY, 12:02am: Bowman now tweets that it sounds like lefty Ian Thomas will held to the Dodgers in the trade. The 28-year-old has worked to a 3.94 ERA with 18 strikeouts against 11 walks in 16 innings of relief for the Braves over the past two seasons. Thomas primarily throws a fastball, curveball and changeup, and he posted generally strong marks over the course of his minor league tenure after being signed out of indy ball.
Interestingly, Bowman adds that while Stults pitched tonight, he could still be included in the deal.
TUESDAY, 11:47pm: Rosenthal reports that right-hander Chris Withrow, who is recovering from Tommy John surgery at this time, is expected to be the second player heading from the Dodgers to the Braves. He's slated to return from his operation in the second half of the season after undergoing surgery 51 weeks ago, on June 3, 2014.
Withrow, a hard-throwing reliever and former first-round pick of the Dodgers (2007) spent parts of the 2013-14 seasons pitching in relief for L.A., and doing so quite effectively. The 56 innings he accumulated in those two seasons are the only Major League work on his resume, but he made quite the impression, registering a 2.73 ERA with 11.4 K/9, 5.0 BB/9, a 39.7 percent ground-ball rate and a fastball that averaged 95.7 mph. It should be noted that while Withrow's BB/9 rate looks a bit troubling, eight of his 31 Major League walks came over his final 8 2/3 innings prior to Tommy John; his control looked markedly better in 2013, and Baseball America noted prior to the 2014 season that he'd significantly improved upon his ability to locate his fastball.
10:44pm: Bowman now tweets that neither Lee nor Anderson would be in the trade, if and when it is approved.
10:36pm: Stults is warming in the Braves' bullpen as the two teams play each other, tweets David O'Brien of the Atlanta Journal-Constitution. Clearly, that indicates that he's not in the trade, as the Braves certainly wouldn't risk him incurring an injury and jeopardizing the deal.
9:58pm: The Braves will get a pitching prospect — possibly either Zach Lee or Chris Anderson — if the trade is approved, reports MLB.com's Mark Bowman (via Twitter). That's a surprising pair of names to be linked to this trade, as both are highly regarded. Though Lee's stock is down after some rough performances, he was formerly one of the Dodgers' top prospects and ranks in their 10-15 range per MLB.com and Baseball America, while Fangraphs pegged him ninth. Anderson, on the other hand, ranks fifth on MLB.com's list, sixth per Fangraphs and seventh per BA.
8:52pm: Trade talks between the Dodgers and Braves regarding Alberto Callaspo and Juan Uribe fell apart earlier today after Callaspo vetoed the transaction, but the two sides have reportedly come to terms on a six-player trade that will send Callaspo to the Dodgers and Uribe to Atlanta. The deal is not yet official, but Callaspo has already been pulled from the lineup by the Braves, and Uribe (pictured) is not in the Dodgers' lineup either.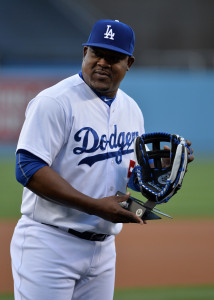 The two sides were believed to be putting together a similar trade last night, but Callaspo vetoed the trade earlier this morning. As a player that signed as a free agent just this offseason, Callaspo cannot be traded prior to June 15 without his consent. That discussions are back on would suggest that Callaspo has had a change of heart.
Reports earlier today suggested that the Dodgers would be acquiring Callaspo and three players from the Braves in exchange for Uribe and a minor leaguer of their own. The Braves, reportedly were willing to take on some of the remaining $4.69MM remaining on Uribe's deal, though Callaspo himself is owed a not-insignificant $2.16MM through season's end. To this point, the exact division of the salaries in question is an uncertainty.
FOX's Ken Rosenthal reported earlier today that Major League pitching was said to be headed from Atlanta to L.A. as well, though he cautioned that no big names were involved in the deal. That could indicate that either Eric Stults or Trevor Cahill is involved. From my own speculative standpoint, relieving the Braves of the salary commitments to Cahill and Callaspo in order to convince the Braves to part with some semi-meaningful talent would be right up the alley of the new Dodgers' front office. (We've previously seen them essentially buy a draft pick by taking on Ryan Webb's remaining salary, for instance.)
It's worth wondering how long, if at all, Callaspo will be retained by the Dodgers. As L.A. showed with Webb, the team was perfectly willing to trade for his salary and release him in order to acquire the draft pick. The team has also aggressively claimed and acquired players that have been recently designated for assignment, only to quickly DFA them a second time, likely with the hope of sneaking them through outright waivers. The Dodgers have Alex Guerrero, Justin Turner, Hector Olivera and, eventually Corey Seager as potential in-house options at the hot corner, making both Uribe and Callaspo seem somewhat expendable. Callaspo has batted just .206/.293/.252 for the Braves this season, so his on-field production isn't necessarily something the Dodgers would view as an upgrade. He's capable of handling multiple infield positions, but while that versatility is appealing, the same could be said of Turner, who has experience at more positions and superior numbers at the plate.
From the Braves' standpoint, the team likely views Uribe as a superior option to Callaspo and, quite possibly, the injured Chris Johnson (who will be activated from the DL later this week). Uribe has posted consistently excellent defensive marks at third base over the past three seasons, and he batted .295/.334/.439 while playing half his games at the pitcher-friendly Dodger Stadium from 2013-14. He's off to a slow start in 2015 — .247/.287/.309 in 87 PAs — but he's also been slowed by a hamstring injury.
Ken Rosenthal of FOX Sports reported the re-kindled talks and the completion of the trade (Twitter links). Braves skipper Fredi Gonzalez first told reporters, including MLB.com's Mark Bowman, that Callaspo was being discussed in trades last night (Twitter link).
Photo courtesy of USA Today Sports Images.