The Rays have authored another precedent-setting contract, locking up 22-year-old phenom Matt Moore for at least five years, according to ESPN's Jerry Crasnick.  Moore has just 17 days of big league service time (plus ten innings in the postseason), but the Rays committed $14MM for Moore's next five seasons.  The contract is reminiscent of the Rays' April 2008 commitment to Evan Longoria, but is the first of its kind for a pitcher.  Moore's guarantee is easily a record for a pitcher with less than a year's service time, and it also tops any pitcher who signed with less than two years service.  The Rays have club options covering Moore's third arbitration year and first two free agent years.  If those are exercised, the deal could be worth $37.5MM over eight years, and it could exceed $40MM with escalators.  Moore is represented by Matt Sosnick along with Jon Pridie and Adam Karon of Sosnick Cobbe Sports.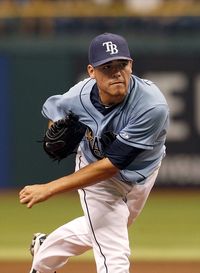 My take: the contract makes sense for both sides.  Moore is widely regarded as a future ace, with three plus pitches and a strikeout-heavy resume.  But as a player who signed for $115K after being drafted in the eighth round in 2007, the guaranteed money would have been difficult to turn down.  Though Longoria's contract is considered the most team-friendly in baseball, it wasn't without risk at the time it was signed.  That risk is heightened for the Rays since Moore is a pitcher.
The Rays are unlikely to lose money on Moore's contract.  The worst case scenario is Moore missing significant time due to injury.  For example, Brett Anderson signed a deal with the Athletics for a $12.5MM guarantee with just one year of service.  With Anderson battling injuries since that deal was signed, the A's might overpay by around $5MM for his first two arbitration years.  They retain club options on his third arbitration year and first free agent season and could still come out ahead, but Anderson probably does not regret the contract.  Sosnick Cobbe Sports has its own examples of "sure thing" starters whose careers were derailed, including Jesse Foppert and Dontrelle Willis.
Arbitration savings were a factor for the Rays, as paying $15MM for Moore's three arbitration years could be a major bargain.  An ace like the Dodgers' Clayton Kershaw could receive $8MM for his first arbitration year alone in 2012, and there's no telling how high the bar will be three years from now, when Moore would have been eligible.  The Rays gain long-term cost certainty, something they lack with ace David Price.  Perhaps more crucial for Tampa Bay is having club options on each of Moore's first two free agent seasons at $10MM, with aces such as Felix Hernandez and Justin Verlander requiring $20MM for free agent years on multiyear deals signed later in their careers.  Getting three club options is a signature move for the Rays, as executive vice president of baseball operations Andrew Friedman accomplished the feat with previous deals for starters James Shields and Wade Davis.
Moore wasn't going anywhere regardless of this contract, as he was under team control for a full six seasons.  Still, there was a chance the Rays would have held him in the minors for part of 2012 with the intent of controlling him for a seventh year or avoiding Super Two status.  This contract likely removes that scenario, making Moore a stronger candidate for the Rays' Opening Day rotation and increasing the likelihood Shields, Davis, or Jeff Niemann is traded this offseason.
Photo courtesy of Icon SMI.