The 2012 Marlins just got a little more interesting. In case Ozzie Guillen, Jose Reyes, Mark Buehrle and Heath Bell didn't add enough intrigue to the upcoming season, the team has officially acquired Carlos Zambrano from the Cubs for Chris Volstad. The Marlins will pay $2.5MM of Zambrano's $18MM salary in 2012.
Cubs president of baseball operations Theo Epstein had a productive meeting with Zambrano after the season, but the right-hander hadn't seemed wanted in Chicago for a while. The Cubs placed Zambrano on the disqualified list last summer following an August outburst and declined to play him in September, after his 30-day suspension ended.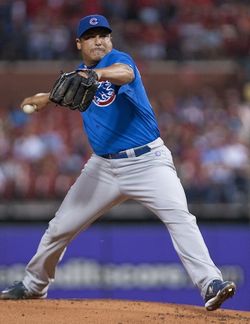 Zambrano waived his no-trade clause to play for Guillen, his friend and fellow Venezuelan. Zambrano also waived his $19.25MM option for 2013, according to Ken Rosenthal of FOX Sports (all Twitter links). His deal now includes a $100K bonus for winning Comeback Player of the Year in 2012. Zambrano settled his summer grievance with the Cubs, obtaining 24 days of salary (nearly $2.4MM), according to Rosenthal.
The deal gives the Marlins a projected rotation of Buehrle, Josh Johnson, Anibal Sanchez, Ricky Nolasco and Zambrano. It presumably takes the Marlins out of the running for another Cubs starter: right-hander Matt Garza.
Zambrano, 30, posted a 4.82 ERA with 6.2 K/9, 3.5 BB/9 and a 42.4% ground ball rate in 145 2/3 innings for the Cubs in 2011. He has spent his entire 11-year career with the Cubs and earned nearly $100MM in the process. Zambrano, a three-time Silver Slugger, owns a .241/.251/.395 career line as a hitter and has hit 23 home runs. The Cubs signed him out of Venezuela in 1997 under former GM Ed Lynch.
Volstad, a 6'8" right-hander, posted a 4.89 ERA with 6.4 K/9, 2.7 BB/9 and a 52.3% ground ball rate in 165 2/3 innings for the Marlins in 2011. His career numbers (4.59 ERA, 5.8 K/9, 3.1 BB/9, 50.4% ground ball rate) show he's a steady if unspectacular back-of-the-rotation option. However, he's homer prone and struggles against left-handers, as MLBTR's Mike Axisa pointed out earlier in the offseason.
The 25-year-old former first rounder projects to earn $2.6MM through arbitration in 2012 and will remain under team control through 2014, which makes him a relatively affordable medium-term option.
Ken Rosenthal of FOX Sports first reported that the teams were nearing a deal (Twitter links). Jon Heyman of CBSSports.com, Juan C. Rodriguez of The Sun Sentinel and Bruce Levine of ESPN Chicago also contributed to the story as it broke. Ben Nicholson-Smith contributed to this post. Photo courtesy of Icon SMI.