Looking to show off your fantasy basketball genius this week?  Try DraftStreet, where you can put together a new fantasy team each week and compete against other users for real money.
Right now DraftStreet has an NBA freeroll for MLB Trade Rumors readers, meaning you can take a shot at a chunk of the $400 prize pool for free, with no strings attached.  Here's how it works.
The NBA freeroll begins Friday at 7:00pm eastern time, so you have until then to create your team.  You're given a $100K salary cap, and each player is assigned a price by DraftStreet.  For example, I took Kobe Bryant for $16K, as I think he'll come up big even after Dwyane Wade broke his nose during the All-Star game.  Your roster will cover these positions: 2 forwards, 2 guards, 2 centers, and 2 utility players.  You get points based on how your team performs through Friday night's games.  The teams with the most points get the prize money.  Below is a screenshot of a sample roster: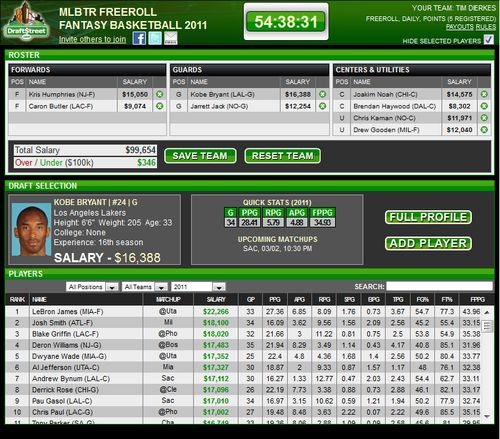 If you're interested, sign up and create a roster prior to Friday's games (7:00pm eastern time).  It's quick, easy, fun, and the MLBTR league gives you a free chance to win some of the $400 prize pool.  If you enjoy the competition you can try other leagues for free and earn credits, or deposit real money.