8:56pm: The total value of Holland's deal will be $49MM if both option years are exercised according to Jeff Wilson of The Fort Worth Star-Telegram (on Twitter). The contract values each of his free agent years at $10-11MM compared to $11-13MM for Lester, Gallardo, Romero, and Cahill.
8:42am: We can officially pencil Derek Holland into the Rangers' rotation for the foreseeable future. The Rangers agreed to terms with the left-hander on a five-year, $28.5MM contract extension. The deal covers the 2012-16 seasons and includes two club options, as MLBTR's Tim Dierkes first reported. Martini Sports Management represents the 25-year-old Holland.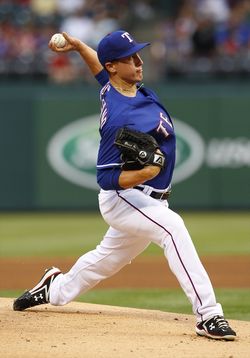 Yovani Gallardo, Ricky Romero, Jon Lester, Clay Buchholz and Trevor Cahill signed five-year deals in the $30MM range at similar stages in their respective careers and were no doubt points of reference in talks leading up to today's agreement. Holland has more career innings than any of those pitchers did at the time of their extensions, but none of them had a career ERA above 3.94 at the time of their deals, while Holland has a career mark of 4.73. The deals for Cahill and Buchholz include two club options, while the others include just one.
Holland posted a 3.95 ERA with 7.4 K/9, 3.0 BB/9 and a 46.4% ground ball rate in 198 innings this past season. If he can replicate that level of performance, the deal will prove to be a success for the team. Yet Holland obtains financial security by agreeing to terms now instead of going year to year.
The Rangers signed Nelson Cruz and Elvis Andrus to extensions earlier in the offseason. However, the club didn't obtain additional years of control on either of those two deals.
Evan Grant of the Dallas Morning News first reported that the sides were on the verge of an agreement with Jeff Wilson of the Fort Worth Star-Telegram and Jon Heyman of CBSSports.com adding detail. Photo courtesy Icon SMI.