In 2006, Baseball America's sixth-ranked prospect took the American League by storm after the Twins moved him from the bullpen into the rotation. Francisco Liriano was every bit as dominant as fellow ace Johan Santana, and Minnesota looked to have a pair of dynamic left-handers that would be as formidable as any one-two punch in baseball.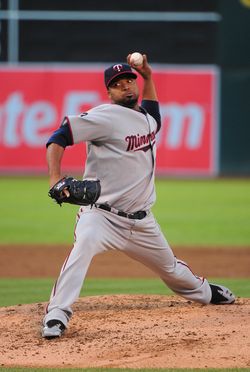 Tommy John surgery that summer derailed that tandem, and set Liriano on the shelf for the entirety of the 2007 season. After 118 innings of work at Triple-A in 2008, Liriano rejoined the Twins' rotation to mixed success, and his dreadful 2009 was forgettable, to put it lightly (5.80 ERA in 136 2/3 innings).
Liriano exploded in 2010 to show that he wasn't done yet, though, winning the American League Comeback Player of the Year Award with 191 2/3 innings of 3.62 ERA ball. As is often the case, the ERA didn't tell the whole tale. Fangraphs pegged Liriano's worth at a whopping six wins above replacement. He struck out 9.4 hitters per nine innings pitched, while walking just 2.7 per nine. His SIERA was 3.02, while FIP liked him for a full run lower than his ERA — 2.66.
Those days seem like a distant memory however, following yet another disappointing season in 2011. Liriano avoided arbitration this winter by settling on a one-year deal worth $5.5MM. After a fantastic Spring Training in which he posted a 33:5 K:BB ratio in 27 innings while featuring a fastball above 93mph, Liriano is looking like his 2011 self. His first two starts have left him with an ERA of 10.00, and he's walked five hitters in nine innings while striking out just six. There's certainly time to turn it around, but it's in his best financial interest to do so sooner rather than later.
Liriano is a free agent following this season, and while he has the talent to be one of the game's most dominant southpaws, his consistency will limit his free agent earnings. A return to his 2010 ways would be enough to entice suitors to pony up on a multiyear deal, perhaps similar to the three-year, $32MM deal signed by Jorge De La Rosa following the 2010 season. With enough interested parties, larger offers wouldn't be out of the question for a 29-year-old lefty with ace-caliber stuff.
A repeat of his 2011 numbers, however, would likely relegate Liriano to a one-year deal in which he'd be seeking to prove that he can still pitch at this level. The next six months could very well mean tens of millions of dollars to the enigmatic lefty.
Photo courtesy of Kyle Terada/US Presswire.