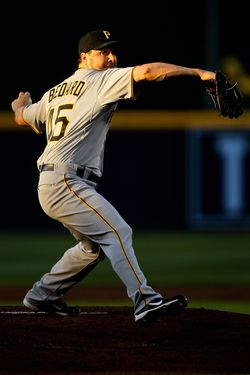 Few could have foreseen Erik Bedard's relatively disappointing career arc after his brilliant breakout campaign as an Oriole in 2007. The left-hander was worth 5.4 WAR that year, striking out more than a batter per inning, and he finally seemed to have harnessed his nasty raw stuff in a way that would translate to a stretch of dominance.
But the cruel reality of injuries intervened in literally every season since then, reducing Bedard to that frustrating type of player who is effective during his fleeting stretches of relative health. Now with the Pirates after quietly signing a one-year contract with them as a free agent this offseason, Bedard is looking like a strong in-season trade candidate — with that all too familiar caveat: if he can stay healthy.
Such a trade would not be new territory for Bedard. Last season, the Red Sox acquired the southpaw from the Mariners in an interesting three-way swap that netted Seattle a decent prospect in outfielder Trayvon Robinson. Even within the context of that trade, Bedard showed his best and worse: He turned in several strong second-half outings for the Red Sox, but he also missed roughly three starts due to various injuries during the team's brutal September collapse. So, the upside is there, but so is the risk.
Bedard has gotten off to a decent start this season (he struck out nine in five innings during his start today), and more importantly, he's been healthy. If he can continue to take the hill every fifth day over the next month, Bucs GM Neal Huntington would be wise to start phoning starting-needy contenders, especially considering that Bedard's modest $4.5MM salary shouldn't be a deterrent for most suitors. The Yankees, for one, might fit that bill, depending upon how they handle their beleaguered rotation in the coming weeks.
Even if Bedard were to yield a medium or low probability prospect with a high upside — a la Robinson — it might be worth it for the rebuilding Pirates to pull the trigger during another season that surely won't end in a postseason berth.