TUESDAY: The Dodgers announced that they've reached an extension with Ethier. A press conference will take place at Dodger Stadium this afternoon. Ethier's deal doesn't include a no-trade clause, Dylan Hernandez of the LA Times tweets.
Ethier's option vests if he reaches an "easily attainable" plate appearances threshold late in the contract, Yahoo's Tim Brown reports (on Twitter). It vests based on plate appearances in 2017 or 2016-17, Jim Bowden of ESPN.com and MLB Network Radio adds (on Twitter). 
MONDAY: The Dodgers have reached an agreement on a five-year, $85MM extension with Andre Ethier according to USA Today's Bob Nightengale (on Twitter). Jon Heyman of CBS Sports was the first to report that the two sides were near the extension, and added that the contract contains a sixth year vesting option (Twitter links).
Dylan Hernandez of the L.A. Times added that the vesting option would likely push the deal to $100MM total. Hernandez goes on to say that the deal is expected to be finalized tomorrow. The proposed contract would pay Ethier $13.5MM in 2013, $15MM in 2014, $18MM in 2015-16, and $17.5MM in 2017. The option for 2018 would be for another $17.5MM with a $2.5MM buyout (All Twitter links).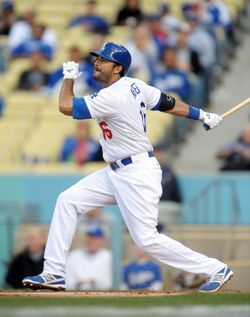 We've heard about a possible Ethier extension several times over the past few months, and the right fielder has said recently that he wouldn't put a deadline on negotiations. The 30-year-old is making $10.95MM this season after avoiding arbitration with a one-year contract this past winter.
Ethier has spent his entire career in Dodger blue after he was traded to L.A. from Oakland in exchange for Milton Bradley and Antonio Perez. Ethier boasts a solid .291/.363/.482 slash line for his career, but has a less-than-stellar defensive reputation. Ultimate Zone Rating hasn't been kind to him, rating him as 6.2 runs below average per 150 games in more than 5,700 career innings. The other big question with Ethier lies in his durability; he's spent time on the disabled list in each of the past two seasons.
MLBTR's Dan Mennella examined the CAA Sports client's free agent stock in April, noting that he had the best chance at landing a big contract among upcoming free agent right fielders.
As MLBTR's Extension Tracker shows, general manager Ned Colletti has locked up the two cornerstones of his team's outfield in the past calendar year. Colletti signed Matt Kemp to a franchise-record, eight-year, $160MM contract this offseason. Colletti also signed ace Clayton Kershaw to a two-year extension worth $19MM and signed Tony Gwynn Jr. to a two-year, $2MM deal this offseason.
A formal announcement is expected on Tuesday, at which point Ethier will officially be the owner of the third-largest contract in Dodgers history, behind Kemp and Kevin Brown.
Photo courtesy of US Presswire/Kirby Lee.