Shane Victorino is returning to the organization that drafted him in 1999.  The Dodgers acquired Victorino from the Phillies today for starting pitching prospect Ethan Martin and reliever Josh Lindblom, according to Yahoo's Tim Brown (Twitter link).  The deal has been officially announced by both teams, and the Phillies also received a player to be named later or cash considerations.  It's been another active summer for Dodgers GM Ned Colletti, who also acquired Hanley Ramirez, Randy Choate, and Brandon League this month.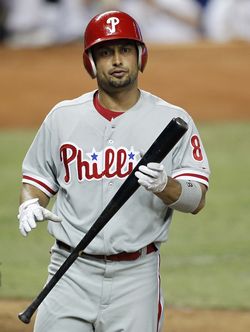 Victorino, 31, has $3.3MM remaining on his contract and will be eligible for free agency after the season.  The center fielder has a .261/.324/.401 line in 431 plate appearances for the Phillies this year.  It seems likely he'll play left field for the Dodgers, despite less than 200 career innings at that position.  For the Phillies, Domonic Brown will come up to play left field with John Mayberry Jr. becoming the regular center fielder.  
The Flyin' Hawaiian was drafted by the Dodgers in the sixth round in 1999.  Former Dodgers GMs Dan Evans and Paul DePodesta let him go twice in the Rule 5 draft, claiming him back from the Padres the first time in '03 but not from the Phillies in '05.  Victorino went on to become a star for the Phils, snagging three Gold Gloves, two All-Star appearances, and even some MVP votes in his time with the club.  With the team's surprising last place performance this season, Victorino was dealt to a contender a few months prior to free agency.  The Reds, Orioles, and Giants had also reportedly been in the mix.  The Dodgers announced they've designated lefty Michael Antonini to open a 40-man roster spot for Victorino.
Martin, the Dodgers' first-round draft pick from 2008, owns a 3.58 ERA, 8.5 K/9, 4.7 BB/9, and 0.38 HR/9 in 118 Double-A innings this year.  Drafted as a raw high schooler, Baseball America ranked Martin 17th on their Dodgers prospect list prior to the season.  They wrote that Martin "maintains the ceiling of a No. 2 starter but has a long way to go."
Lindblom, 25, has a 3.02 ERA, 8.1 K/9, 3.4 BB/9, 1.70 HR/9, and 38% groundball rate in 47 2/3 relief innings this year, so he's had some issues with the longball.  He doesn't have much big league service time, and is technically under team control through 2017.  Drafted in the second round in '08, Lindblom was once considered one of the team's top prospects.  Lindblom was made more expendable by the Dodgers' acquisition of League from the Mariners last night.
Photo courtesy of US Presswire/Robert Mayer.  Jon Heyman first reported a deal was very likely.