The White Sox tried hard to land Zack Greinke before he went to the Angels, so they instead turned to a familiar foe to shore up the rotation. The team announced that they have acquired Francisco Liriano from the Twins for infielder Eduardo Escobar and left-hander Pedro Hernandez.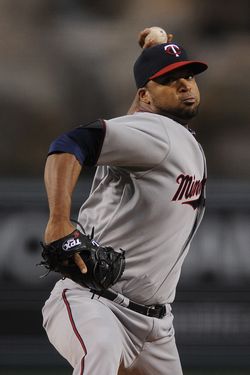 Liriano, 28, has been a prominent member of the trade rumor circuit for several years now. He's eligible for free agency after the season and is owed approximately $2.1MM for the remainder of the year. Injuries and inconsistency have dogged the left-hander throughout his career, and this year he's pitched to a 5.31 ERA in exactly 100 innings.
The Twins originally acquired Liriano from the Giants as a minor leaguer as part of the A.J. Pierzynski–Joe Nathan swap back in 2003. He placed third in the Rookie of the Year voting in 2006 and earned Cy Young Award votes in 2010, but he's pitched to a 5.18 ERA in 234 1/3 innings since. Liriano went from the rotation to the bullpen and back to the rotation this year, posting a 3.68 ERA in 11 starts since becoming a starter again.
The White Sox are adding one of the game's premier strikeout pitchers to their staff with the trade. Even during his down years, Liriano has always missed bats and he owns a 9.8 K/9 this season. Walks are an issue however, especially of late. Over the last two years he's walked five hitters for every nine innings pitched. He figures to join Chris Sale and Jose Quintana to make three lefties in the ChiSox rotation.
Escobar, 23, has hit .202/.276/.247 in 99 plate appearances over the last two seasons while playing second, third, short, and left field. He's a .270/.315/.351 career hitter in the minors, and before the season Baseball America ranked him as Chicago's tenth best prospect in their Prospect Handbook. "While Escobar has quick hands at the plate, he has yet to develop the strength or discipline to be an effective hitter," wrote the publication.
Hernandez, 23, allowed eight runs in four innings in his first career big league start earlier this season. He's pitched to a 2.94 ERA in 85 2/3 innings split between Double-A and Triple-A this year. Baseball America did not consider him one of the team's top 30 prospects coming into 2012. Both Hernandez and Escobar have been assigned to Triple-A Rochester, the Twins announced. A corresponding 40-man roster move will be made tomorrow.
Photo courtesy of US Presswire.