The Red Sox and Dodgers completed what is arguably the biggest trade of the MLB Trade Rumors era today, a nine-player swap featuring Josh Beckett, Adrian Gonzalez, and Carl Crawford moving to Los Angeles. The Dodgers clearly made the move with the intention of improving their chances to win both now and during the next several seasons, but for the Red Sox it was all about a fresh start.
As reported earlier, the Dodgers will assume all but $12MM of the approximately $271.5MM in contracts coming their way. Boston is getting what amounts to a financial fresh start, as their three highest paid players coming into the season (in terms of average annual value) are now off the books. After a disastrous end to last season and a disappointing 2012 season overall, most clubs would have been happy just clearing that much future payroll. Red Sox GM Ben Cherington did one better and acquired some quality prospects as well.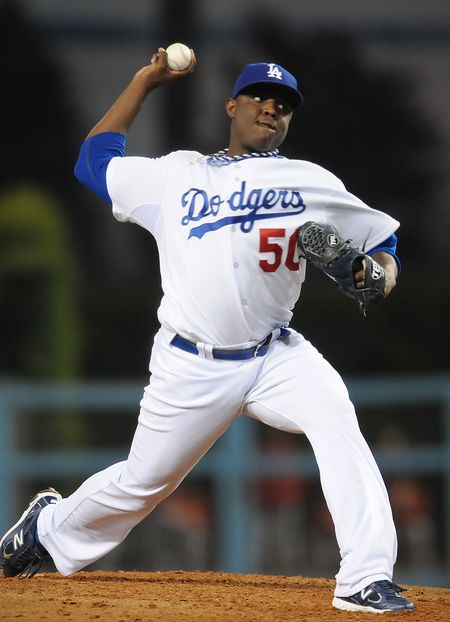 The four-player prospect haul is highlighted by two right-handers: Allen Webster and Rubby De La Rosa (pictured). The Cubs asked for the 22-year-old Webster in exchange for right-hander Ryan Dempster prior to the trade deadline but were rebuffed. Baseball America ranked him as the number two prospect in Los Angeles' system before the season, behind only Zach Lee. Webster was also ranked as the 95th best prospect in baseball before the season by the publication. He's pitched to a 3.55 ERA with 8.7 K/9 and 4.2 BB/9 in 22 starts and five relief appearances at the Double-A level this season, and Baseball America spoke to one team official who described him as a future number two starter in the Derek Lowe mold.
De La Rosa, 23, just returned from Tommy John surgery. He threw a dozen minor league rehab innings before making one relief appearance with the Dodgers earlier this week, but was sent down to Triple-A last night so he could be included in the trade as a player to be named later. Reports indicated that the Blue Jays may have claimed him off waivers, so pulling him back and waiting until the offseason to officially include him gets around that obstacle. De La Rosa made ten starts and three relief appearances for the Dodgers last year, pitching to a 3.71 ERA with 8.9 K/9 and 4.6 BB/9 in 60 2/3 innings. PitchFX confirms that he can run his fastball into the upper-90s and triple digits. Although Rubby was not eligible for this year's prospect lists, Baseball America considered him the third best prospect in the organization and 90th best prospect in the game prior to 2011. Like Webster, they called him a potential number two starter down the road.
The Red Sox have developed two above-average starting pitchers in Jon Lester and Clay Buchholz in recent years, but they whiffed on free agent contracts to John Lackey and (to a lesser extent) Daisuke Matsuzaka. Only two of their top ten prospects coming into the season were pitchers, and number four prospect Anthony Ranaudo has only thrown 37 2/3 innings due to injury this summer. They surrendered Casey Kelly to acquire Gonzalez last offseason, however 2011 first rounder Matt Barnes has since emerged as one of the best pitching prospects in the game. Boston's starting rotation has pitched to a 4.88 ERA this season, fourth worst in the AL and fifth worst in all of baseball. Not all prospects work out, but adding Webster and De La Rosa to Barnes gives the Red Sox some much-needing top-shelf pitching depth in the upper minors.
The two other pieces of the trade – Jerry Sands and Ivan De Jesus – project to be role players. The 24-year-old Sands is a right-handed hitting corner outfielder/first baseman who has hit .244/.325/.376 with four homers in 251 plate appearances with the Dodgers over the last two seasons. His big Triple-A numbers (.291/.363/.557 since last year) are somewhat inflated due to a hitter-friendly park in Albuquerque. Like De La Rosa, Sands was not prospect-eligible this year but Baseball America did consider him the team's sixth best prospect prior to 2011. There is some concern about his ability to hit right-handed pitching long-term – .589 OPS vs. RHP and .904 OPS vs. LHP in his limited big league time – but Fenway Park should boost his offensive output. He'll give the Red Sox some flexibility at three of the four corner spots.
De Jesus, 25, missed the start of this season with an oblique injury and has been up and down the last two years. He's hit .231/.282/.277 in 72 big league plate appearances and .301/.354/.416 in over 1,200 Triple-A plate appearances since the start of 2010. Again, those minor league numbers are inflated a bit by the offensive environment in Albuquerque. Baseball America ranked him as the team's 26th best prospect before the season in their Prospect Handbook, where they noted his ability to play three infield positions. With Nick Punto on his way to Los Angeles and Will Middlebrooks injured, De Jesus will provide some infield depth for the time being.
The big prize for the Red Sox is all the freed-up payroll, but the trade was not just a pure salary dump. Webster and De La Rosa have the potential to be impact big leaguers and both Sands and De Jesus should be able to carve out a niche at the Major League level. Three of four prospects figure to see time with Boston next month, and Webster should be in consideration for a job at some point next season. The Dodgers were able to swing all of their midseason trades without surrendering Lee and 2011 first rounder Chris Reed, a benefit to their willingness to absorb money. Boston essentially hit the reset button financially, all while adding some quality prospects in the process.
Photo courtesy of US Presswire.