The Indians will add starting pitching and consider trading some established arbitration eligible stars.
Guaranteed Contracts
Arbitration Eligible Players (estimated salaries)
Contract Options
Free Agents
The Indians fired their manager following a trying season that saw the team lose 53 of 77 second half games. They had to let Manny Acta go after such a dismal finish, and hiring Terry Francona seems like a positive development for a franchise that hasn't finished above .500 since losing to Francona's Red Sox in the 2007 ALCS. It's not enough. The Indians must also add starting pitching depth and improve on a below-average offense in the offseason ahead.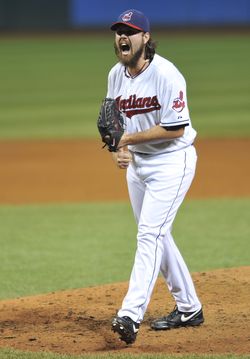 Indians starters were ineffective in 2012. The group ranked near the bottom of the league in innings (27th in MLB, 913 2/3), strikeout rate (29th, 6.1 K/9), walk rate (28th, 3.5 BB/9), ERA (28th, 5.25) and wins above replacement (28th, 4.6 fWAR). They were historically bad in many departments, as MLB.com's Jordan Bastian detailed this month.
The Indians have spent with characteristic small-market restraint in the first two offseasons under general manager Chris Antonetti. It might now be time for the Indians to rely more extensively on the free agent market. Next year's payroll includes just $11MM in guaranteed contracts at this point, according to Cot's Baseball Contracts. This should lead to some payroll flexibility, even after accounting for the team's large class of arbitration eligible players.
Though Justin Masterson has succeeded before and Zach McAllister and Corey Kluber showed promise this past season, the Indians need help. Internal options like Carlos Carrasco, David Huff and Jeanmar Gomez will get opportunities at some point, but relying on them to carry the team through a six-month schedule would be excessively risky.
Shaun Marcum, Joe Blanton, Ryan Dempster, Paul Maholm, Brandon McCarthy and Chris Young are some of the mid-rotation free agents Antonetti could pursue. If the Indians look to the trade market for starting pitching, they could consider targeting pitchers such as Jason Vargas, Chris Capuano, Aaron Harang and Jon Niese. Whether it's through trades or free agent signings Antonetti must obtain starting pitching. 
Antonetti faces a pair of option decisions on starters who have struggled in recent years. Ubaldo Jimenez can be retained for $5.75MM or the club could decline the option following a disappointing season and a half in Cleveland. Declining the option makes sense given Jimenez's diminishing velocity and poor peripheral stats. It seems unlikely that the Indians will exercise Roberto Hernandez's $6MM option given his poor performance. His late-season ankle injury doesn't help his case, nor do the recent revelations regarding his age and identity.
The Indians' struggles weren't confined to the rotation. They out-scored just one American League team in a season that yielded minimal production from traditionally offensive positions. Cleveland left fielders ranked last in MLB at their position with a .598 OPS. The team's first basemen (28th, .675), third basemen (24th, .677) and designated hitters (11th in AL, .702) weren't much better.
Assuming the Indians give third baseman Lonnie Chisenhall time to succeed they'll be looking at designated hitters, first basemen and left fielders this coming offseason. Spending on powerful free agents at these offense-first positions gets expensive. The Indians might find solutions to some of their offensive issues in this way, but they must also be able to find bats affordably. Players break out every year, so the Indians would do well to find this year's Brandon Moss or this year's Ryan Ludwick. Easier said than done, I know. Tyler Moore and Lucas Duda are examples of the powerful, controllable players that might intrigue Indians executives this winter.
The Indians will decline Travis Hafner's option, opening up the designated hitter spot for a newcomer. Francona would gain flexibility if his bosses don't acquire a positionless DH, so there's no need to spend on an aging slugger for the sake of tradition. It doesn't sound as though longtime Indians star Grady Sizemore will have a role on next year's team either.
Chris Perez tested the patience of Indians ownership this summer, publicly criticizing the team for its modest spending. As irksome as his words must have been, the comments themselves wouldn't justify a trade. But when you consider Perez's upcoming arbitration raise and the value he'd have as a trade candidate, the argument in favor of a deal becomes convincing. Better to obtain something of value for the outspoken 27-year-old while it's still possible to do so.
Perez isn't the only trade candidate in town. It seems unlikely that the Indians will find common ground with Shin-Soo Choo on an extension, especially now that the Scott Boras client is just one year away from free agency. The Indians have discussed the possibility multiple times without making an offer Choo felt inclined to accept. Antonetti will consider trade offers for the arbitration eligible outfielder this offseason, and if the GM can get a controllable player who projects as an MLB regular he should make the trade instead of waiting and taking the risk that Choo's trade value will diminish. The Mariners, Mets, Yankees and Giants are among the teams that could have interest in the right fielder. 
Masterson's name could surface in trade rumors this winter, as it did a few months ago. Yet the Indians might prefer to keep the right-hander in place and see if he can return to form under Francona, who managed him in Boston. Teams might also call on Asdrubal Cabrera given the scarcity of available shortstops, but dealing the 26-year-old infielder would create as many questions as it would resolve. Expect Cabrera to stay put — at least until the Indians' top shortstop prospects are ready for the MLB level.
Perez, Choo and Masterson lead a large class of arbitration eligible players. The Indians could non-tender a number of players, including Rafael Perez, Kevin Slowey and Brent Lillibridge. Jack Hannahan is a borderline case who could also be cut loose. The group doesn't include any extension candidates other than Choo, who doesn't seem inclined to sign. The Indians could also attempt to lock pre-arbitration eligible second baseman Jason Kipnis up given his strong showing in 2012.
In the next few months, Antonetti must address needs in the rotation and on offense while working with a small payroll. And though the Indians aren't in total re-build mode, they're multiple pieces away from winning anything. That's one tough offseason assignment.
Photo courtesy of US Presswire.