New ownership, a new front office, a new manager, even a new league. In many ways the 51-year-old Astros are the closest thing MLB has to an expansion franchise. 
Guaranteed Contracts 
Arbitration Eligible Players
Contract Options
Free Agents
The Astros have more needs than can be addressed in a single offseason. They don't score runs, they have trouble preventing runs, and the roster lacks players who project as MLB regulars on a contending team.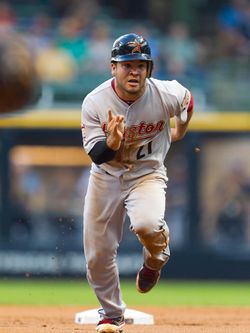 While the upcoming offseason offers general manager Jeff Luhnow the chance to make meaningful additions, it seems unlikely that Houston will court top free agents. If last offseason is any indication, the Astros will be among the sport's most restrained teams. A year ago, in his first offseason as Houston's GM, Luhnow signed two players to guaranteed contracts for a total of $1.45MM. It'd be a surprise if this winter unfolds much differently.
The Astros figure to pursue short-term contracts, minor league free agents and non-tendered players while exploring trades. They spent approximately $61MM on payroll in 2012, their first season under Luhnow and owner Jim Crane. Remarkably, they have less than $10MM committed to next year's team before accounting for arbitration eligible players. Most of that sum goes to Wandy Rodriguez, who will be starting for the Pirates next year. As a result, the Astros should have financial flexibility even if they lower payroll for the 2013 campaign. This is a team with no bad contracts (and no good, team friendly ones, for that matter).
Adding veterans on one-year deals could make sense for the Astros, as long as the established players aren't displacing those in need of development at the MLB level. There's value in winning as often as possible, even for non-contenders. It was once possible for teams to flip veterans on one-year deals for legitimate prospects, but those trades are becoming less common. Signing players with the intention of trading them for prospects midseason could also dissuade free agents from signing in Houston.
The Astros rank last in MLB in runs scored, which means offense is a clear need this winter. They have some promising middle infielders in Jose Altuve (pictured) and Jed Lowrie. But among the 30 MLB teams Houston ranks in the bottom ten in OPS at catcher, first base, left field, center field and right field. Then there's the designated hitter role, which the Astros will have to fill for the first time in the 51-season history of the franchise. Jason Castro is in place behind the plate and Justin Maxwell has probably earned another shot in the outfield. Even so, there are plenty of positions at which Houston could potentially upgrade.
The Astros could also use starting pitching depth following a season in which the team's ERA exceeded 4.50. Ed Wade, Luhnow's predecessor, selected Lucas Harrell off of waivers toward the end of his tenure in Houston and this is precisely the sort of move the current Astros front office will look to replicate. Luhnow claimed three players off of waivers last winter, showing interest in allocating roster spots and playing time to players who have fallen out of favor elsewhere. This is advisable for the Astros, who should continue to prioritize upside over certainty. Only a fraction of pitchers who hit the waiver wire become valuable MLB starters, yet it's still a worthwhile pursuit. Harrell, who posted a 3.88 ERA in 31 starts this year, joins Bud Norris and Jordan Lyles in Houston's projected rotation. For now we'll assume Roger Clemens' role with the Astros will be limited to coaching.
If teams closer to contention pursue Norris aggressively it would make sense for Houston to listen. The Astros could aim to copy last year's Gio Gonzalez trade and turn one established pitcher into multiple players close to the MLB level (the asking price for Norris would presumably be lower). Norris is under team control through 2015, and if the Astros don't expect to contend by then, they should consider trades that might bring long-term pieces to Houston.
The Astros don't have any departing free agents this year after parting ways with players like Carlos Lee, Brett Myers and Francisco Cordero midseason. They have one contract option, a $4MM mutual option for Chris Snyder. The catcher hit just .176/.295/.308 in 258 plate appearances this year, so expect the Astros to decline their side of the option and seek a more affordable backup.
The Astros have a relatively manageable arbitration class led by Norris, the first time eligible starter, and Lowrie, the second time eligible shortstop. Norris should do well after completing lots of innings early in his career and Lowrie's due for a raise after hitting 16 home runs. This isn't a particularly intimidating class from a team standpoint, however.
The Astros could explore an extension for Altuve this winter. The pre-arbitration eligible second baseman hit .274/.331/.351 in the second half after playing at an All-Star level for the first three months of the season, so Luhnow must determine what to expect from the 22-year-old going forward. It'll never be more affordable to lock Altuve up, but the team could easily wait another season before making a substantial commitment. They don't have as much time to decide on Lowrie, who's on track for free agency following the 2014 season. If the Astros aren't interested in extending their shortstop, this winter would be a good time to explore trades.
The Astros may have already made their most significant offseason addition, hiring Bo Porter as the team's new manager. Now that Porter's been hired, Luhnow and other Astros officials can focus on the team's roster instead of prolonging the managerial search unnecessarily.
The Astros will select first overall again next summer, when they'll have the opportunity to add another impact amateur player. Until then, Houston can take steps toward becoming a winning team. Just don't expect this organization to hasten the process in search of a quick fix.
Photo courtesy of US Presswire.