Jack Zduriencik's search for offense continues this offseason, as the Mariners prepare to move the fences in at Safeco Field.
Guaranteed Contracts 
Arbitration Eligible Players
Contract Options
Free Agents
It's becoming an alarming trend. The Mariners finished the 2012 season having scored fewer runs than any American League team for the third consecutive season. This team needs more offense to approach and surpass the .500 mark.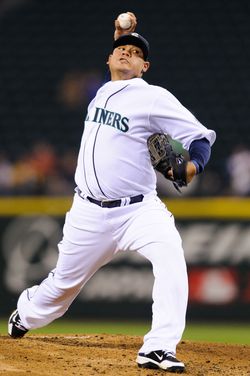 If the Mariners offense was a single player, he'd be among the worst qualified players in MLB with a .234/.296/.369 batting line. It's not encouraging that the franchise hasn't had a player hit more than 20 homers since 2009 (Russell Branyan and Jose Lopez). Pitcher-friendly Safeco Field evidently affects the team's offensive numbers, so the Mariners decided to move the fences in for the 2013 season. The upcoming changes should make Seattle a more inviting place, especially for right-handed power hitters.
The Mariners enjoyed some breakout performances from position players in 2012. Kyle Seager put together a solid season, establishing himself as the team's everyday third baseman. John Jaso cemented his status as a first-rate righty masher, posting a .276/.394/.456 batting line. And Michael Saunders showed promise, hitting 19 home runs as the team's primary center fielder. 
Zduriencik should have some payroll flexibility this offseason. The team has committed $40.5MM to next year's roster, not including arbitration eligible players, according to Cot's Baseball Contracts. For a team that can be expected to spend $80MM-plus on payroll, this should lead to some maneuverability.
There's room for improvement at a number of positions. Non-tender candidate Brendan Ryan didn't add anything on offense, but that's nothing new. He's a sensational defender at shortstop, so the Mariners will have to weigh the value of his glove against their need for offense and the shortage of viable alternatives at the position.
Dustin Ackley, Justin Smoak and Jesus Montero don't have Ryan's defensive skills, but they'll presumably continue to get opportunities in 2013. If Smoak hadn't hit so well from September on — he hit five homers and posted an OPS over 1.000 — his roster spot might be in question. For the time being, a strong finish has helped overshadow another disappointing offensive season from the switch-hitting 25-year-old.
The Mariners could improve their offense substantially by upgrading at designated hitter or in the outfield. Seattle's designated hitters posted a .214/.287/.310 batting line in 2012, production that ranked last in the American League, far below that of the 13th-place Rays. Montero, who occupied the DH spot for about half of Seattle's games this past season, figures to get more opportunities in 2013, so spending on a free agent designated hitter such as David Ortiz doesn't make sense this winter.
Some Mariners fans will dream on the offseason's top free agent, Josh Hamilton. Though Hamilton would undoubtedly address the team's most glaring need, it's unclear whether he'd select Seattle when he'll have opportunities with teams closer to contention in more hitter-friendly places. Hamilton also bats from the left side, so he wouldn't necessarily benefit from the ballpark modifications as much as others.
While luring free agent hitters to Seattle may not be easy, there's a way around the issue for Zduriencik. He can trade for impact players. The Diamondbacks will presumably continue to listen to offers for Justin Upton, who didn't have Seattle on his no-trade list last summer. Upton capped off a disappointing season with a strong month of September, an indication that he's returning to form. There's upside here, but only if the Mariners are confident the 25-year-old can weather the transition from one of baseball's best hitters parks to one of its worst. The Diamondbacks, who are now seeking help on the left side of the infield, might ask Seattle about Seager's availability if talks pick up.
Shin-Soo Choo, another player with ties to the Mariners, also figures to be available in trades (Choo signed with the Mariners in 2000 and was traded away years before Zduriencik joined the organization). He's just one year away from free agency yet he'd be a worthwhile target if the Indians' asking price seems reasonable.
The Felix Hernandez rumors never stop, do they? Zduriencik has maintained that the Mariners ace is staying put, so there's no reason to expect a trade this offseason. An extension for Hernandez might be in order, as he's just two years away from free agency.
Among American League teams, only the Rays and Athletics allowed fewer runs than the Mariners in 2012. Most of Seattle's best pitchers are set to return in 2013, when they figure to have a strong pitching staff once again. Plus, top pitching prospects Danny Hultzen, James Paxton and Taijuan Walker could be ready to contribute within the next year. 
The new dimensions will affect Seattle's pitchers, and fly ball-prone starters such as Jason Vargas and Blake Beavan could see their numbers decline. Given this possibility, it'd make sense for Seattle to consider trading Vargas. The return wouldn't necessarily be overwhelming for a pitcher whose salary could surpass $7MM via the arbitration process, but there would be a market for the reliable left-hander.
A year ago the Mariners added pitchers such as Hisashi Iwakuma, Kevin Millwood and Oliver Perez on low-risk deals to supplement an already strong pitching staff. A similar approach should work again in 2012-13: add a back-end starter or two and sign a number of relievers in the hopes that a couple of the additions become key contributors. Convincing pitchers to sign in Seattle should be doable despite the new dimensions at Safeco Field. There's no need to devote lots of resources toward a shutdown late inning reliever — Tom Wilhelmsen has that job covered — or a lefty specialist — Charlie Furbush has excelled this year — but it never hurts to be proactive about acquiring relief pitchers given the often unpredictable nature of their performances.
Miguel Olivo's contract includes a $3MM club option for 2013. The 34-year-old provides power against left-handed pitching, but he's a platoon bat with limited defensive value. The team has reason to decline this option and find a backup more affordably. Another veteran player, Chone Figgins, may also be done with the Mariners. The 34-year-old utility player wants out of Seattle and it won't be surprising if the Mariners cut ties with him.
Vargas leads an arbitration class that could diminish in size by the time hearings take place in the new year. Ryan could be non-tendered, and Saunders could miss the super two cutoff. Otherwise the Mariners face a relatively straightforward class without any obvious extension candidates.
The Mariners have improved their record in both of the past two seasons. For the trend to continue, Zduriencik will have to keep supplementing the team's pitching staff and, most importantly, acquire at least one hitter with the goal of having a respectable lineup next season.
Photo courtesy of US Presswire.