The A's must address the left side of their infield this offseason.
Guaranteed Contracts
Arbitration Eligible Players (estimated salaries)
Free Agents
Back in Spring Training, when fans, writers and analysts were compiling lists of offseason winners, the A's weren't mentioned nearly as often as teams like the Marlins and Angels. As it turns out, GM Billy Beane did just fine last winter. The A's won their division in 2012, improving their record by 20 games and establishing themselves as a contender in the American League.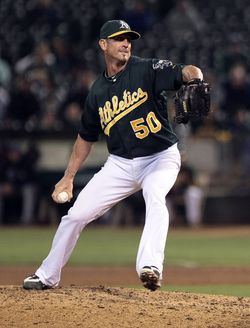 As the 2012-13 offseason approaches, Beane finds himself facing some familiar challenges. The Athletics' future in Oakland remains unclear and their payroll remains modest. Plus, Oakland needs answers on the left side of the infield to repeat as AL West winners in 2013.
Beane started making offseason moves early, sending Cliff Pennington to Arizona in the deal that brought Chris Young to Oakland. This move makes lots of sense for Oakland, since they obtain an up-the-middle player with some offensive skills. That said, it didn't address any of the Athletics' primary offseason needs — in fact it heightened the team's need for a shortstop.
The primary challenge for Beane this winter appears to be finding a shortstop. Now that Stephen Drew has hit free agency, there are no guarantees he'll return. If the scarcity of free agent shortstops leads to a bidding war for Drew's services, it's hard to imagine the A's winning. And even if Oakland does outbid other interested teams, Drew could spurn them for another city. It wouldn't be the first time a free agent position player has resisted overtures from Beane & Co.
This year's free agent shortstop class doesn't include standout players besides Drew and former Athletics infielder Marco Scutaro. At this point it seems likely that Scutaro will re-sign across the bay in San Francisco, which means Beane must also explore the trade market.
Acquiring Elvis Andrus from the Rangers won't be easy for any team, especially one that recently unseated Texas atop the AL West. Yunel Escobar figures to be available, and Jhonny Peralta could be moved. I think it also makes sense for the A's to inquire about players such as Jed Lowrie, Josh Rutledge, Asdrubal Cabrera and — why not? — Jose Reyes. 
While Beane recently expressed confidence in Josh Donaldson as a long-term option at third base, the A's could consider going outside of the organization at the position. Donaldson, a converted catcher, has a .232/.280/.386 batting line at the MLB level, so the A's must be realistic about what he can offer to be sure they're not looking for third basemen midway through the 2013 season. It's hard to imagine the A's trading for any of the prominent, high-salaried third basemen who could become available this offseason. Instead, they should watch the Cardinals on the off-chance Matt Carpenter becomes available. The left-handed hitting 26-year-old could complement the right-handed hitting Donaldson and provide Oakland with depth.
When the A's engage other teams in trade talk this offseason, the topic of Oakland's outfield depth will surely arise. However, Beane maintains that he's not looking to make a trade, according to Susan Slusser of the San Francisco Chronicle. The A's have four outfielders for three spots, and that's not counting designated hitter Seth Smith or first baseman Brandon Moss. Coco Crisp could appeal to teams such as the Mets, Indians and Orioles. Or Beane could do what he did last offseason and trade highly-regarded, controllable players such as Josh Reddick or Yoenis Cespedes. At this point it's easiest to envision a deal involving Crisp. Bay Area native Jonny Gomes figures to sign elsewhere in free agency given the composition of Oakland's roster.
Assuming the A's expect some combination of Scott Sizemore and Jemile Weeks to handle second in 2013, they have solid internal options at every position except shortstop and third base. The pitching staff also seems strong, though more depth never hurts.
Beane already signed Bartolo Colon to a one-year contract — a depth move that makes sense considering the reality that injuries strike every year. The A's say they're still interested in re-signing Brandon McCarthy, even after agreeing to terms with Colon. While that may well be true, McCarthy could become prohibitively expensive if rival teams overlook his health issues and offer multiyear deals. It's not easy to win bidding wars with one of the league's smallest payrolls. 
Oakland exercised Grant Balfour's 2013 option, so the Australian right-hander will be back for another season. Ryan Cook, Jerry Blevins, Jordan Norberto and Sean Doolittle will return to what projects as an above-average bullpen for 2013. The A's won't have to spend on free agent relievers the way they did two winters ago, at the time they signed Balfour and Brian Fuentes.
The team's class of arbitration eligible players includes two players — Daric Barton and Adam Rosales — who could be non-tendered. There's also a chance Beane could complete a trade involving Barton, who led the American League in walks two years ago. Though the group doesn't include any clear extension candidates, the A's could explore multiyear deals with pre-arbitration eligible players. They've made a habit of extending starting pitchers early on, so Tommy Milone or Jarrod Parker could be next.
The A's might not be any closer to resolving big picture questions about their home city and stadium, but at least their roster seems strong. It lacks balance now, with questions on the infield and an abundance of outfielders. Expect Beane to restore some balance in the months ahead.
Photo courtesy of US Presswire.