While the Blue Jays have already addressed many of their offseason needs, they're probably not done making changes just yet.
Guaranteed Contracts
Arbitration Eligible Players (estimated salaries)
Free Agents
The Blue Jays made one of the biggest trades in franchise history this week, re-shaping their roster and restoring hope for a fan base that has grown tired of mediocre results. Two weeks into the offseason, this team looks much different — and much stronger — than the one that took the field under John Farrell for the final game of the season last month. Much of Alex Anthopoulos' work is done, but he still has many needs to address before Spring Training.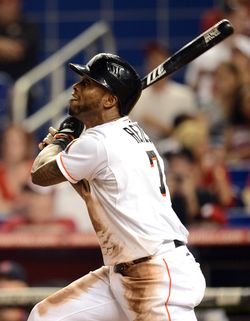 The 2012 season opened with no-so-cautious optimism only to unravel because of injuries and limited pitching depth, and end with the revelation that the manager wanted out. While the disappointment has faded, the shortcomings of the 2012 team will inform Anthopoulos' decisions as the rest of the winter unfolds.
Now that the GM Meetings are over and the trade with Miami has been agreed upon, Blue Jays executives can resume their managerial search. They appear to have selected two finalists for the position, so a decision could come soon. Whenever they do select a manager, they must be certain their selection wants to be in Toronto. Farrell's interest in Boston became a serious problem toward the end of his tenure in Toronto.
The Blue Jays had one of the worst starting rotations in baseball this past season. Pick a metric — innings, ERA, wins above replacement, strikeout rate, walk rate — and Blue Jays starters were among the worst in MLB. That should change in 2013, when Mark Buehrle and Josh Johnson join the rotation. By acquiring the former Marlins starters, Anthopoulos addressed the team's most pressing need in a meaningful way.
Still, the Blue Jays shouldn't stop adding pitching depth now. They don't need to spend on a prominent free agent starter, especially after taking on so much payroll in their trade with the Marlins. Free agents such as Brandon McCarthy, Shaun Marcum and Scott Feldman would strengthen Toronto's depth and prevent injuries from being so costly when they inevitably occur. Free agents might even be more inclined to sign with the Blue Jays now that they've made such a significant trade. If not, the Blue Jays could pursue trades for pitchers such as Trevor Bauer, Gavin Floyd and Jon Niese.
The Blue Jays have enviable catching depth at a time that many MLB teams figure to have interest in upgrading at the position. The club could trade either John Buck or J.P. Arencibia if the right deal emerges. In fact both catchers bat right-handed and hit left-handers better than right-handers, so to an extent they're redundant on the same roster. Anthopoulos could look to engage the Rangers, Yankees, White Sox, Mets, Mariners and Astros in trade talks for the catchers this winter.
The depth of the Blue Jays' bullpen will depend on whether Darren Oliver returns for another season. The Blue Jays exercised their 2013 option for the veteran left-hander, but he hasn't yet decided whether he'll play another year. He'd be an asset for the Blue Jays, even at age 42. He struck out 8.3 batters per nine innings pitching last year, lowering his ERA for the fifth consecutive season.
Though right-handers Jason Frasor and Brandon Lyon are hitting free agency, the Blue Jays did complete a trade for Esmil Rogers. Sergio Santos and Luis Perez both underwent surgery this past July, and could join the Blue Jays late in the 2013 season. It'd still make sense for the Blue Jays to pursue another reliever to be sure they have enough pitching depth for the first half of the season.
The Blue Jays' decision to sign Melky Cabrera makes lots of sense, since the team didn't have a clear answer in left field. Now Rajai Davis stays on the bench and Anthony Gose and Moises Sierra presumably return to the minor leagues, where they'll provide depth. Cabrera, the most expensive free agent addition the Blue Jays have made under Anthopoulos, costs $16MM over two years, a reasonable sum for an All-Star caliber player in his prime. There are lingering questions about Cabrera, who served a 50-game suspension for having elevated levels of testosterone. Still, he has considerable upside, so paying him at the same level as Jason Kubel and Coco Crisp seems reasonable.
Two new additions, Bonifacio and Izturis, can both handle second base. Though it's possible the Blue Jays will consider other options at the position, there's not much available in free agency and the trade market doesn't seem much more promising.
The Blue Jays' class of arbitration eligible players consists of just four players. Two of them, Cory Wade and Bobby Wilson, could lose their roster spots. Colby Rasmus and J.A. Happ will be tendered contracts, but neither players seems like an obvious extension candidate at this stage.
Since the season ended last month, the Blue Jays have already traded a manager, completed a franchise-changing blockbuster deal, signed two free agents to multiyear contracts and claimed six players on waivers. Some teams don't do as much in an entire offseason. For Anthopoulos and the Blue Jays there's still work to be done between now and Opening Day.
Photo courtesy of US Presswire.