It's been a little more than two months since the postseason gave way to the offseason, and in that time baseball's landscape has changed considerably. The plans that Major League executives initially formulated are, in many cases, completely obsolete. As a result, this time of year demands adaptability from all 30 general managers as they look to touch up — or, in some cases, revamp — their teams' rosters.
When the GM Meetings took place at the beginning of the 2012-13 offseason, I had the chance to ask a number of GMs about the challenge of changing plans midway through the winter. I heard a variety of answers, but each GM agreed that even the best offseason strategies have expiry dates.
"You have to have a plan, an initial plan, and you have to adapt," Reds general manager Walt Jocketty told MLBTR. "We had several things planned last winter but you'll have more than one plan — put it that way. You just have a basic plan and you work your way through it."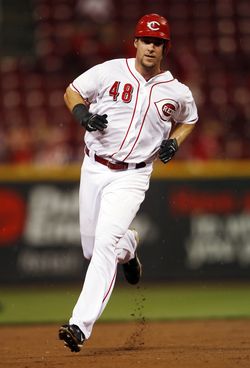 Entering the offseason, the Reds appeared to need at least one outfielder, infield depth and pitching reinforcements. They've since achieved those goals, acquiring outfielders Ryan Ludwick and Shin-Soo Choo, infielder Jack Hannahan, and reliever Jonathan Broxton. But if the three-team agreement required to acquire Choo had fallen through, or if another club had outbid them for Ludwick, Jocketty would have had to move on to other options.
The Mariners were one of the teams that reportedly checked in on Ludwick (pictured) before he signed with Cincinnati. Though Seattle was linked to many prominent position players early in the offseason, it wasn't until after the Winter Meetings took place that GM Jack Zduriencik struck, trading for Kendrys Morales and signing Raul Ibanez. Back in November Zduriencik knew he'd have to maintain flexibility and be prepared to change course.
"What you would like to do may not work out, may not be there for you," he told MLBTR. "And there are a lot of factors to consider whenever you're going to sign a free agent or make a trade. How does it fit your club? What are you bringing on? What are you moving to give up? What's the competition? Does the player want to come to your area if he's a free agent? There's so many factors. So therefore if exactly what you want to do doesn't work out then you'd better be able to go in another direction. Be ready to shift and just say 'OK, this isn't precisely what we want, but we think it helps our club.'"
The Reds and Mariners had payrolls between $80-90MM in 2012, according to Cot's Baseball Contracts. As mid-market teams, they can afford to selectively engage top free agents in November and December. For example, the Mariners appeared to have some interest in Josh Hamilton, Nick Swisher and other high-priced free agents. 
That's not a luxury every team can afford. Yet the whims of elite free agents affect the entire market, meaning many small-market teams must adapt their plans midway through the offseason. Neither the Rays nor the Padres has had a payroll as high as $75MM in any one season since 2000, according to Cot's. Top free agents are essentially off-limits for these low-payroll teams, which often means waiting until bargains emerge in the new year. 
So far Josh Byrnes of the Padres has been more restrained than most GMs; Jason Marquis, the recipient of a one-year, $3MM deal, has been the Padres' biggest signing of the winter. Byrnes, a former Indians, Rockies and Red Sox executive who spent five years as Arizona's GM, has seen patience lead to bargains in a number of front offices. That said, there's also value in striking unexpectedly. When Byrnes was with the Red Sox, the team completed one of the most successful free agent deals of the last decade, signing David Ortiz. If it hadn't been for the club's willingness to adapt its plans, the Red Sox might not have landed Ortiz.
"You never know when there's going to be value to be had," Byrnes said. "Going back to my first year in Boston, we signed David Ortiz. He was there, he was available at a price, let's get him — even though we had Shea Hillenbrand. Sometimes it's important to have the discipline because the values might be there. And it might be in-season."
While the Padres showed restraint to start their offseason, there wasn't any waiting around in Tampa Bay. The Rays signed Joel Peralta in November before adding James Loney and Roberto Hernandez in December. They also extended Evan Longoria with the largest guarantee in franchise history, traded for Yunel Escobar and sent James Shields and Wade Davis to Kansas City. Before any of those moves were completed, executive VP of baseball operations Andrew Friedman stressed the importance of adapting along with the market.
"We go into the offseason every year with a plan," Friedman told me at the GM Meetings. "The question is just how early in the offseason you have to rip it up and scramble. It's important to be adaptive and have guys that think creatively, which we do. So there are so many different ways that the offseason can play out that being prepared on many different fronts is key."
No team can fully anticipate its own moves months ahead of time, let alone the moves of the 29 other clubs. The challenge for baseball's general managers isn't forecasting the future. Rather, it's adapting midway through the winter after plans have gone awry and expectations have been adjusted and re-adjusted. When so much can change so quickly, rigidity is not even an option.
Photo courtesy of USA Today Sports Images.