The Orioles added outfield depth and bolstered their bench this winter. Yet Dan Duquette's second offseason as the club's top baseball executive was even quieter than his first. The Orioles spent with extreme caution this winter, even after making their first playoff appearance in 15 years.
Major League Signings
Notable Minor League Signings
Trades and Claims
Notable Losses
Needs Addressed
Duquette re-signed left fielder Nate McLouth to a deal that's both low-commitment and low upside. While McLouth hit respectably with the Orioles last year, recent history suggests he has become a below-average hitter (.221/.320/.346 batting line since 2010). It's possible Nolan Reimold will produce at the plate and McLouth will be the club's fourth outfielder, a role he may be better suited for given his struggles against left-handed pitching.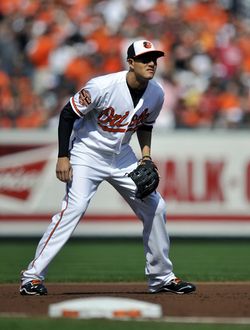 The club also bolstered its bench with a pair of former Twins: Danny Valencia and Alexi Casilla. Valencia could provide some pop against left-handers and Casilla, a switch-hitter, represents insurance in the event that Brian Roberts spends time on the disabled list.
The Orioles didn't sign any prominent free agents, but Duquette did add Jair Jurrjens on a low-risk deal. This move could pay off for the Orioles, who are positioned to create room in their rotation in case Jurrjens proves to be healthy. Still just 27, Jurrjens required only a minor league commitment.
The relatively quiet offseason seems to reflect confidence in internal options. Perhaps Chris Tillman and Miguel Gonzalez can build on last year's success while Dylan Bundy and Kevin Gausman prepare themselves for significant MLB roles. There's reason for optimism elsewhere, as Manny Machado prepares for his first full season and the bullpen returns undiminished.
Questions Remaining
The Orioles would look stronger now if they had found an everyday alternative to Roberts at second base. Or if they had added a number three starter to pair with Jason Hammel and Wei-Yin Chen atop a rotation that includes its share of uncertainty. Or if they had acquired an impact bat for left field or designated hitter.
Flirtations with Joe Saunders and other free agent starters didn't develop. Nor did inquiries to the Diamondbacks regarding outfielders Justin Upton and Jason Kubel. The Orioles reportedly showed interest in free agent bats such as Josh Hamilton and Nick Swisher, only to see them sign elsewhere. 
There were potential upgrades available on the trade market (Kubel, Michael Morse) and in free agency (Cody Ross, Lance Berkman, Mike Napoli). Instead the Orioles are left with DH Wilson Betemit hitting right-handers and Valencia and others matching up against lefties. There's no point in spending for the sake of spending, but the Orioles had real needs at a time that solutions were available in free agency. It would have been encouraging to see owner Peter Angelos spend on a power bat or a free agent starter.
Deal of Note
The Orioles didn't sign any players to long-term deals this winter, but their leadership structure figures to remain in place for a while. The club extended Duquette and manager Buck Showalter through the 2018 season with deals that were completed last month. Both had strong cases for extensions. Duquette's moves, particularly his ability to find quality pitching in unexpected places, led to the Orioles' first playoff berth in 15 years. Showalter managed the pitching staff skillfully, coaxing 93 wins from a team picked by many to finish in last place. 
Overview
The Orioles enter the 2013 season with questions in the rotation, at second base and in left field. Some regression seems likely, especially in the stacked American League East. It's a good thing the Orioles have experience proving doubters wrong. They know better than most that pre-season predictions can be wildly inaccurate.
Photo courtesy of USA Today Sports Images.