The Phillies addressed their outfield, third base, and late-inning relief concerns without making a major free agent splash.
Major League Signings
John Lannan, SP: one year, $2.5MM. 
Delmon Young, OF: one year, $750K.
Mike Adams, RP: two years, $12MM. $6.5MM vesting option for 2015.
Carlos Ruiz, C: one year, $5MM. Club Option Exercised.
Chad Durbin, RP: one year, $1.1MM. Club option for 2014.
Total Spend: $21.35MM.
Minor League Signings
Trades and Waiver Claims
Notable Losses
Placido Polanco, Ty Wigginton, Juan Pierre, Nate Schierholtz, Jose Contreras, David Herndon, Josh Lindblom, Vance Worley, Michael Schwimer, Trevor May, Lisalverto Bonilla.
Needs Addressed
The Phillies' needs were clear at the beginning of the offseason.  GM Ruben Amaro Jr. addressed the outfield, third base, and the bullpen without doling out any large contracts.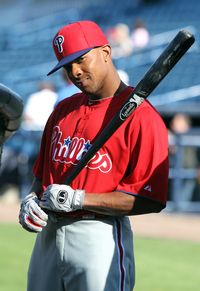 The Phillies explored all avenues in center field.  They were linked to free agents such as B.J. Upton, Michael Bourn, Josh Hamilton, and Angel Pagan, but Amaro chose to acquire 24-year-old former first round pick Ben Revere from the Twins for a useful big league starter in Vance Worley and a respectable pitching prospect in Trevor May.  Credit Amaro for making a push for Revere (pictured) when many thought he'd be unavailable, since the Twins had already dealt Denard Span.  Revere, who is not yet arbitration eligible, is under control through 2017.  Revere will have to provide value to the team with his glove, as he doesn't possess power and doesn't draw walks.  The departure of Worley created an opening in the rotation, which Amaro addressed by signing Lannan as a free agent. 
The free agent market for third basemen was shallow, so Amaro went the trade route there as well by acquiring Young.  The 36-year-old is coming off his worst season in the last decade, though prior to 2012, he'd been a consistent three-win contributor.  Young escapes the trade rumors and lack of position that plagued his final years in Texas, and some level of bounceback seems probable.  Plus, he has a reputation as a good clubhouse guy.  The Phillies effectively have to contribute $7.2MM toward Young's salary, and they surrendered some bullpen depth in Lindblom and a decent relief prospect in Bonilla.
Adams was signed at top of the market setup man dollars to be the new bridge to closer Jonathan Papelbon.  At 34 years old with a significant injury history and slipping peripherals, Adams represents a gamble by Amaro.  At least the Phillies didn't have to guarantee a third year.  Durbin, signed at an affordable price, restores the depth lost by dealing Lindblom.
The Phillies chose an interesting route to filling right field, signing Delmon Young dirt cheap.  Young, the first overall pick in '03, had one decent season back in 2010.  He'll have a sub-par on-base percentage unless he hits near .300, since he doesn't draw walks.  Young will likely cost the team runs on defense, especially coming off November microfracture surgery on his ankle.  The Phillies will have to hope Revere can pick up Young's slack defensively, and Young stays out of trouble and pops 20 home runs.  The whole idea of Young as a productive regular seems unlikely to pan out, but the cost was barely above the league minimum.
Questions Remaining
Will the Phillies' new-look outfield provide any offense?  The best bet for usefulness is Domonic Brown, the former top prospect who was pegged as a breakout candidate by ESPN's Keith Law.  The infield offers a bit more offense, but it's an aging group.
The other looming question is what to expect out of Roy Halladay, who finally looked mortal last year.  If Doc shakes off the spring velocity concerns and musters up 225+ innings of sub-3.00 ERA ball, the team's trio of aces should keep them in contention all year.  Otherwise, the Phillies' rotation depth will determine whether they can even play .500 ball in 2013.
Deal of Note
Lannan, a 28-year-old southpaw, spent most of 2012 languishing with the Nationals' Triple-A club before reaching free agency via non-tender in November.  Since Lannan only has four years of Major League service, his arbitration eligibility after 2013 effectively serves as a club option.  At $2.5MM, the Phillies didn't have to invest much in a pitcher they mostly just need to take the ball every fifth day and not embarrass himself.
Overview
The Phillies are not going to be a trendy playoff pick for 2013, with the Nationals and Braves both looking strong.  But don't forget 2011, when the same trio of ace starters led them to 102 wins.  If Cole Hamels, Cliff Lee, Halladay, Papelbon, and Adams are healthy and effective, this team will be very tough to beat 60% of the time.
Photo courtesy of USA Today Sports Images.